---
Baton Rouge has a strong Vietnamese community, and with such a vibrant culture comes exciting cuisine options. A somewhat new and superlative example is Ava Street Café on Essen Lane, a little more than a year old.
A fully stocked bar is separated from Ava Street Café's dining room for pre-dinner libations, with a patio that beckons with café lighting and outdoor tables. The dining room is a mix of styles with decorative ceiling tiles and simple white subway-tiled walls. Separating dining spaces are blonde slat wood dividers. The clever decor creates a soothing environment.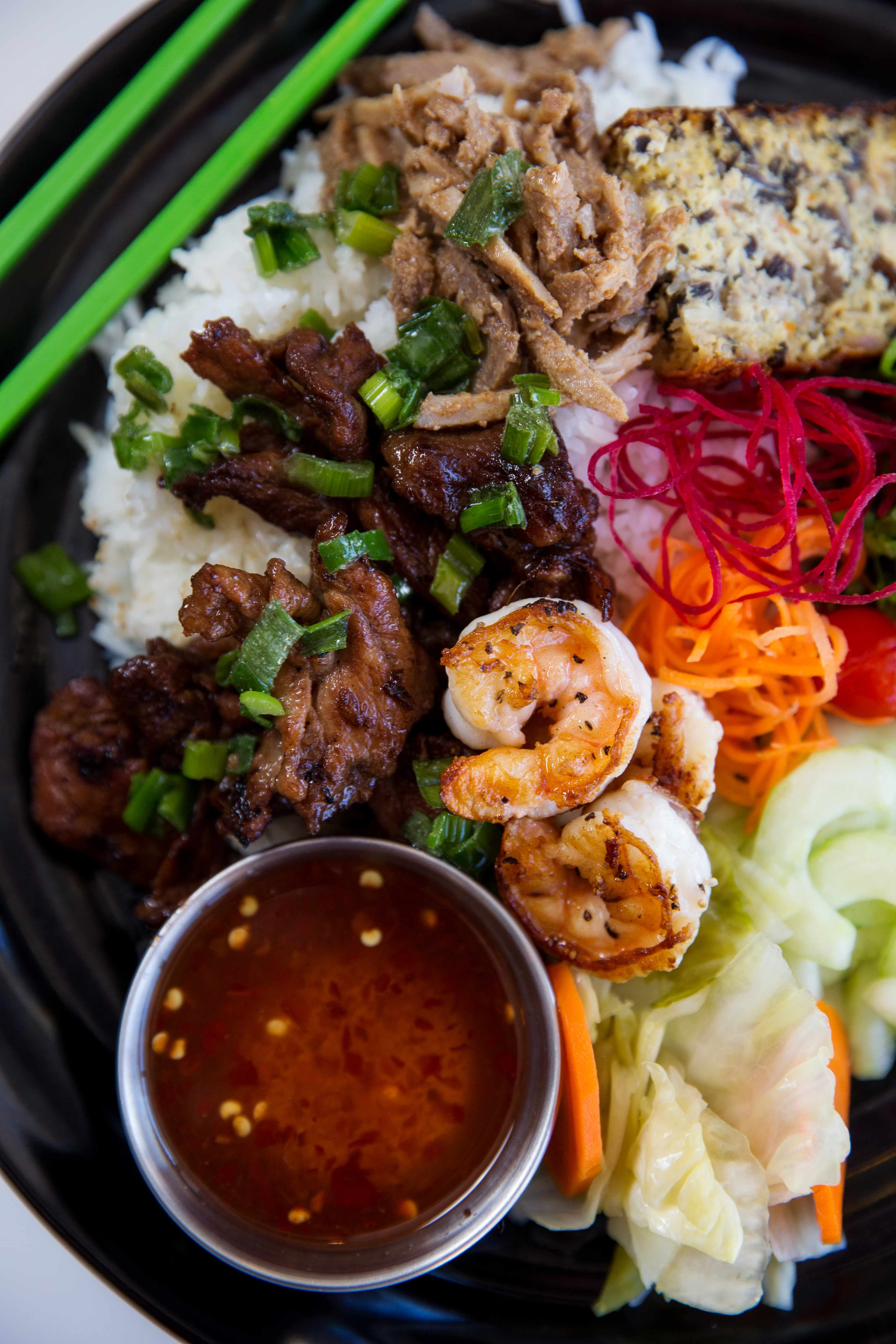 My partner loves Korean food, but it's a challenge to find in these parts. We were pleased to find the Korean Short Ribs on the "Starters" section of the menu. The dish offered succulent beef with a sweet sauce that had hard-to-identify flavors. It was a bit of a challenge to eat with bits of fat, gristle and bone, but the edge pieces of fat were nicely charred with a smoky flavor. A side of kimchi offered bright vinegary notes and a wallop of spice.
The Hanoi Spring Rolls appetizer was extraordinary—bulging at the seams of the thin rice paper casing. I was expecting a thick dipping sauce to accompany it but found Ava Street's thinner version more nuanced. Rather than coating the roll, it seeped into the nooks and crannies of simple vermicelli noodles, cilantro, lettuce and salty grilled pork slices, contributing the distinct fermented flavor of fish sauce along with peanuts and a little heat. I could have made a meal of just this.
The Pork Bao Steamed Buns were served open-faced and had a lot happening. The grilled pork had a hoisin/barbecue flavor, while the spicy mayo contributed creaminess I could have done without. Small drops of wasabi sauce hit my taste buds and sinuses. Pickled carrots, daikon radish and cilantro finished the dish with fresh and acidic flavors.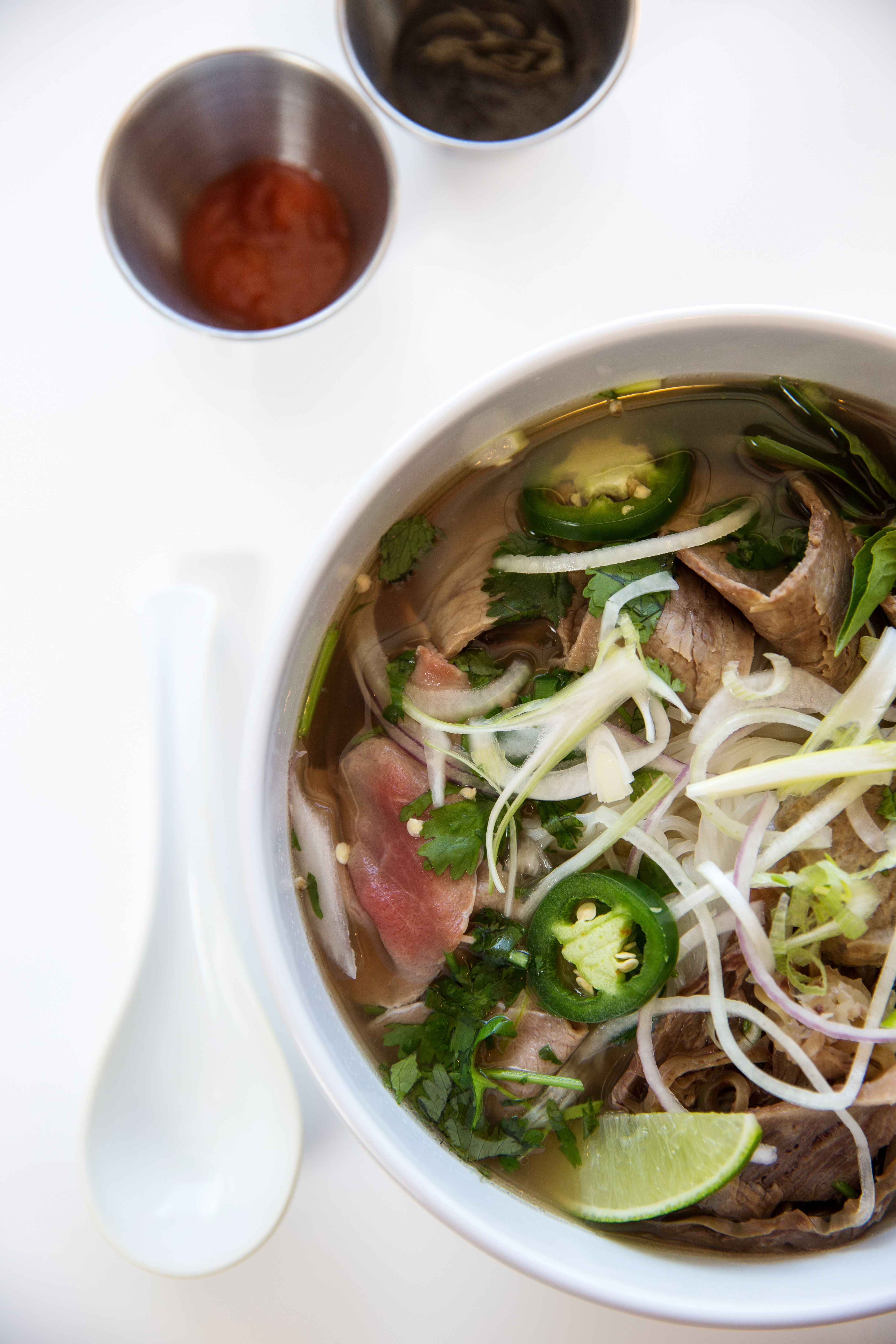 Though we indulged quite a bit on the appetizers, we could have ordered The Works Pho (dac biet) and would not have needed anything else. The pho entrée features a heaping bowl of brisket, flank steak, meatballs and steak—it's a meat lover's fantasy. Though chicken broth is available, we stuck with traditional beef broth. The steak was served raw and cooked to medium rare in the boiling broth. The brisket was fall-apart tender, and the flank had a nice chew. Spongy meatballs, sliced thin, were chewy with speckles of flavorful fat. The simply seasoned meats were a boon to the distinctive star anise and baking spices of the fatty pho broth.
The Works Rice Plate (thap cam) was another hefty entrée, including grilled pork and shrimp, braised pork and an egg cake. I had difficulty distinguishing between the different porks but found both a nice mix of slightly salty and sweet. Smoky grilled shrimp presented counterpoints to this meat-centric dish.
The dish's square-shaped egg cake was the best omelet I've never tasted before, with crisp edges and a moist interior filled with egg, thin noodles and a hint of heat. A sweet-spicy-salty sauce accompanied the entrée, but each component was so zingy that it made the addition unnecessary. All the bold flavors were eased by a welcomed base of steamed rice.
With so many flavors in our savory dishes we went for simple palate-cleansing desserts afterward.
Different flavors of sorbets are available each day, and our evening's choices were the lemonade-like
Logan and the Lychee, which featured a hint of rosewater. Crunchy ice crystals in each sorbet helped to calm the many taste sensations still dancing around my mouth from the meal.
The plating of each dish at Ava Street was artful, preparing the senses with visuals first. But the real art was in the perfect combinations of sweet and heat with fatty and salty components as well. My taste buds—even now—are begging for more.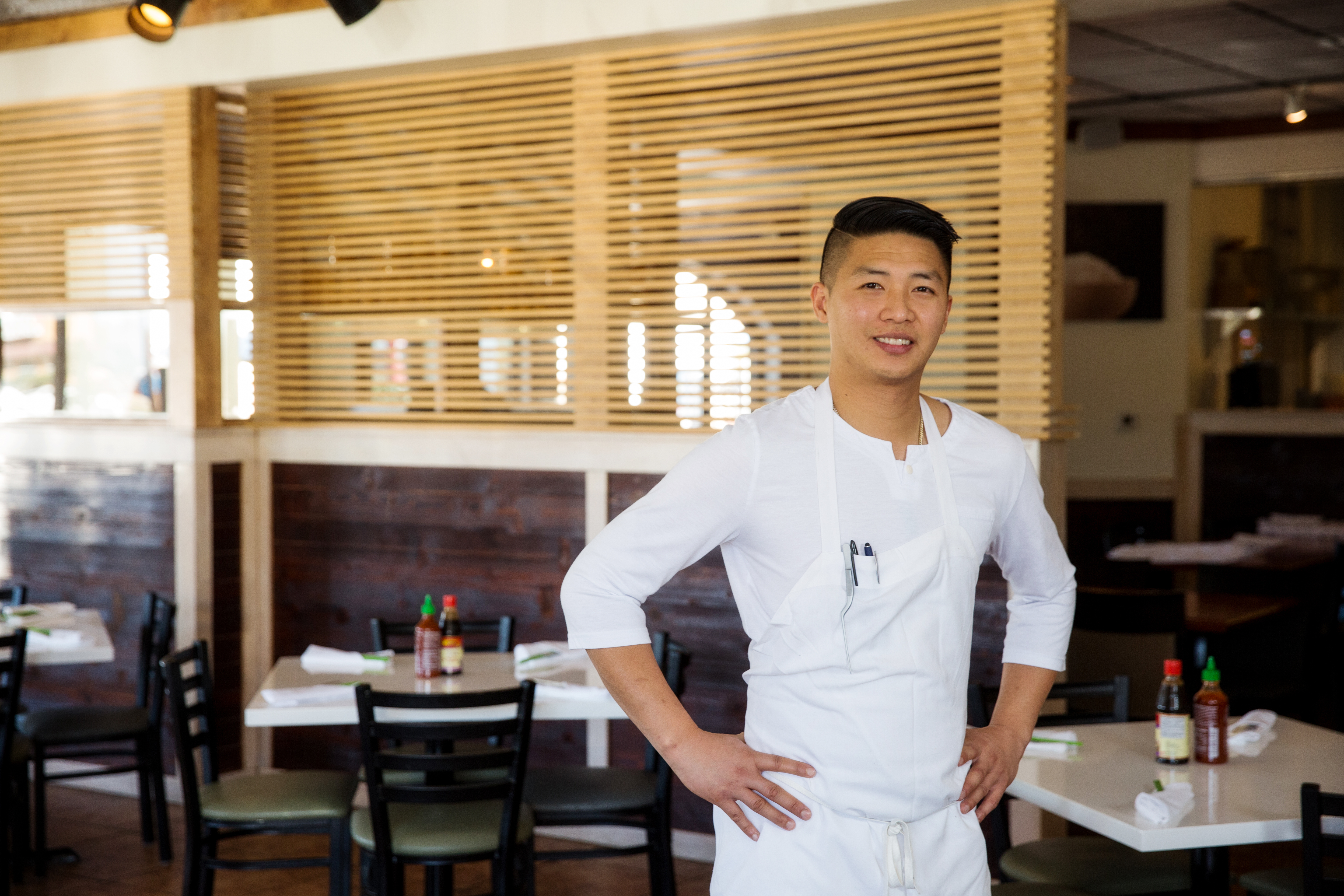 The basics: Ava Street Café offers up plenty of familiar Vietnamese favorites like pho, vermicelli noodle bowls and banh mi. But chef and owner Ethan Huynh also gets creative with other types of Asian cuisine like Korean Short Ribs and addictive Kimchi Fries.   
What's a must: Hanoi Spring Rolls, stuffed with salty grilled pork, noodles and veggies and served with a simple sauce; the open-faced Pork Bao Steamed Buns with a sweet grilled pork and pickled veggies; and The Works Pho, packed with brisket, flank steak, meatballs and steak in a complex beef broth. 
---
EAT AT AVA STREET CAFÉ
avastreetcafe.com
5207 Essen Lane
Hours:
11 a.m.-9 p.m. Monday-Thursday;
11 a.m.-10 p.m. Friday;
11:30 a.m.-10 p.m. Saturday;
11:30 a.m.-8 p.m. Sunday
---
Our food critic's name may be false, but the credentials are not. This gastronome has studied the history, cultivation, preparation, science and technology of food for more than 30 years.
This article was originally published in the January 2018 issue of 225 Magazine.