---
The local restaurant scene has always offered a variety of choices, but we have long suffered from a lack of breakfast options. Luckily, a few new spots opened last year. One was The Ruby Slipper Café, a New Orleans institution.
The restaurant arrived in Baton Rouge with quite a splash—my first attempt at brunch at the Acadian Village Shopping Center restaurant was met with a two-hour wait! Needless to say, my brunch party decided not to stick around. My second attempt was more successful, with a mere 10 minute wait. No doubt this place is popular, but the small dining space contributes to the longer wait times.
The menu is large, with so many options we had already identified 10 dishes and three beverages we found interesting a day before setting foot inside. By the time we were greeted at the table, we managed to narrow our selections down.
First up was the BYO Omelet. When given the option to create my own breakfast masterpiece, I take it. This fit the bill, with three eggs and your choice of cheese, veggies and proteins like bacon, sausage and chorizo. I went for a vegetarian version, with mushrooms, spinach, avocado and goat cheese along with a buttermilk biscuit and fruit. The hint of rosemary mixed in with my eggs was a delightful surprise. The goat cheese added subtle tang to counter the slightly bitter spinach. While delicious, the omelet was oily from the pan preparation. The side biscuit had the distinctive sourness of buttermilk, which contributed nicely to its tenderness. A craggy exterior provided satisfying crunch, and the side of Steen's butter gave it a welcome dessert-like quality to balance the savory omelet.
It was tough figuring out which of the seven benedict varieties to get, so we went with the Peacemaker, combining two of your choice. My partner chose wisely with Eggs Cochon, a Ruby Slipper signature item (as noted on the menu), and the Corned Beef Bennie.
The Eggs Cochon featured pork debris over a biscuit topped with a poached egg and hollandaise. The pork was heavenly: moist and decadent. The hollandaise was a nice detour from the normal saucing—creamy without being overly heavy and gloopy. The Corned Beef Bennie offered corned beef hash over a biscuit with a poached egg, horseradish cream and hollandaise. The horseradish cream heightened the mildly flavored corned beef with huge hunks of potatoes completing the hearty hash. Both poached eggs were perfectly cooked, with firm whites and runny yolks that oozed slowly over each "bennie" and obligingly seeped into the biscuits.
While we were properly stuffed after our meal, I couldn't help but notice all the other options I had passed over, from sweeter options like Stuffed French Toast and Bacon Praline Pancakes or big sandwiches like the Croque Madame, with coffee-glazed ham, Swiss and a fried egg on brioche.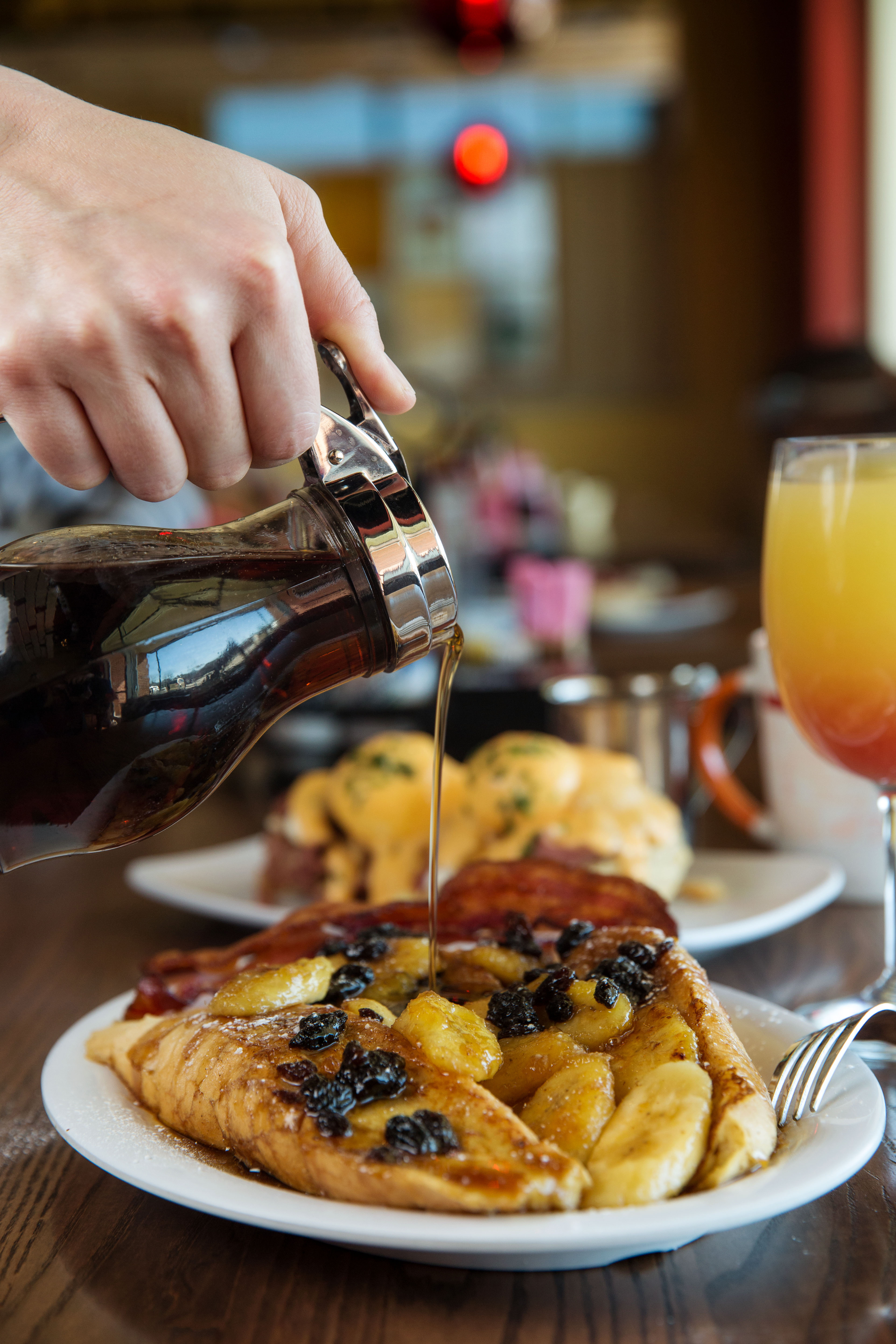 A friend of mine, well-versed in the New Orleans locations, made sure to let me know The Ruby Slipper's Migas "was the bomb." It's another one of the restaurant's signature items—a Tex-Mex scramble with onion, tomato, cilantro, pepper jack cheese and spicy chorizo, served with chipotle sour cream and crispy tortilla chips.
But there was only so much brunch goodness we could handle in one sitting.
Service was quick and very friendly, from the hostess' warm greeting to the waitstaff returning often to see if we needed anything else. Our coffee was constantly topped off to keep our cups hot and fresh. That should go without saying at a breakfast institution, yet so many establishments leave the coffee cup to languish.
Glancing around the restaurant, it was refreshing to see several multigenerational families gathering together. The Ruby Slipper definitely fills a breakfast void while simultaneously providing a great gathering spot to share a brunch meal and a laugh with those you love.
---
THE BASICS: This New Orleans favorite, with five eateries in the Big Easy, stepped onto the Baton Rouge market in July 2017 and has been filling the Acadian Village parking lot (as well as an occasional tent-shaded outdoor waiting area) ever since. Breakfast blends into brunch here, with the full menu served from 7 a.m. into the early afternoon.
WHAT'S A MUST: Any of the signature items, like BBQ Shrimp & Grits or the Migas. But if you have trouble choosing, combine a variety of ingredients for a BYO Omelet or order two of the restaurant's seven benedicts on one plate, like the Eggs Cochon with pork debris and the hearty Corned Beef Bennie. It all goes down easy with a mimosa, bloody mary or a Morning Margarita with fresh seasonal juice.
---
EAT AT RUBY SLIPPER CAFÉ
therubyslippercafe.net
3535 Perkins Road, Suite 375
Hours:
7 a.m.-2 p.m., Monday-Friday
7 a.m.-3 p.m., Saturday-Sunday
---
Our food critic's name may be false, but the credentials are not. This gastronome has studied the history, cultivation, preparation, science and technology of food for more than 30 years.
This article was originally published in the March 2018 issue of 225 Magazine.