The Seared Tuna Roll at Waka House. Photos by Amy Shutt
---
Sampling sushi rolls and fish at the Japanese restaurant
I've passed Waka House countless times. But I always slipped by with little more than a curious glance. Maybe it's my prejudice against unfamiliar restaurants. But if my dining endeavors were stipulated around avoiding the foreign, I'd go hungry for sure. So I took a chance and was rewarded with an adventurous culinary experience.
The dining room is a unique combination of orange, red and yellow walls, punctuated by delightful modernist chairs and interesting glass-topped tables. Even with the kaleidoscope of colors, it was a surprisingly soothing space.
Not so soothing was the mammoth-sized menu. With no page numbers and more than 15 two-sided pages, I felt like I needed a GPS to navigate it. Thankfully there are helpful title blocks at the tops of most pages offering guides like, "If you like raw salmon…" or "Do not like raw food?" or "For people who do not eat meat."
We began with Tuna Tataki and Grilled Yellowtail Neck. For the first, the large, barely seared slices of rare tuna shined with just a slight whisper of seasoning. The dish comes with a tangy "tiger sauce" on the side, offering a flavorful punch. This starter is simple and refreshing.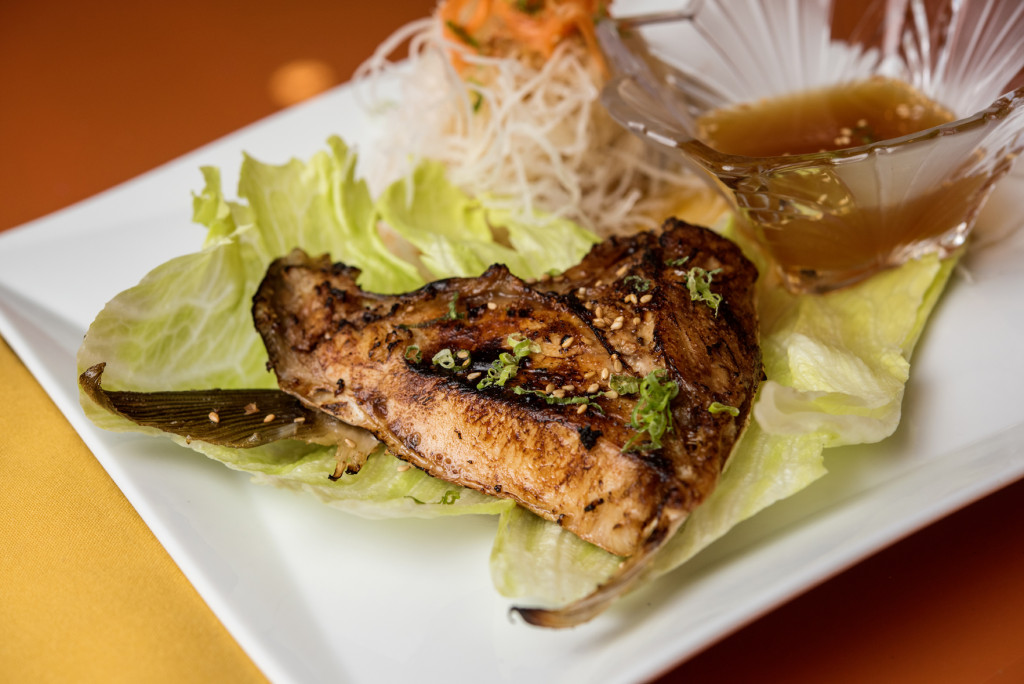 Fish neck is one of my new favorite things, and this Grilled Yellowtail Neck did not disappoint. The whole neck of a yellowtail was grilled perfectly, leaving the fish flakey and flavorsome. The cleverly presented dish is served with fresh vegetables and ponzu. Those uninitiated should take heed: There is a large center bone that makes it difficult to just dig right in. Pick away with care at this delicacy, and you will be rewarded with meat so tender and with such flavor that the sauce is unnecessary.
The Sweet Shrimp Nigiri offers another fanciful presentation. Two nigiri shrimp are served along with artfully fried shrimp heads. Curiously stuffed with crab stick, the whole heads were crisply fried with no greasiness. Those beautiful, crunchy heads stole the show.
After our pure protein indulgences, we turned to sushi rolls. The menu features a variety of rolls, such as the Tropical Sunset Roll, with spicy snow crab meat and mango, and the Crunchy Ruby Roll, with red radish and avocado. We started with the intriguing and eccentric Cara Roll—cucumber, avocado, marinated red radish, kanpyo (dried gourd strips popular in Edo-style Japanese cuisine) and inari tofu (a fried, stuffed tofu pouch) wrapped inside-out with nori and rice. We were struck by the textural plays between the chewy nori and the crisp, airy crunch of the cucumber, all galvanized by the snappy, pickled radish. I'm not big on soy sauce but sometimes enjoy a drop or two with my sushi. This  roll—hands down our favorite—required none.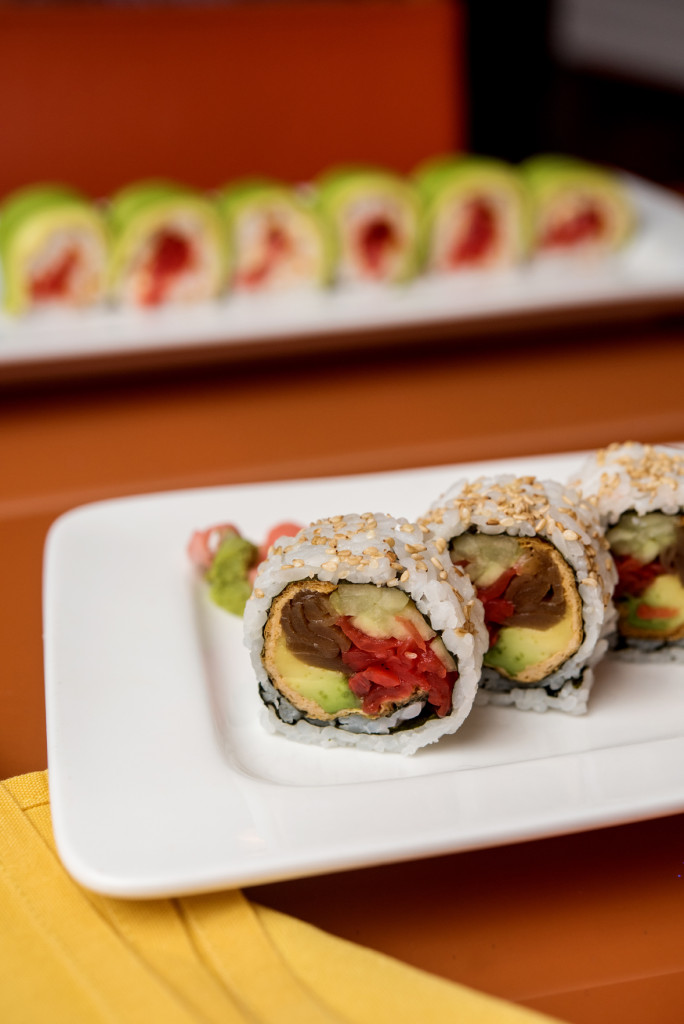 The Caribbean Roll, another atypical roll, showcases fresh mango, banana and avocado. We ordered it sans cream cheese, which it's usually served with. Topped with a colorful array of tobiko roe, it was a stunning presentation, enticing us to finish the rainbow-colored dish swiftly. An odd white side sauce confused my partner, prompting a glance at the menu. It was of no help. Our waitress simply described it as "sweet sauce." The combo of sweet fruit with salty fish roe made for an incredibly satisfying end to our meal. We were pleased we had requested it without cream cheese, which would have been too rich.
The only "miss" in our dinner was the Salmon Kiwi Roll: a fresh salmon roll accentuated with sliced kiwi. There was too much of the lackluster sushi rice, and the salmon was subpar. The only redeeming element was the sweet/tart kiwi.
Service was friendly and helpful at Waka House. The food came out so promptly our table was often overburdened with plates. But our waitress quickly whisked away the dirty dishes with each delicious new plate.
We were impressed by Waka House's avant-garde selections and convenient location. By the end of the meal, we both had to admit that though Waka House is not our usual sushi haunt, it could become our new hangout.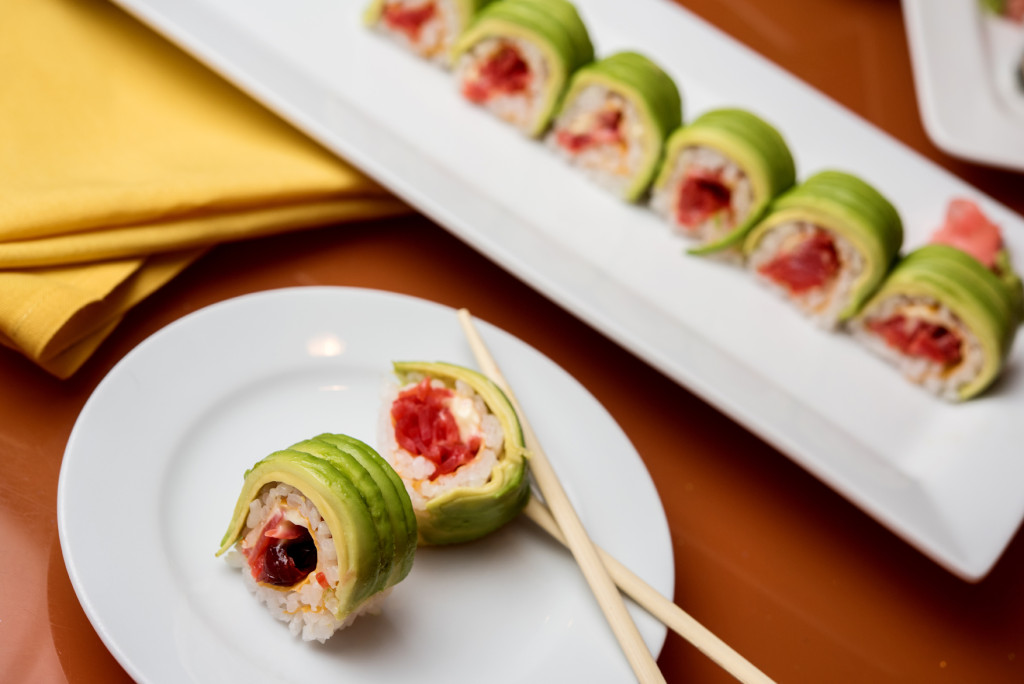 ---
THE BASICS
wakahouse.com
4625 S. Sherwood Forest Blvd., 293-4077
5229 Highland Road, 389-6615
Times vary at both locations; see website for specific hours.