The KGB Burger at Barcadia. Photos by Amy Shutt
---
Burgers, fries and fried PB&Js with a side of video games
Before my first visit to Barcadia, I had to do some preparation. I knew too much of what to expect to be flippant with my initial outing. So I called my cardiologist, refilled my cholesterol meds and brushed up on my hand-eye coordination skills to kick some serious butt on video games.
Enter from the parking lot and you'll hit the side bar. With its metallic wallpaper, purple pleather and gold tin roof, it is reminiscent of a cool '80s lounge. Steps away, the rollup doors along two walls and the colorful picnic tables throughout add a sense of a family picnic if your family picnics include giant Jenga games, colossal Connect Four and pin-up girl artwork. Through the main entrance on Highland Road, your senses are bombarded with colors, lights and sounds galore emanating from the classic video games along the walls. Here, the activity of the main bar spills into the dining room.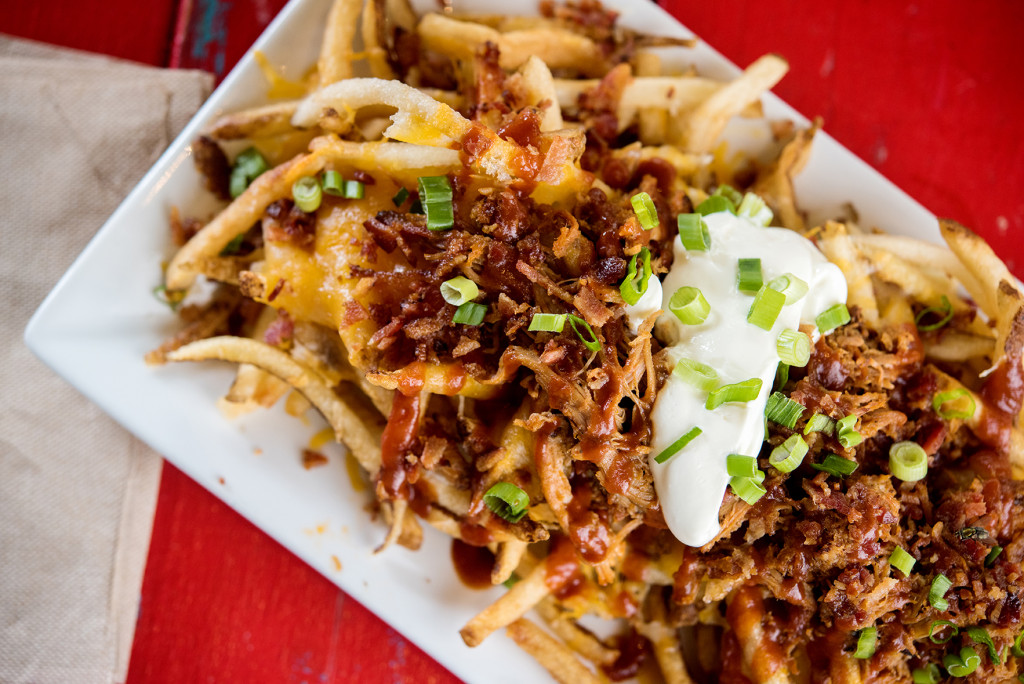 Barcadia's menu is dominated by the almighty burger. It's no wonder as these burgers started with the much-lauded Baton Rouge food truck Curbside Burgers, sadly absent from town for more than two years (though as we snuck in the back way, we saw the truck parked outside. Does this mean a return to the streets?).
Like the food truck, this meat-centric concept is the brainchild of chef Nick Hufft. While it may seem that it's all about the beef, there are a variety of other tasty vittles. Most noteworthy are the selection of sandwiches and the not-to-be-denied Frites Mayhem! (Exclamation is theirs.) My heart palpitated just reading this section.
My crew began with an order of frites, "Sloppy'd." Thin cut fries were laden with braised pork, cheddar, Dead Guy BBQ sauce, sour cream, green onions and more pork goodness in the form of crispy bacon. These were devoured at our table with animalistic grunts of approval. One friend noted the fries held crisp under the weight of the sloppy deliciousness. Another cherished them so much she almost ordered them as her side.
We all knew why we were there, though: the all-beef patties. With such a wide variety of hamburgers there was only one burger repeat from the original food truck: the KGB. Upon sampling it, I was struck by the predominant sweetness of the praline bacon. But after a second bite the runny egg yolk oozed out, uniting with the sharp cheddar and creating a splendid mix of sweet, salty, fatty flavors.
For less sweet and more earthy flavors the Green Chili Cheeseburger got high marks. The salty blue cheese and bacon were tempered by the roasted green chilies, pepper jack and cilantro crema. It was all topped with thin strips of blue corn tortilla chips, adding a salty crunch. This marriage of flavors perfectly accented the ground beef.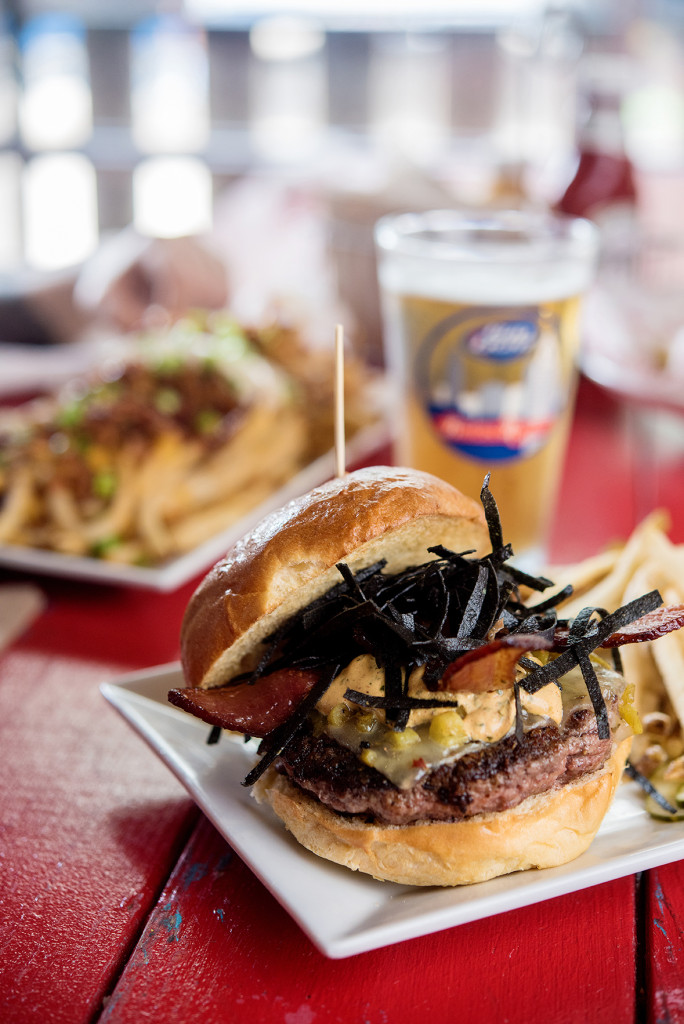 Barcadia's burger reputation is well known, but what gets left out in the many accolades is the buttery soft brioche buns that envelope each burger. The bun's hint of sweetness and soft texture are a resounding success.
The menu offers dessert options of bread pudding and brownie a la mode, but the truly adventurous return to the appetizer menu and order Billy's Fried PB&J. It is available as named or you could order the "King'd" version with peanut butter, bacon, banana and honey. All of us enjoyed the crispy fried bread with the liquefied peanut butter and sweet bananas. But even the diehard bacon fans in our group felt the bacon was overkill. We were all charmed, though, by the inclusion of a carton of milk to wash it all down.
Barcadia is a fun, raucous escape from the mundane with all its gaming, dining and drinking pleasures. With a prime location at the north gates of LSU, it will no doubt become a university institution. But people of all ages will find a variety of delights to satisfy the kid in all of us.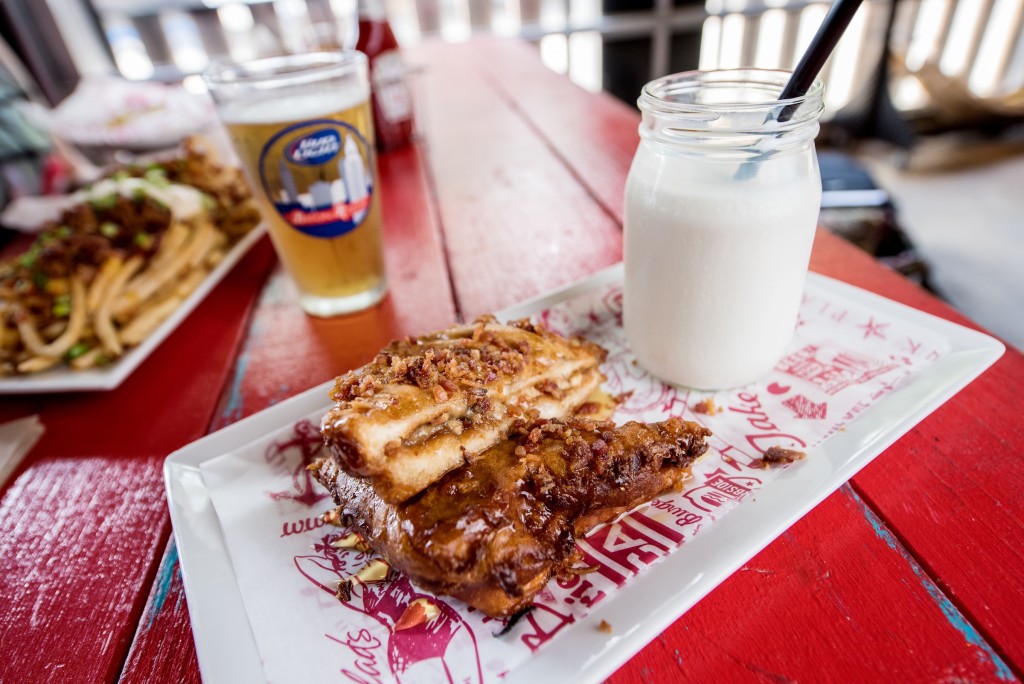 ---
CHECK IT OUT:
3347 Highland Road
224-6000
Monday-Saturday 11 a.m.-2 a.m.,
Sunday 11 a.m.-midnight