---
Poached eggs are the quintessential brunch item. When done correctly, they are tender, creamy and deliciously versatile. Cooking poached eggs can be challenging, but lo and behold, I recently came across a recipe for poaching eggs in the microwave.
Here's a secret: This technique is even used in the finest restaurants. After just a couple of tries and tinkering with the wattage of my microwave, huzzah: I mastered perfectly poached eggs.
To keep the dish light and fresh for spring, top the poached eggs with a flavorful chimichurri and serve over grilled tomato slices.
Servings: 6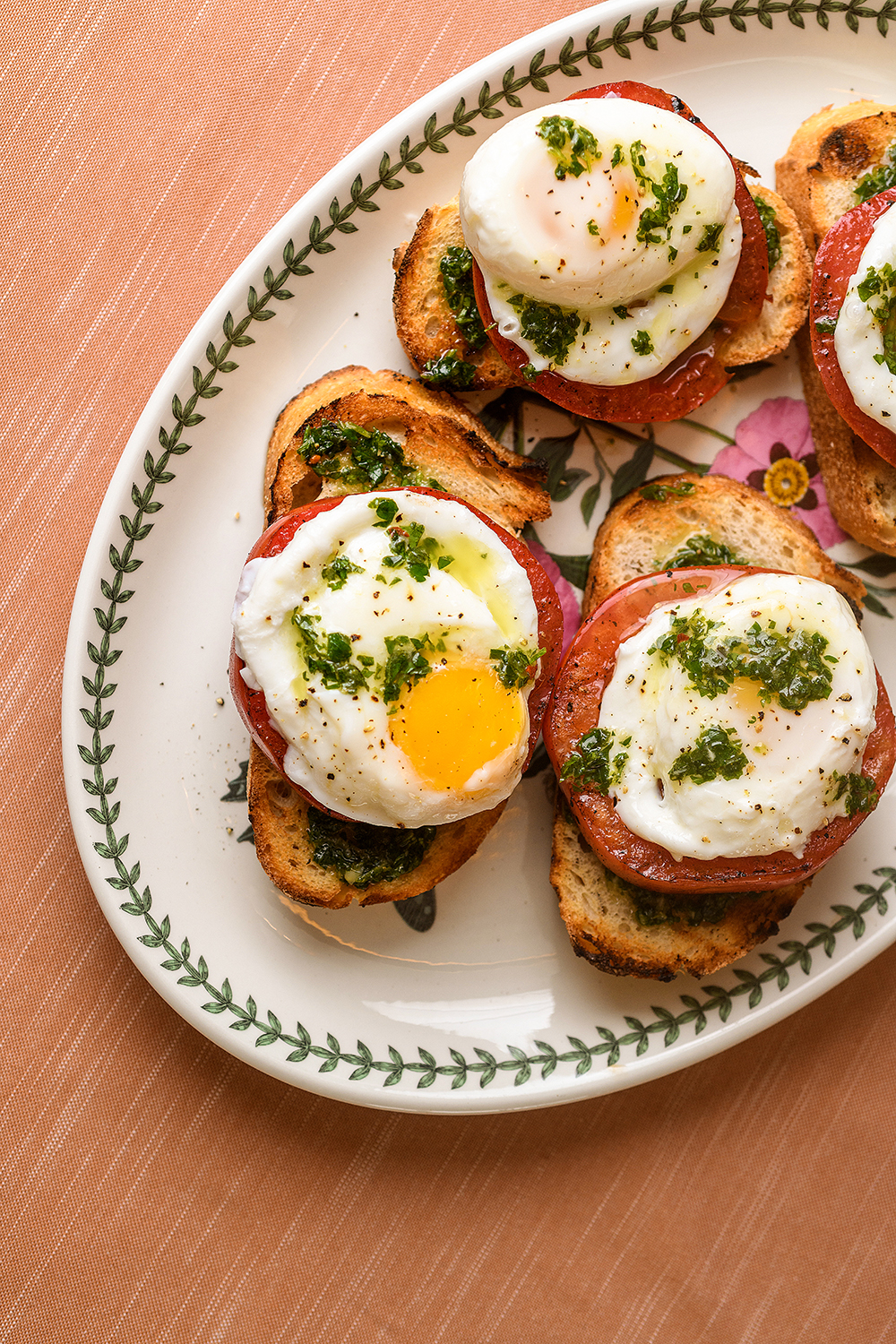 ---
1 small boule, sliced into 6 slices
2 large Creole or beef steak tomatoes
¼ cup olive oil
½ teaspoon kosher salt
½ teaspoon fresh ground black pepper
Water and distilled vinegar
6 eggs
1 cup chimichurri sauce (Recipe follows)
Slice the boule into six ½-inch slices and brush each side with olive oil.
Cut the tops off of the tomatoes and slice each one into thirds. Brush olive oil on both sides and sprinkle with a little of the salt and pepper.
Heat the grill to 350 degrees and oven to 200 degrees. Grill the tomato slices and bread for 2 minutes per side or until the bread is just toasted and the tomatoes are tender but still holding their shape. Transfer the tomatoes and bread onto baking sheets and place into the oven to stay warm.
Pour 1⁄3 cup of water into a small microwave-safe bowl. Add in a dash of vinegar. Carefully crack one egg into the bowl, ensuring there is enough water to completely cover the egg. Add in a little extra water if need be. Use a toothpick to gently pierce a hole in the yolk to prevent the egg from exploding while it cooks.
Cover the bowl with a paper plate or paper towel and cook for 45 to 60 seconds, depending on the wattage of your microwave. The egg is done once the whites have just set and the yolk is still loose. The egg will continue to set as it sits.
Fill a shallow baking dish with warm 100- to 120-degree water. Place the poached egg into the warm water to keep it warm as you poach the additional eggs, following steps 4 and 5.
To serve, spread a tablespoon of chimichurri onto the bread. Place a slice of the grilled tomato onto the bread followed by the poached egg. Sprinkle with a little salt and pepper; top with a little more chimichurri.

For the Chimichurri Sauce:
1 cup flat leaf parsley
¼ cup fresh oregano (or 1 tablespoon of dried oregano)
3 cloves minced garlic
¼ teaspoon crushed red pepper flakes
1 tablespoon fresh lemon juice
2 tablespoons red wine vinegar
½ cup olive oil
½ teaspoon kosher salt
Use a food processor or blender to puree the parsley, oregano, red pepper flakes, garlic, lemon juice and vinegar together.
Remove the puree and place it into a small mixing bowl. Whisk in the olive oil and salt.
Allow the sauce to sit for 30 minutes before serving to allow the flavors to develop. This sauce can be made a day ahead of time and will keep in the fridge in an airtight container for up to 5 days.
---
This article was originally published in the March 2023 issue of 225 magazine.