When most of us leave our favorite dessert shop, we leave with full stomachs and a satisfied sweet tooth. When Baton Rouge attorney Maria Finley walked out of Rita's Italian Ice in 2015 for the first time, she says she made up her mind to bring the franchise to Louisiana in a matter of minutes.
At the time, Finley was at Georgetown University getting her master's and considering venturing into tax law. Her son and his friend—also attending the university—suggested they all get a treat at Rita's. Finley had never heard of it before and quickly ordered one of the first menu items she saw: a blue raspberry Italian ice.
"I tasted it," Finley says, "and I was like, 'Oh my God. What is this, and why don't we have it in Louisiana?'"
Ten minutes later, Finley was calling her real estate agent and telling him to take her house off the market, she says. She was coming back to Louisiana, and bringing dreams of owning a frozen treat franchise with her.
Despite a few setbacks—the 2016 flood and an extended construction process—those sweet dreams became a reality Oct. 15 when the Baton Rouge location opened its doors at 1082 West Lee Drive. "It's not for the faint of heart, but I was getting Rita's here," Finley says.
Walking inside the brick building, the white walls give the interior a clean look, but the main attraction is its menu full of frozen desserts, some of which Rita's newbies might find unfamiliar.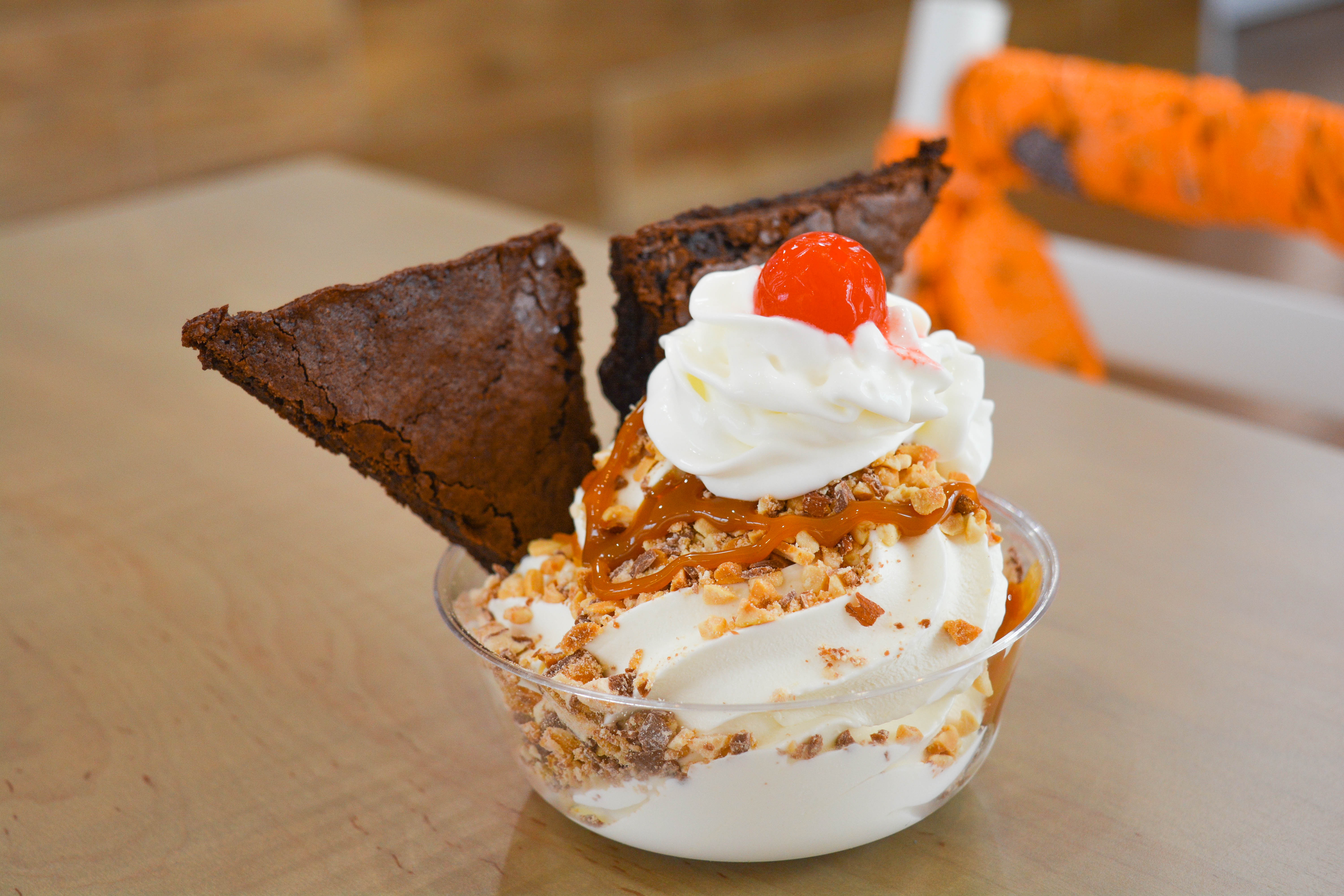 First, there's the classic Italian ice, a water-based offering. The mango and cotton candy flavors are most popular. Then, there's the second Rita's essential: the frozen soft-serve custard, made in house and hand scooped. The custard starts with a vanilla base, and toppings are then folded in to form your favorite flavor.
But where it gets interesting is when you combine the two. The Gelati has soft serve in the bottom, Italian ice in the middle and then a swirl of soft serve to top it all off. The Misto blends both the Italian ice and liquid custard together to create a consistency of its own. Then, the Blendini is a mix of Italian ice and one topping.
If you're looking for something to bite into, you can try the fresh-baked waffle cones or the hot and cold sandwiches made of brownie and cookie and stuffed with custard.
Still a practicing attorney, Finley calls working at Rita's her "fun job." But to balance both the shop and clients, Finley needed a right-hand woman. She asked her grandson's mother, Tatyana Davis, if she would be interested in managing the Baton Rouge location.
Without hesitation, Davis agreed to take on the position, Finley says. While Finley did not know it at the time, Davis had long held sweet dreams of her own. "It's funny because when I was 5, a friend of mine from school's mom asked me, 'What do you want to be when you grow up?,' Davis says, "and I told her, 'An ice cream maker!'"
While Rita's does not quite sell ice cream, the opportunity still felt serendipitous. Originally from Chicago, Davis was familiar with Italian ice, which was a breath of fresh air from the usual blank stares Finley usually got when mentioning the frozen dessert to friends and family. "In Chicago, we grow up on Italian ice because we have a very affluent Italian community," Davis explains.
Even though the store opened not too long ago, Finley says the staff of eight girls and her son Brandon have all become like a family.
"It's just a really fun place to be," Finley says. "When you taste it, it makes you smile. I think that's the really exciting thing."
Once they settle into the Baton Rouge location, Finley says she hopes to open another Rita's in New Orleans and then eventually more in Baton Rouge. They have changed their hours starting Monday, Oct. 21, to noon-11 p.m. to accommodate late-night cravings.