Fluffy tender pancakes topped with butter and pure maple syrup accompanied by crisp, smoky bacon have just the right balance of flavors and textures and are definitely one of my favorite breakfast or brunch items. However, making stacks of pancakes for a crowd can be a bit of a hassle, not to mention difficult to transport if you are packing up brunch to take it out to tailgate. These pancake muffins with brown sugar and bacon crumble are made from all of the same ingredients of pancakes and bacon but baked in a muffin tin. They have the satisfying flavors of a stack of fluffy, tender pancakes but are a lot easier to eat on the go.
Yields 18 muffins (or 12 jumbo muffins)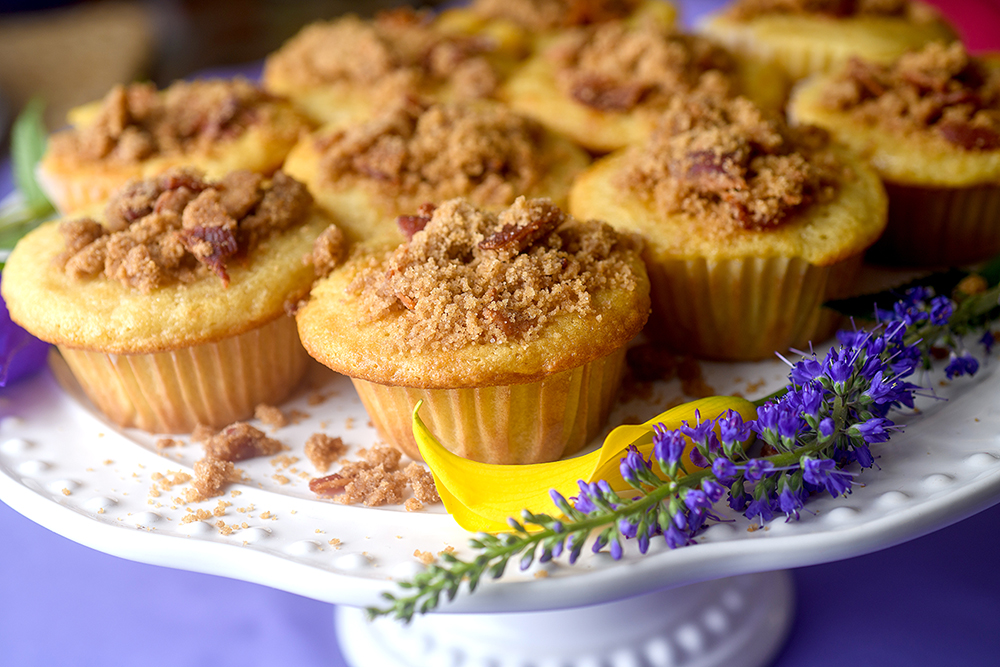 For the muffins:
2 cups all-purpose flour
3 tablespoons baking powder
1 teaspoon baking soda
½ teaspoon salt
½ cup sugar
6 tablespoons melted butter
2 eggs
2 teaspoons pure vanilla extract
¼ cup pure maple syrup (for the batter)
2 cups whole milk
½ cup pure maple syrup (to brush on top of muffin after baking)
Heat the oven to 350 degrees. Meanwhile, in a large mixing bowl, add the flour, baking powder, baking soda, salt and sugar until well combined.
In a separate bowl, add the melted butter. Crack the eggs one at a time into the melted butter, whisking between each egg to combine until smooth.
Pour the vanilla and maple syrup into the egg mixture. Whisk in the milk.
Gently whisk the wet ingredients into the dry until well blended. The batter may have a few lumps due to the butter.
Allow the batter to rest for 5 minutes before scooping it into the lined muffin tins.
Bake the muffins in the oven for 18 to 20 minutes until golden brown and a tester in the middle comes out clean.
Allow the muffins to cool slightly and then remove them onto a cooling rack. Brush the tops of the warm muffins with the remaining maple syrup and then top each with a couple of teaspoons of the bacon crumble topping (recipe follows).

For the bacon crumble:
4 strips of cooked, crisp bacon
¼ cup flour
1⁄3 cup dark brown sugar
1 tablespoon white sugar
¼ teaspoon cinnamon
3 tablespoons butter
Crumble the bacon into bits and set it aside.
In a mixing bowl, combine the flour, sugar, brown sugar and cinnamon together until combined.
Cut the butter into pieces and use your fingers to combine the butter and sugar mixture together until it resembles wet sand. Add in the crumbled bacon and mix to combine.
Line a baking sheet with parchment paper and pour the crumble onto the baking sheet. Place the crumble into the 350-degree oven for 8 to 10 minutes or until golden. Remove the crumble from the oven and set it aside until you are ready to top the muffins.
---
This article was originally published in the September 2023 issue of 225 magazine.
Recipes by Tracey Koch and Maggie Koch.