---
My husband's grandmother from Bay City, Texas, was known for her chocolate pies. She always made them for him and his siblings growing up, and they were the family's favorite holiday dessert. When our kids were younger, we spent many Thanksgivings in Texas with my husband's family. Those traditional chocolate pies quickly became my children's favorite, as well. Once our daughter Maggie got older, she began experimenting with her own version of a chocolate pie. She has perfected her own version of a deep, dark chocolate pie, and it is no surprise her dark chocolate pie has become a new family favorite. The secret to her decadent, creamy dark chocolate pie is a blend of good-quality chocolates. She starts using Hershey's Cocoa Special Dark Powder and then adds in both semisweet and 60% dark chocolate bars. The result is a rich chocolate pie—the perfect chocolate addition to any dessert table.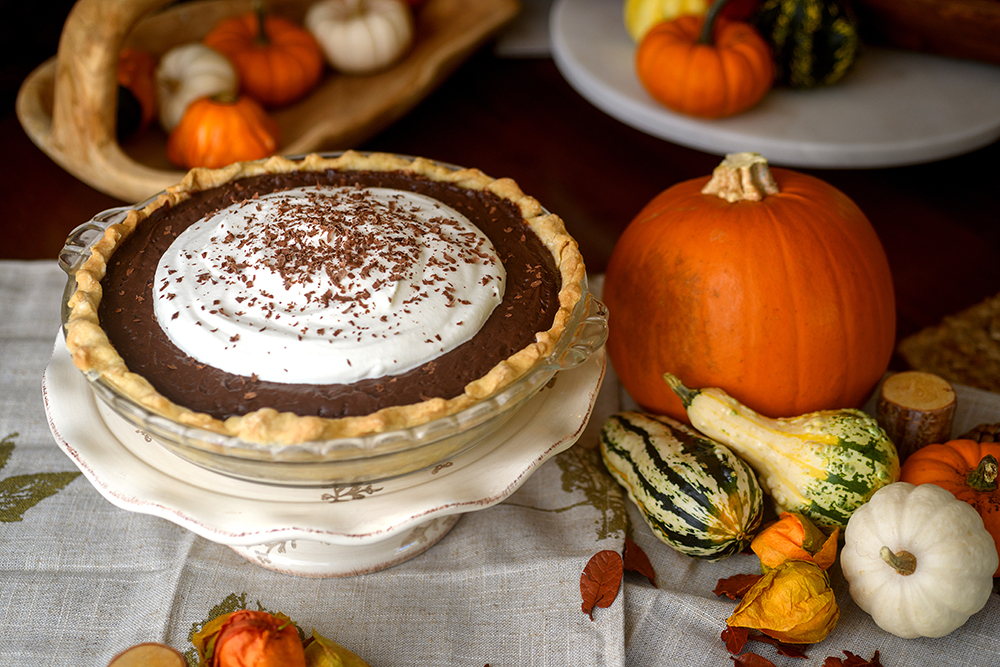 ---
Servings: Yields 1 (9-inch) pie
1 (9-inch) pie crust
¼ teaspoon cornstarch
2 tablespoons Hershey's Cocoa Special Dark Powder
1 ½ cup sugar
¼ teaspoon salt
3 cups whole milk
4 egg yolks beaten
8 ounces semisweet chocolate
1 ounce bittersweet chocolate
2 tablespoons butter
1 tablespoon vanilla
Heat the oven to 350 degrees. Roll out the pie crust and press it into a 9-inch pie dish. Crimp the edges and place weights into the bottom of the crust to prevent it from bubbling up or sliding down the edges of the dish as it bakes.
Bake for 15 to 20 minutes or until it is a light golden brown and completely baked. Remove from the oven. Use a fork to prick the bottom of the crust to allow steam to escape while the crust cools. This will prevent the crust from becoming soggy. Set the pie crust aside to cool completely before filling.
In a heavy medium saucepan, blend together the cornstarch, cocoa powder, sugar and salt until well blended.
Turn the heat to medium and whisk in the milk and egg yolks. Use a rubber spatula to get everything off of the bottom and sides of the pot. Continue whisking over medium heat for several minutes until the mixture is smooth, thick and is just coming to a boil.
Immediately turn off the heat and continue whisking to prevent the eggs from scrambling. As you are mixing, add in the semisweet and bittersweet chocolate, butter and vanilla.
Mix until all is smooth and well blended. Pour the chocolate pie filling into the baked pie crust.
Place plastic wrap, touching the chocolate filling, to prevent a film from forming. Place the pie into the refrigerator for several hours over night to chill completely. Top with whipped cream and chocolate shavings.
---
This article was originally published in the November 2022 issue of 225 magazine.