---
From Magpie Cafe to Curbside Burgers, 2016 was an action-packed year for Baton Rouge's culinary scene. We're hoping 2017 brings just as many fresh flavors and exciting new faces, and we've already got a few on our radar in the coming months. Check out our list, and let us know what's on yours.
Kalurah Street Grill
The swanky new occupant of the iconic Chelsea's Cafe location, led by Kelley McCann of Galatoire's Bistro fame, is bringing seasonal, locally sourced dishes and crafted cocktails to the Perkins Overpass neighborhood. The restaurant hosted a New Year's Eve party as a preview event and plans to start serving dinner Friday, Jan. 6. Check out our First Look in this week's 225 Dine.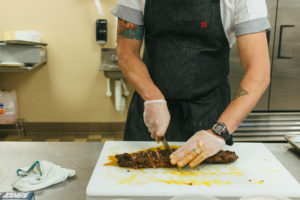 BRQ
With a December pop-up dinner under their belt, the BRQ team hopes to have their doors open to sling barbecue and seafood by spring. Keep an eye on their future location at 10423 Jefferson Highway around the corner from Louisiana Culinary Institute.
Southfin Southern Poké
For the uninitiated, poké is Hawaiian salad made with raw fish—usually yellowfin tuna—often mixed with sauces, veggies, pineapple and/or rice. The team behind City Pork plans to bring this concept to Baton Rouge in February as it moves into the former home of Truly Free Bakery in the Southdowns Shopping Center.
Elsie's Plate & Pie
Taking over the erstwhile Honeymoon Bungalow spot on Government Street, Elsie's Plate & Pie is eyeing an April or May opening. The new restaurant will be dishing out lunch and dinner, drinks from a full-service bar and plenty of pie, with an emphasis on Southern cuisine.
Another Broken Egg
According to the latest updates, the third location of Another Broken Egg—on the ground floor of the IBM Building downtown—is still aiming to open in mid-January. We're ready for some power breakfasts.
District Donuts Sliders Brew
We're both thrilled to have this New Orleans favorite coming to Towne Centre and terrified of what it will do to our waistlines. The innovative doughnut peddlers, who specialize in flavors like strawberry basil, Mexican hot chocolate and cannoli, aim to open in late spring.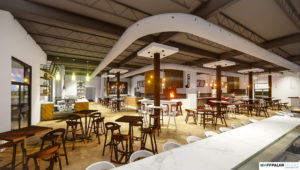 White Star Market
What's better than nearly a dozen eateries in one place? New food hall White Star Market in Mid City should be opening its doors in late spring, featuring Jay Ducote's Gov't Taco, pho and ramen dishes from Chow Yum Phat, Jolie @ The Market from the Jolie Pearl team and many more. (Check out our story on the couple behind White Star Market in January's People to Watch issue.)
Los Reyes
Albasha co-founder Naser Dyak is tackling Tex-Mex cuisine with the impending opening of Los Reyes in the former home of Las Palmas on Coursey Boulevard. Dyak announced that renovations and expansion of the space were near completion in December, and the team hopes to open before spring.
Mid City beer garden
With construction derailed following last summer's flood, the so-far unnamed Mid City beer garden project from the Radio Bar team is aiming to break ground this spring on the corner of Government Street and Steele Boulevard. We're optimistic enough to hope for an opening by the end of the year.
---
What other local restaurant and bar openings are you anticipating this year? Let us know in the comments!