The first time she sat in MJ's Cafe, Mary-Brennan Faucheux fell in love with the vegetarian restaurant.
It was 2011, shortly after the cafe's spring opening. From the regular customers to the seasonal and local food sourcing, Faucheux was enamored by the atmosphere then-owner Maureen Joyce had created. She didn't know then that six years later, she would become the new owner. 
Her plans for the restaurant's future include adding a toast bar and Sunday brunch. But no fear: Faucheux assures us that MJ's is still MJ's.
Faucheux's deep familiarity with and respect for the restaurant goes back to 2012, when she started working there as a waitress while taking classes at LSU. Little did she know her days of dishwashing and mopping floors were preparing her to run the restaurant.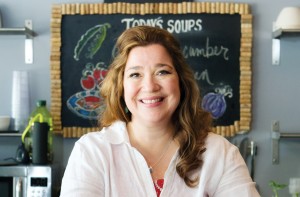 In October 2016, Joyce decided to pursue another cooking career at a Louisiana healing center. In hopes of keeping MJ's Cafe up and running, Joyce began training Faucheux on everything from kitchen basics to how to make their daily soups. On June 1, Faucheux, now 27, officially became the new owner.  
Standing 5 feet 9 inches tall, Faucheux wears a jean skirt, a striped cotton shirt and hiking sandals the day of our interview. Her hair is tousled in a bun, and her blue eyes match her fingernail polish. Between adding colorful vegetables to a crockpot and coordinating window cleaning services for the cafe, Faucheux makes time to talk with us about her plans and menu favorites. She flashes an occasional warm smile as we talk.
---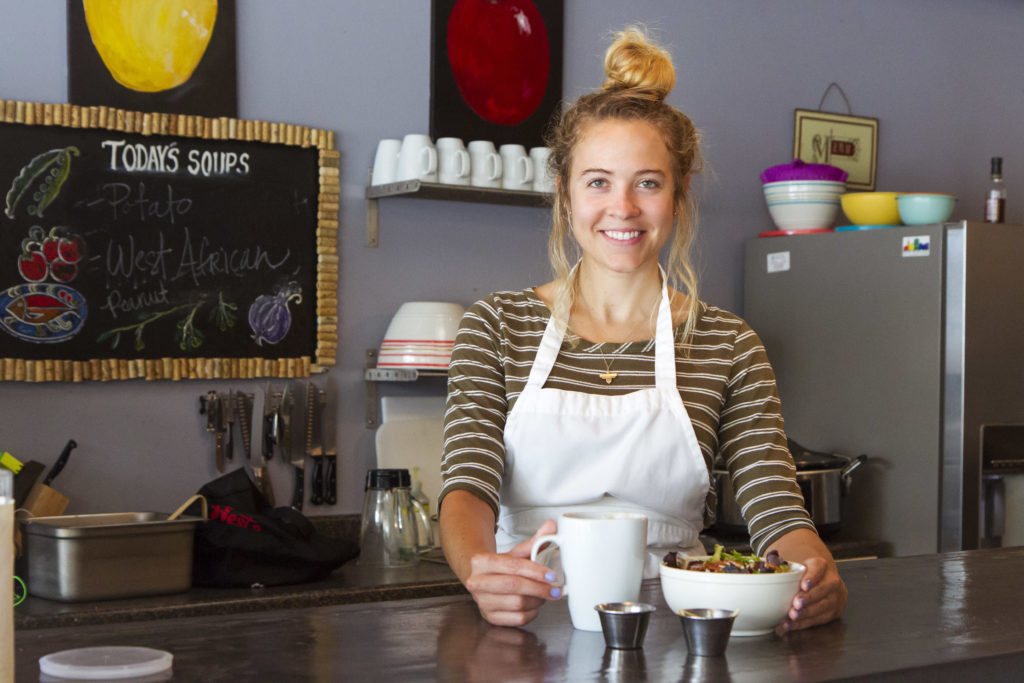 How did you learn how to cook?
Back in high school I started learning a lot about health and food. I started experimenting there, but it wasn't really until I started working [at MJ's Cafe] when I opened Pandora's box and dug in.
What's your favorite thing to make on the menu?
I love making the soups. I love in the morning when I'm adding the last bit of touches. That's my favorite time because I'm not around anybody; I'm focused, and I'm just showing love to the soups. That's my little time of peace.
What's the best thing about working at MJ's?
MJ's is kind of like a vegetarian Cheers. People come in here, and you're basically either welcomed or you're known already. I'm always overhearing conversations, and they're so interesting. These people are so intelligent, and I'm always learning things from them.
As the new owner, any plans for the future?
Hopefully we'll be opening up for brunch in the near future on Sundays. We might have a little pop-up art market that coincides with it. I'm going to do a toast bar with that, so we'll have sweet and savory toast.
What do you like to do when you're not at the cafe?
I have some wonderful nieces and nephews, so I love hanging out with them. I play a little beach volleyball, and when I get the chance I love going to Tunica Hills.
Is there anything you want to communicate to MJ's customers, whether old or new?
MJ's is absolutely still MJ's. My mission is still to source locally and organically as much as possible and still continue doing this for the community.
MJ's Cafe is at 672 Jefferson Highway. It is open Monday-Friday, 11 a.m.-3:15 p.m.