Photo courtesy Food Network
---
Jay Ducote may not have been crowned 'Food Network Star,' but that doesn't mean he hasn't inspired Louisianans and shined a light on Baton Rouge
---
On Sunday evening, Ducote's run on Food Network Star came to an end. We caught up with him to find out what he thinks of the show's outcome, what he's learned and what he's going to do next.
225 Dine: How are you feeling with all of the support from your fans, in and outside Baton Rouge?
Ducote: The support has been truly overwhelming, especially in the last couple of days. I think we had over 600 people at The Varsity [Sunday night]—just to watch a one-hour-long Food Network show. The flooding of social media and texts and phone calls and things have been to the point where I can't even think about keeping up with it. I think I got over 1,000 tweets yesterday. It's been, in a great way, overwhelming. It's almost inspiring to me, letting me know that I'm doing the right thing and being successful in showing and sharing my passion.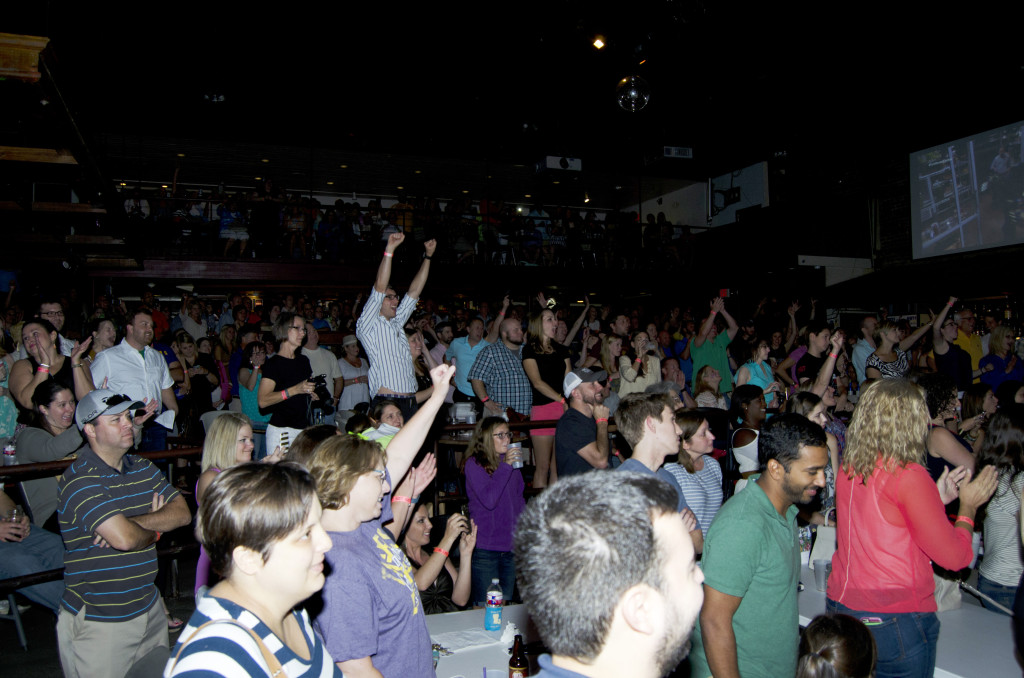 Crowds cheered for Jay Ducote Sunday night at the finale viewing of Food Network Star at The Varsity. Photo by Allie Appel
---
What big lesson did you learn during the competition?
I think the main thing that I'll come away with is really just to believe in myself and be confident and continue chasing my dreams. I have no reason to be nervous or to hold back or to not just go for it. It was an incredibly successful run on an absolutely challenging journey. Now I know there's no reason for me to hold back on anything else. It was just a big discovery of self-confidence.
What's the best piece of advice you received during the season?
I would say the mentoring from Bobby and Giada throughout the show. What they really got me to do was relax even more than I already was, and to just remember to take a deep breath and enjoy the moment. I think that was one of the main things for me—as the show continued to move on, I was really able to slow down and take that breath before really critical moments.
Is there anything you wish you would've done differently?
I certainly would want another crack at the soup challenge. If I could pick one challenge to go back and do over, it would be that one. I could have made something very impressive and instead I made a very mediocre gumbo.
Who was your favorite special guest to work with?
We got to work with Rachael Ray so much more because that was our special guest director for the pilots, and I would say she was my favorite because she was one of the only ones I was working with as a mentor and director and not just as a judge. She had a very obvious expertise in what we were doing, and just spending that day with her filming my pilot I learned a lot about what it takes to make entertaining food TV.
What would you say to the next set of competitors on Food Network Star?
Anybody trying to get on this show in the future, I would definitely say make sure you're ready for the presentation side of it. I think most people who get on the show are ready for the cooking side, but if you have no experience talking in front of people or talking in a very finite amount of time, you're really going to struggle right from the beginning. And for me, it really helped to be able to relax and enjoy it. If you're not having fun, then whatever you're doing isn't worth doing. Some of the people who weren't having fun were the people who got eliminated in the beginning.
What's next for you, now that Food Network Star is over?
Today, I'm going to sleep. But there's plenty to do. I'm going to make sure I'm focusing on Bite and Booze stuff, as well as the barbecue sauce and other products I have coming. But I'm going to keep my eyes open for anything else that comes down the line.