Let's face it, after a long day of work, most of us aren't excited by the idea of having to slice, marinate and prepare ingredients for dinner that evening. Neither was Indie Plate Co-Founder and CEO Paritosh Sharma when he launched the local foods delivery service in December 2013.
Indie Plate brings fresh groceries, many of which come from local farmers and food producers, to residents in the Baton Rouge region.
The online service recently expanded to also offer dinner-to-door meal subscriptions with the help of Nino's owner and chef Elton Hyndman, who designs the menu for each meal kit.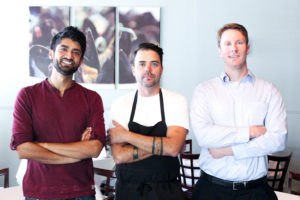 Customers can register online for one of three subscriptions: eight meal and snack servings per week, 12 meal and snack servings per week, or a raw produce basket that includes items like strawberries, beets, radish, kale or tomatoes from local farmers.
After offering the meal kits in January 2016, Sharma says he saw a large influx of customers requesting dinner-to-door services. He and his team discussed how to make preparation at home easier, and enlisted Hyndman—who has made a name for himself locally for his use of local and seasonal ingredients at Nino's—to help craft the menus.
"We asked ourselves, 'What is it about this recipe that we would hate to do at home?'" Sharma says.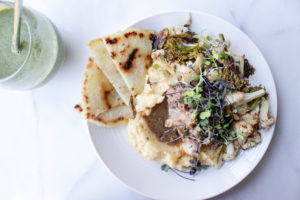 Indie Plate aims to have the hard part of preparing meals finished by the time it gets to the customer, Sharma says. To do that, the Indie Plate chefs chop, dice and marinate the more difficult food items before packaging so the customer is required to do minimal work when it's time to cook.
Dishes on the menu include pizzas, salads, seared pork chops with romanesco sauce, shrimp Pad Thai, lettuce wraps and more. In addition, all of the food and raw goods are sourced within 250 miles of Baton Rouge.
While the company is Baton Rouge based, Sharma says Indie Plate plans to expand and begin shipping meals statewide by the end of 2017. However, the grocery delivery service will remain limited to Baton Rouge and its surrounding areas.
See the online menu and find more information at indieplate.com.