Three Roll Estate, the distillery next door to The 13th Gate haunted house, gets plenty of customers in the fall, particularly around Halloween.
It's why the distillery's bar will be open until 8 p.m. throughout the haunted house's 2021 season.
The bar has prepped a special menu of $5 Halloween-themed cocktails for the occasion, says Three Roll marketing designer Matt Street.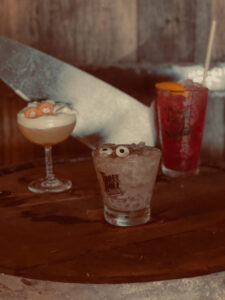 "The Frozen Spook Juice" is made with white rum, blueberry purée, lemon juice and simple syrup.
"I Want to Speak to the Manager" is the bar's riff on a pumpkin spice drink, made with vodka, homemade pumpkin spice syrup, orange juice and chicory pecan bitters.
"The Witch's Brew" is a blend of rhum agricole, star anise syrup and pomegranate juice.
The bar will also be debuting its fall cocktail menu soon, though those drinks aren't part of the $5 menu. Stay up to date with the distillery's new releases on Instagram.
Three Roll Estate is at 760 St. Philip St.