---
Approaching Bao Vietnamese Kitchen's front door, diners first walk through a large patio with bistro string lights and a central fountain. Plenty of tables offer opportunities for al fresco dining in good weather. Inside the year-old Perkins Road restaurant, the color palette is light with accents of shiny black. Blond wooden chairs and soft lighting create a soothing atmosphere that invites lingering.
Once seated, we went right for the appetizers. A standout is the Nem Nuong Spring Rolls encapsulating Vietnamese sweet sausage, lettuce, cucumber, herbs and vermicelli noodles in a rice paper wrapper. The sausage was slightly sweet with a mild liver taste. Though it's a standard accompaniment, the thick and sweet peanut sauce was a distraction from the unique flavors of the roll. The vegetables offered textural counterpoints to the vermicelli noodles. Altogether, it was a mild, satisfying start to the meal.
Bao's version of Vermicelli with Grilled Shrimp, Grilled Skewered Pork & Eggroll is a take on a Vietnamese favorite of mine, and it did not disappoint. My first bite with this type of dish is always the eggroll. Crisp without a hint of greasiness, Bao's eggroll was packed with mildly seasoned, juicy ground pork.
Also delicately seasoned was the mostly lean grilled pork that had just enough fat clinging to the edges to keep it moist and flavorful. A thin, sweet and salty sauce livened up the plain noodles and enhanced the briny flavors of the plump shrimp, but it overpowered the grilled pork. Vegetables along with peanuts, cilantro and mint added freshness and crunch to the meats and noodles.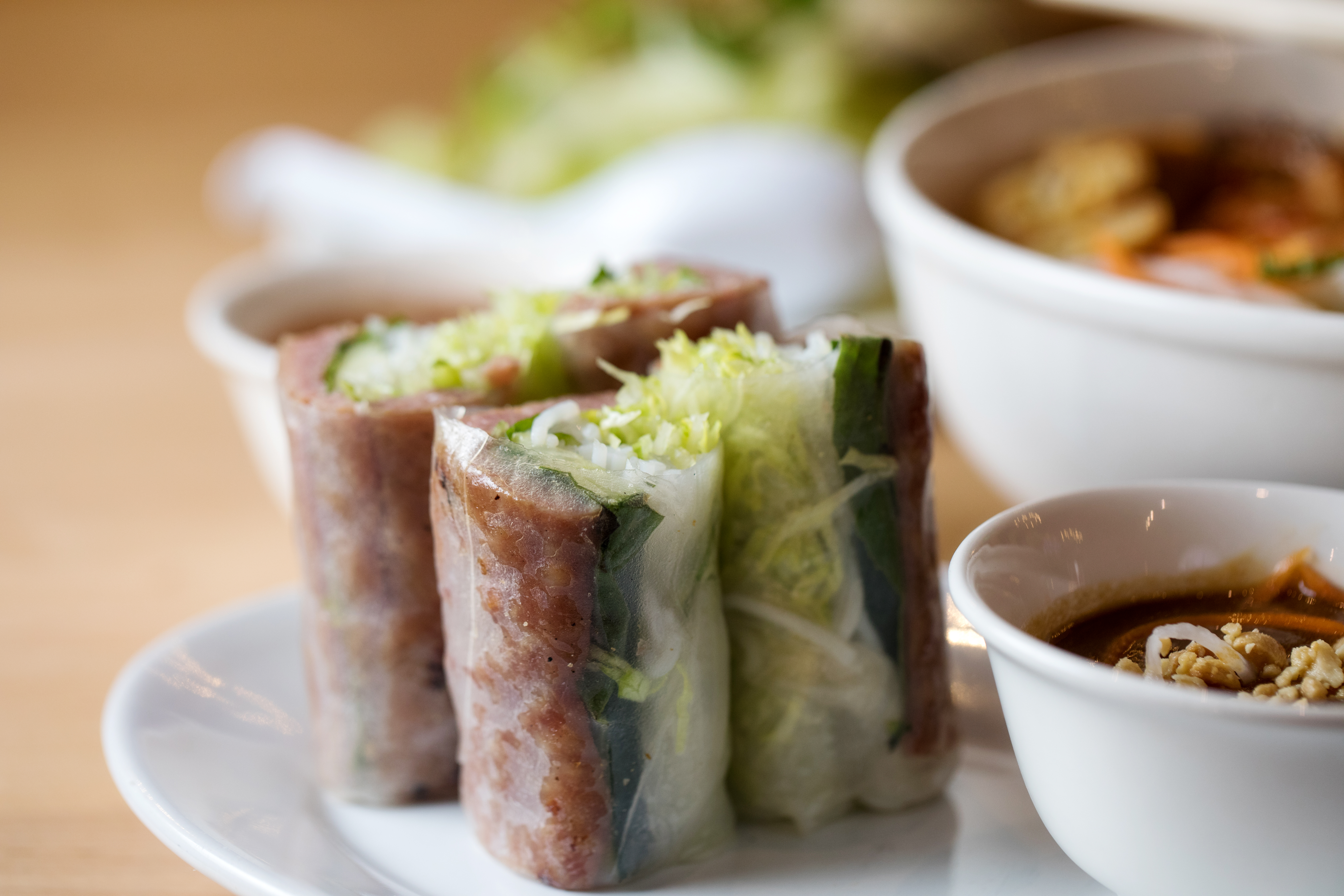 The Bun Bo Hue soup was a fascinating mixture of thinly sliced beef, beef tendon and Vietnamese ham. For those wanting to detour from the traditional pho, this is a great alternative. The sliced beef was tender and simple, while the sliced ham was bright and salty with a spongy texture similar to bologna. Chewy and not very flavorful, the beef tendon pieces didn't add much to the overall dish. Thoroughly enjoyable, though, was the slightly oily, orange-red broth loaded with interesting but unidentifiable flavors and a subtle heat that sneaks up on you.
By recommendation, we chose the Combination Hu Tieu, a meat and seafood soup packed with char siu (a type of barbecued pork), ground pork, shrimp, fish balls, shrimp balls, squid, crab flakes, quail eggs and our choice of clear noodles.
Described as a slowly simmered pork broth with "authentic Vietnamese spices and herbs," I couldn't figure out what those seasonings might be, but I did detect star anise, which is common in most pho broths. This broth had none of the heat of the Bun Bo Hue soup but all of the fascinating flavors that make Vietnamese soups so delectable.
The fish ball was firm, a bit rubbery and fishy—best enjoyed with the broth. The shrimp ball was far more palatable with a softer bite and no fishiness. Not unlike barbecue pork you might find in a Chinese restaurant, char siu has more intense pork flavor. I could have eaten this on its own. There was minimal ground pork, but what little there was had me wanting more of its richness. Rounding out the cornucopia was squid, boiled shrimp and crab flakes. While the squid and shrimp added little additional flavor, the crab flakes had a crisp brackish pungency that was like nothing else I've tried.
Both soups came with plates of bean sprouts with sliced fresh jalapeños. One plate also had mounds of cilantro, lime and thin slices of celery, while the other added purple cabbage and pungent Thai basil. These veggies added lightness and freshness to each soup.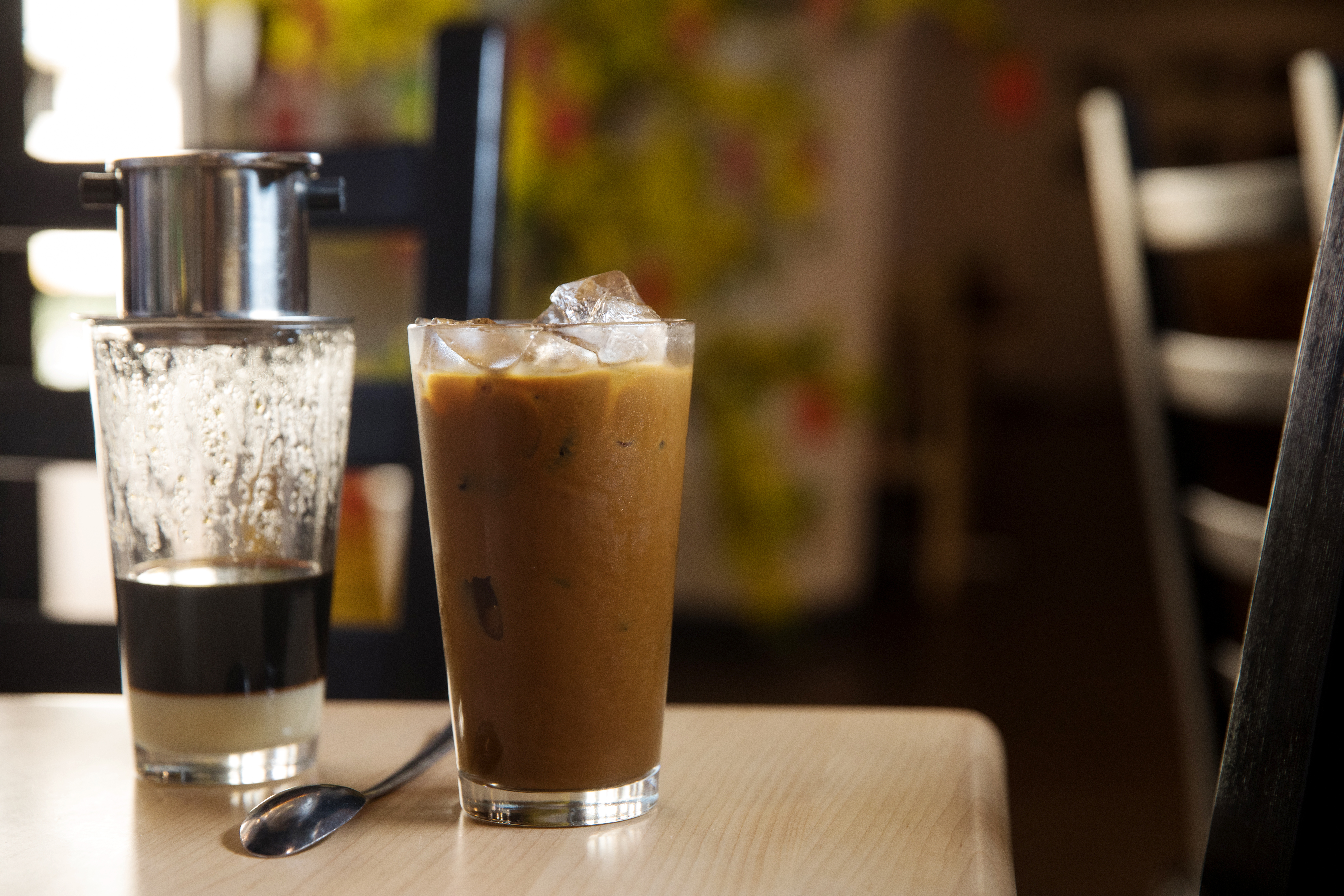 In need of a sweet ending to the meal, we opted for the Vietnamese Iced Coffee, an irresistible combination of strong, bitter and sweet. Its jolt from the strong coffee coupled with the sweetened condensed milk had me wide awake later that night. But the insomnia was worth it.
For an adventure in dessert, we tried the Che Ba Mau, a popular Vietnamese sweet also known as the three-color bean dessert. Layered in a tall glass were pale and dark brown sweetened mung beans, red and navy beans and bright green-hued pandan jelly ribbons against stark white coconut milk and shaved ice. It was a stacked rainbow of flavors and textures unusual to the Western palate.
We were told to mix everything together for maximum enjoyment. Our first reaction was to the unexpected composition that varied from soft to squishy then crunchy to creamy. A mild sweetness from the sugary beans gently hits the taste buds then gives way to earthiness. A crunch of ice and the creamy milk round out this unique flavor sensation.
We left thinking about all that Bao adds to our local culinary scene. It offers bold combinations of meats and flavors—some of the squishy sweet bean variety—not found at all Vietnamese establishments.
With a friendly and very helpful staff, I found no reason not to happily add this to my dining rotation.
---
The basics: Opening in April 2017 in the Panache Plaza Shopping Center on Perkins Road, Bao Vietnamese Kitchen has added another great location for Vietnamese cuisine with modern flair and atmosphere.
What's a must: The Nem Nuong Spring Rolls with sweet sausage and veggies in rice paper, and the Combination Hu Tieu soup with an assortment of meat and seafood (fish balls and squid, anyone?) in a deeply spiced pork broth. For dessert, try the Che Ba Mau if you have an acquired taste for sweet beans, or opt for the Vietnamese Iced Coffee for a strong and sweet kick.
---
EAT AT BAO
baovietkitchen.com
8342 Perkins Road
Hours:
Monday-Saturday, 10 a.m.-9 p.m.
---
Our food critic's name may be false, but the credentials are not. This gastronome has studied the history, cultivation, preparation, science and technology of food for more than 30 years.
This article was originally published in the May 2018 issue of 225 Magazine.