---
While most of the city is sleeping between the hours of 2 and 5:30 a.m., Robyn Selders is stirring in her kitchen, making treats for customers.  
By day, the 34-year-old is a full-time English teacher at Woodlawn Middle School. By night, she exchanges her school attire for a pair of leggings and a T-shirt to get dirty in the kitchen.
The Baton Rouge native is the founder of Cupcake Junkie, and she's been baking since 2009. Selders says she wasn't enjoying store-bought cakes anymore, so she created her own (top-secret) cake recipe. After a few years of trial and error, she applied for a business license in 2014 and officially jumpstarted her company, making custom orders of cupcakes, brownies and cookies for customers. 
Since then, she has expanded her business and created a variety of treats including candied strawberries, banana pudding cupcakes, mint chocolate cake and caramel apple pie cupcakes.
With an emphasis on freshness, the Cupcake Junkie baker makes all of her customer's orders before the sun rises. By 6:45 a.m., Selders is back at school, preparing for her next class. After little sleep and many busy mornings, she will complete her final year teaching and start baking full time in May.
We sat down with the baker behind Cupcake Junkie at CC's Coffee House to talk food, the importance of freshness and how she has divided her time between teaching and cooking.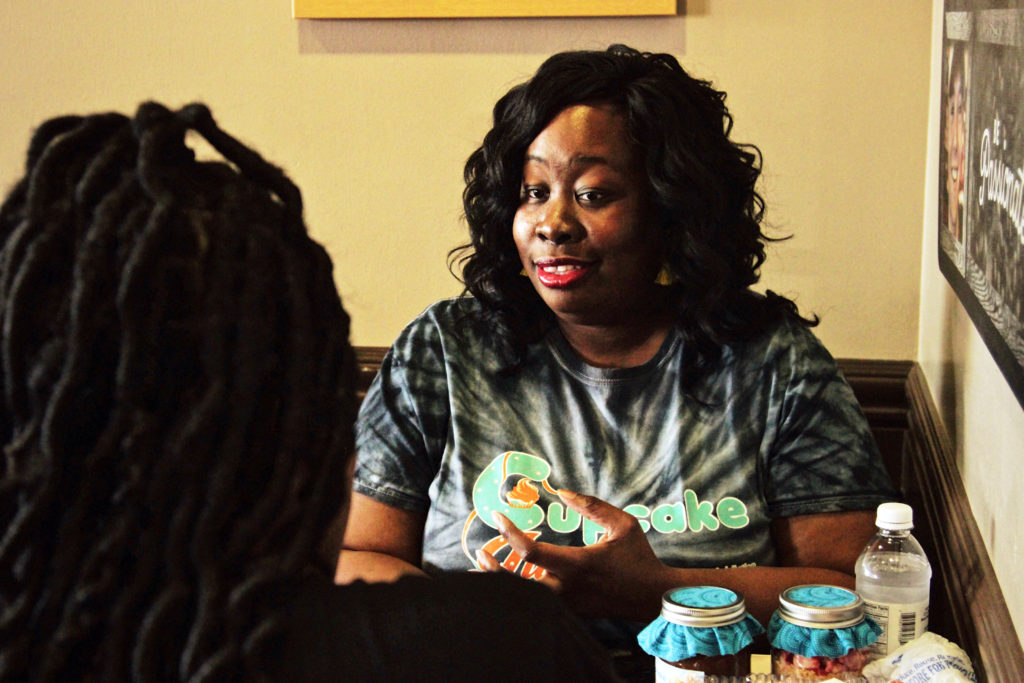 ---
What's your favorite treat to make?
I like it when I make a whole cake. Let me tell you, that butter cake… a slice of that is very moist, not too sweet and you actually taste all of the butter.
How do you divide your time between teaching and baking?
Depending on how much I have to make, I'll usually go to the store after I get off work, go home and arrange the kitchen. Most times, I need to relax [so] I'll just go to bed and wake back up at midnight or 2 a.m. After I'm done [in the kitchen], I hop in the shower, get myself together. Then I leave [for work].
Why is freshness important to you?
Making something for a customer two days before would be taboo. There are other people who do cupcakes that have storefronts so I have to differentiate myself. I try to make everything as natural as possible with a limited amount of dyes.
What is your most challenging recipe to make?
The banana pudding cupcake. That's one of them that always gets me. However, the people love it. It's just the fact that you have to make the cake, pudding, icing, and a lot of times I have to make the caramel. So, I'm making like four different things just for one cupcake. But I wouldn't change it because that makes people want it over and over again.
What's your most used ingredient?
Well, it's got to be sugar and flour. Definitely sugar, sugar is number one. To me, sugar is from the earth, so it's natural.
What's your favorite place to eat in Baton Rouge?
Zea Rotisserie and Grill or Bonefish Grill.
What person in the food industry inspires you the most?
Jay Ducote. He is a person from the city who really had a passion for food. I know he had a radio show, but he was able to flip it completely, like change his whole trajectory by going on the Next Food Network Star show, and from there he became a hometown hero.
He took that and was able to open his own restaurant. I think that's awesome. For me, I envision myself moving from home baker to having my own store.
---
Find more information on Cupcake Junkie at cupcakejunkiebr.com.