---
January is the month where we rethink the way we eat and—once again—attempt healthy changes in our diet. This, however, doesn't mean we have to sacrifice flavor. There are plenty of ways to prepare healthy meals, and research shows the more tasty and satisfying they are, the less likely you'll be to binge on junk food later.
One of our favorite trendy kitchen tools is the spiralizer, which can turn ordinary vegetables into delicious and versatile noodles. Veggie noodles are a great way to enjoy a low-carb meal while adding extra nutrients to your daily diet. There are several types of spiralizers on the market. If you don't have one, shop the post-holidays sales. They're inexpensive, and you won't be sorry you made the investment!
---
ON THE MENU:
• Turkey Bolognese
• Shrimp Lo Mein
• Asian Cucumber Salad
Recipes by Tracey Koch
---
TIPS FOR VEGGIE NOODLES
Use a spiralizer to cut your vegetables into noodles. If you plan to blanch the veggie noodles, bring a large pot of salted water to a rolling boil and drop the noodles in. If you are sautéing them, heat a large skillet over medium-high heat. Add 2 tablespoons of olive or canola oil, and stir in the noodles. See below for cooking times.
• Summer squash or zucchini
Blanch: 1-2 minutes
Sauté: 3-4 minutes
• Carrots or acorn squash
Blanch: 2-3 minutes
Sauté: 4-5 minutes
• Sweet potatoes or beets
Blanch: 2-3 minutes
Sauté: 4-5 minutes
---
TURKEY BOLOGNESE
This is a delicious and hearty classic-style bolognese that is a favorite in our house. To cut down on the calories and fat, we made this version using ground turkey. If you want a richer, more robust dish, though, feel free to try it using ground beef and/or ground pork. And, of course, if zucchini noodles aren't your thing, it is equally delicious served over traditional pasta. This bolognese is better when made a day ahead of time. It is also freezes well.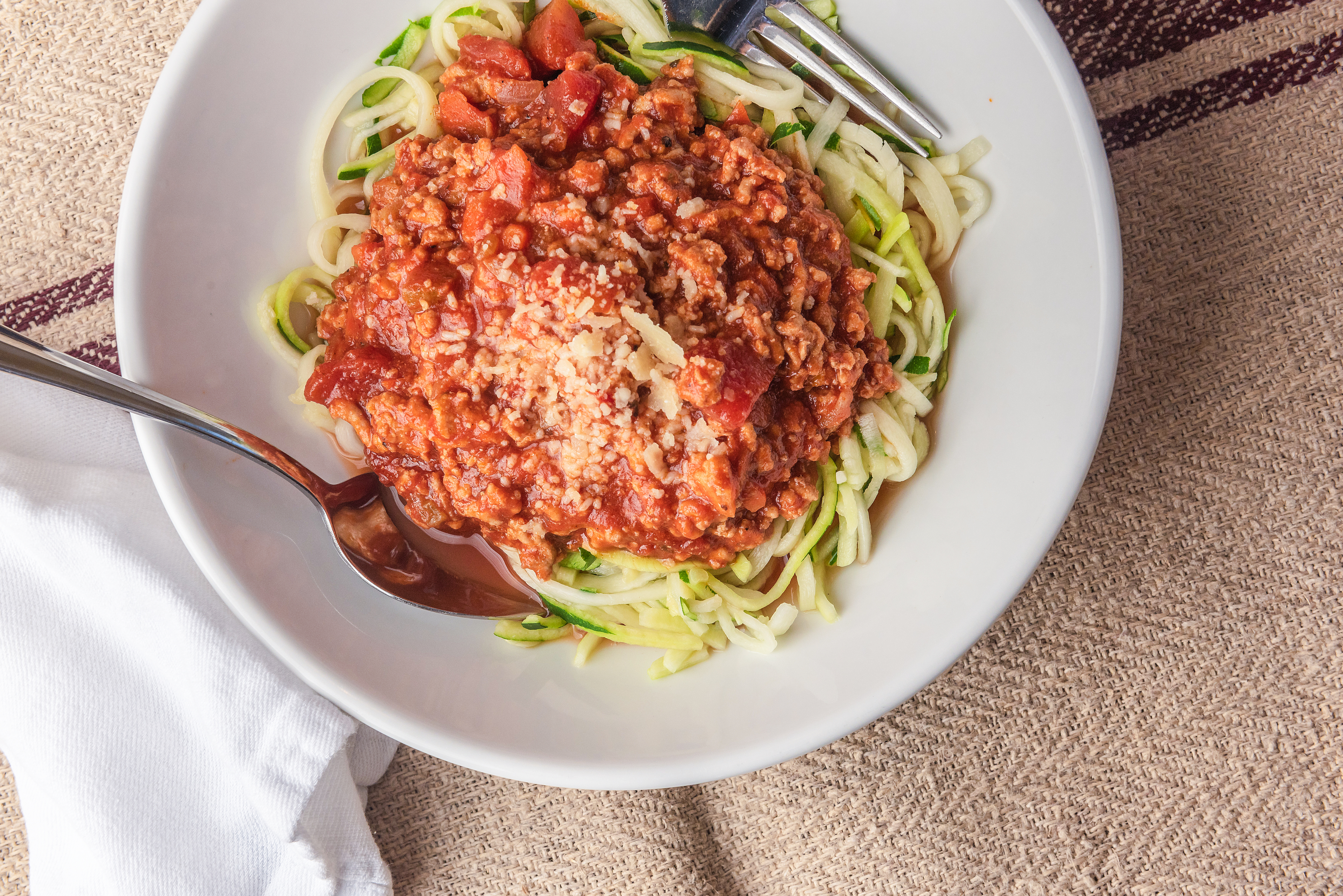 Servings: 4-6
3 tablespoons olive oil
½ cup chopped onions
¼ cup chopped celery
¼ cup chopped carrots
½ teaspoon dried Italian herbs
3 cloves minced garlic
1½ pounds ground turkey
1 teaspoon salt
1 teaspoon black pepper
½ cup dry red wine
1 15-ounce can fire-roasted tomatoes
2 15-ounce cans tomato sauce
2 tablespoons tomato paste
¼ cup whole milk or half and half
Zest of one lemon
¼ teaspoon nutmeg
Freshly grated Parmesan cheese to to
10-12 ounces sautéed zucchini noodles
1. In a large, heavy skillet or Dutch oven, heat the olive oil. Sauté the onions, celery, carrots and dried herbs for 2-3 minutes.
2. Add the garlic and continue cooking another 15-20 seconds.
3. Add in the turkey. Sprinkle in the salt and pepper, and cook until the turkey is cooked through.
4. Pour in the red wine, fire-roasted tomatoes and tomato sauce. Bring the mixture up to a simmer.
5. Stir in the tomato paste, milk, lemon zest and nutmeg. Allow the bolognese to come back up to a simmer, and cover.
6. Reduce the heat to low. Continue cooking the sauce for another 30 minutes, stirring every few minutes to prevent it from sticking. Serve the bolognese over sautéed zucchini noodles, and top with the Parmesan cheese. This sauce may be made a day in advance.
---
SHRIMP LO MEIN
We love ordering takeout, but the fat, sodium and extra calories can sometimes catch up with you. This is why we love this easy shrimp lo mein. It has all the yummy flavors of a takeout Chinese dinner, but is so much better for you. The use of the vegetable noodles help to make this a low-carb meal that is so satisfying you will almost feel guilty for eating it. It is easy to throw together for a quick weeknight meal but is tasty enough to whip together for company.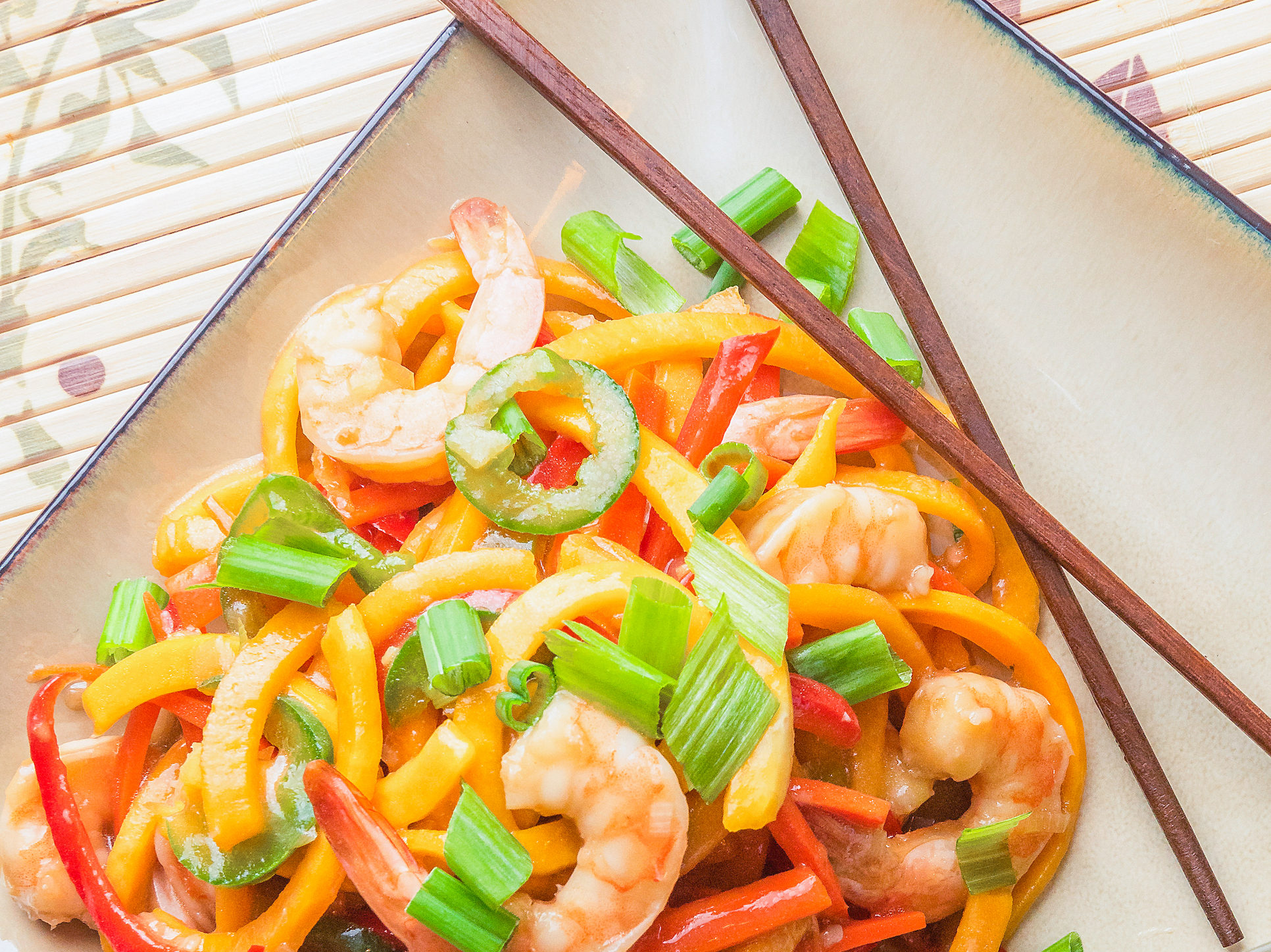 Servings: 4
1 cup chicken broth
½ cup oyster sauce
1 tablespoon sesame oil
1 tablespoon soy sauce
Dash hot sauce
2 tablespoons cornstarc
2 tablespoons vegetable oil
½ cup chopped green onion bottoms (reserve the tops for garnish)
2 cloves minced garlic
1 tablespoon chopped fresh ginger
1 pound fresh large shrimp (peeled and deveined)
½ cup julienned carrots
½ cup julienned red bell peppers
1 jalapeño, seeded and sliced (optional)
1 cup shredded cabbage
10-12 ounces blanched vegetable noodles
1. In a mixing bowl, whisk together the broth, oyster sauce, sesame oil, soy sauce, hot sauce and the cornstarch. Set aside.
2. In a large nonstick skillet or wok, heat the vegetable oil. Add the green onion bottoms, garlic and ginger. Sauté 15 seconds.
3. Add the shrimp. Sauté until the shrimp begin to turn pink.
4. Fold in the carrots, bell peppers, jalapeño slices, cabbage and blanched vegetable noodles. Continue to sauté for another minute.
5. Whisk the reserved sauce and pour over the lo mein. Reduce the heat and simmer 2 more minutes, or until the veggie noodles are just becoming soft. Top with the green onion tops, and serve immediately.
---
ASIAN CUCUMBER SALAD
We love this cool, crisp, tangy cucumber salad and serve it alongside many different types of meals. It is an Asian-inspired salad, so it goes perfectly with stir fries and dishes with this same flavor profile. This cucumber salad also works as a kind of palate cleanser, making it pair quite well with anything from barbecue to grilled salmon. It is an easy salad to throw together and is a little something different from just an everyday salad.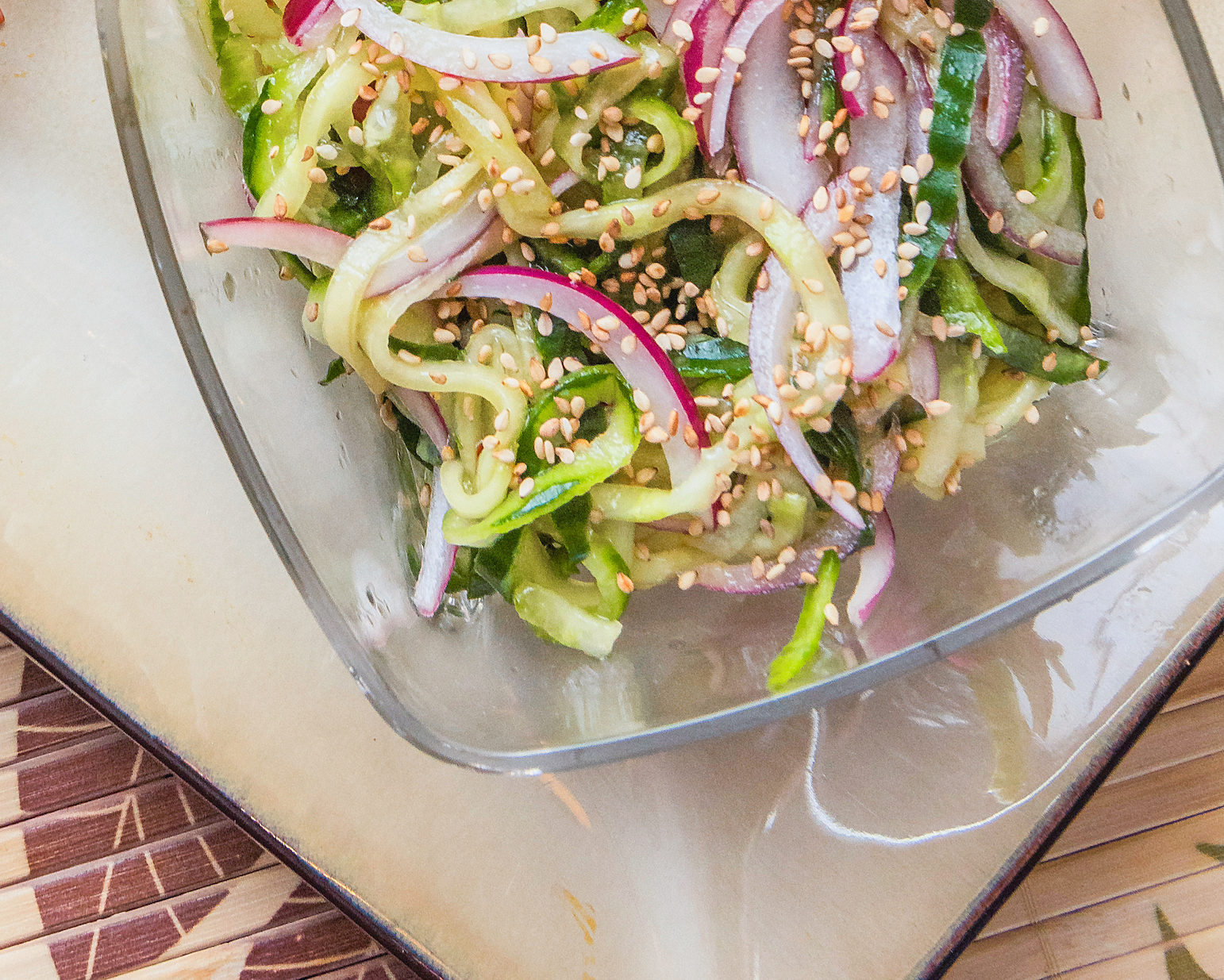 Servings: 4
1 cup rice vinegar
¼ cup honey
¼ teaspoon red pepper flakes
¼ teaspoon salt
2 tablespoons sesame oil
2 medium English cucumbers
½ cup thinly sliced red onion
½ teaspoon toasted sesame seeds
1. In a small mixing bowl, whisk together the rice vinegar, honey, red pepper flakes, salt and sesame oil. Set the dressing aside.
2. Use a spiralizer to cut the cucumbers. Place them into a large mixing bowl.
3. Add the sliced red onion, and toss in the dressing. Chill for 30 minutes before serving. Top with the toasted sesame seeds, and serve.
---
This article was originally published in the January 2019 issue of 225 Magazine.