---
Nick Hufft has come a long way. From the humble beginnings of Moochies Mobile Munchies in Tigerland to the fan-favorite Curbside Burgers food truck, then a stint at Barcadia in New Orleans and Baton Rouge, he's finally arrived at sizeable digs on Government Street. The road was long, but the destination appears well worth the journey.
Inside the front door, a facsimile of the old food truck's cab has been turned into decor. It serves double duty as a railing for the entrance ramp on one side and booths on the other. Outside, the multilevel patio with picnic tables, bocce ball courts, shade trees and an entertainment stage are sure to get a workout as the weather warms up. If you're not sure whether to sit out or in, you can get a taste of both at the roll-up garage-style door with bar seating on each side.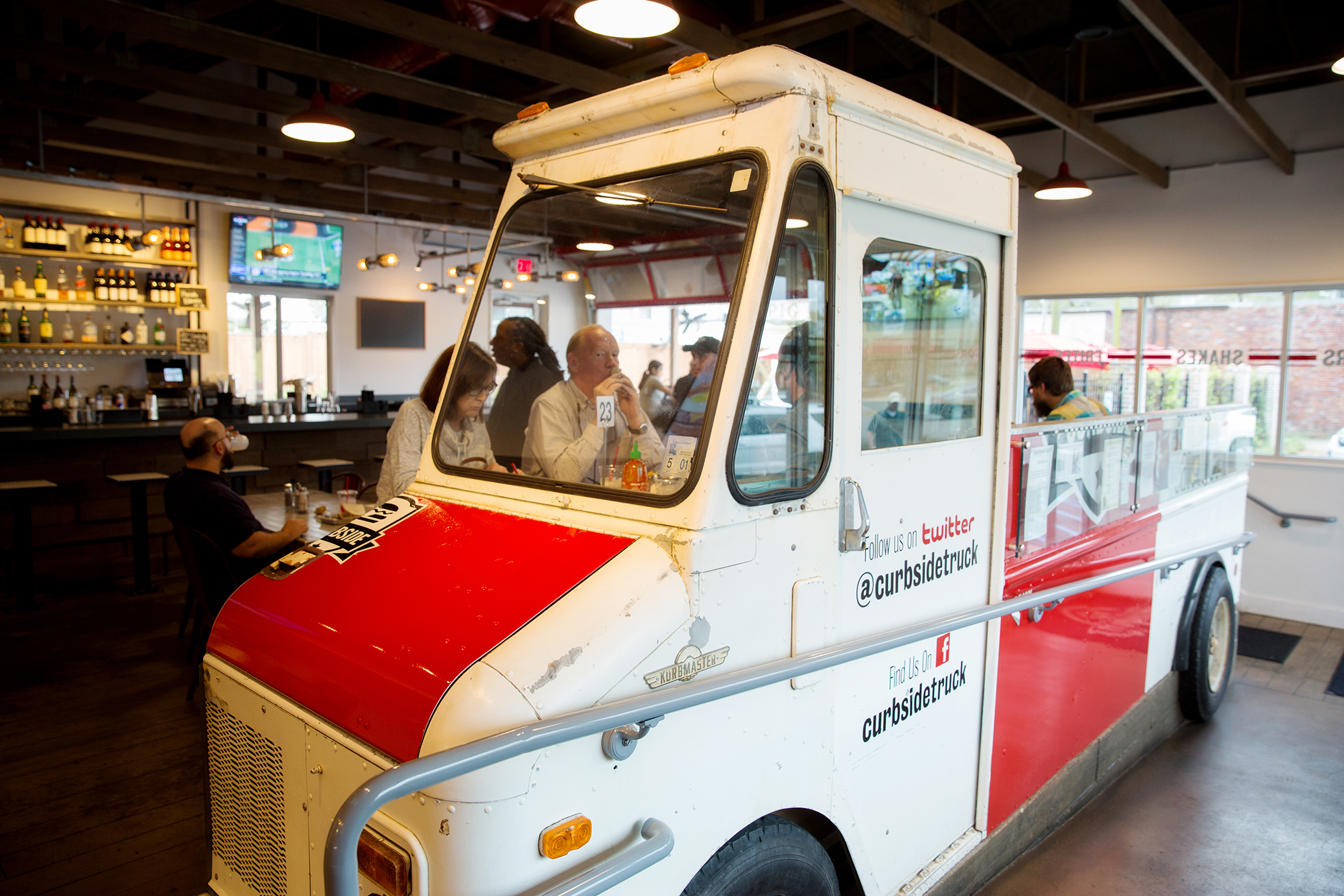 As customers leave the order counter, they can stock up on their tablewares, condiments and fountain drinks. The bar is where you'll order adult libations, including beer, wine, cocktails or signature Boozie Shakes.
I was so anxious to try one, I indulged in dessert while we waited for our order. I tried the Blinded by Delight shake, a not-too-sweet concoction of vanilla vodka, chocolate chips, ice cream cone, dulce de leche, whipped cream and chocolate sprinkles. The chips, cone and sprinkles were hard to find but not missed. The drink was still a delight, with a bare hint of liquor softly hiding behind its creamy sweetness.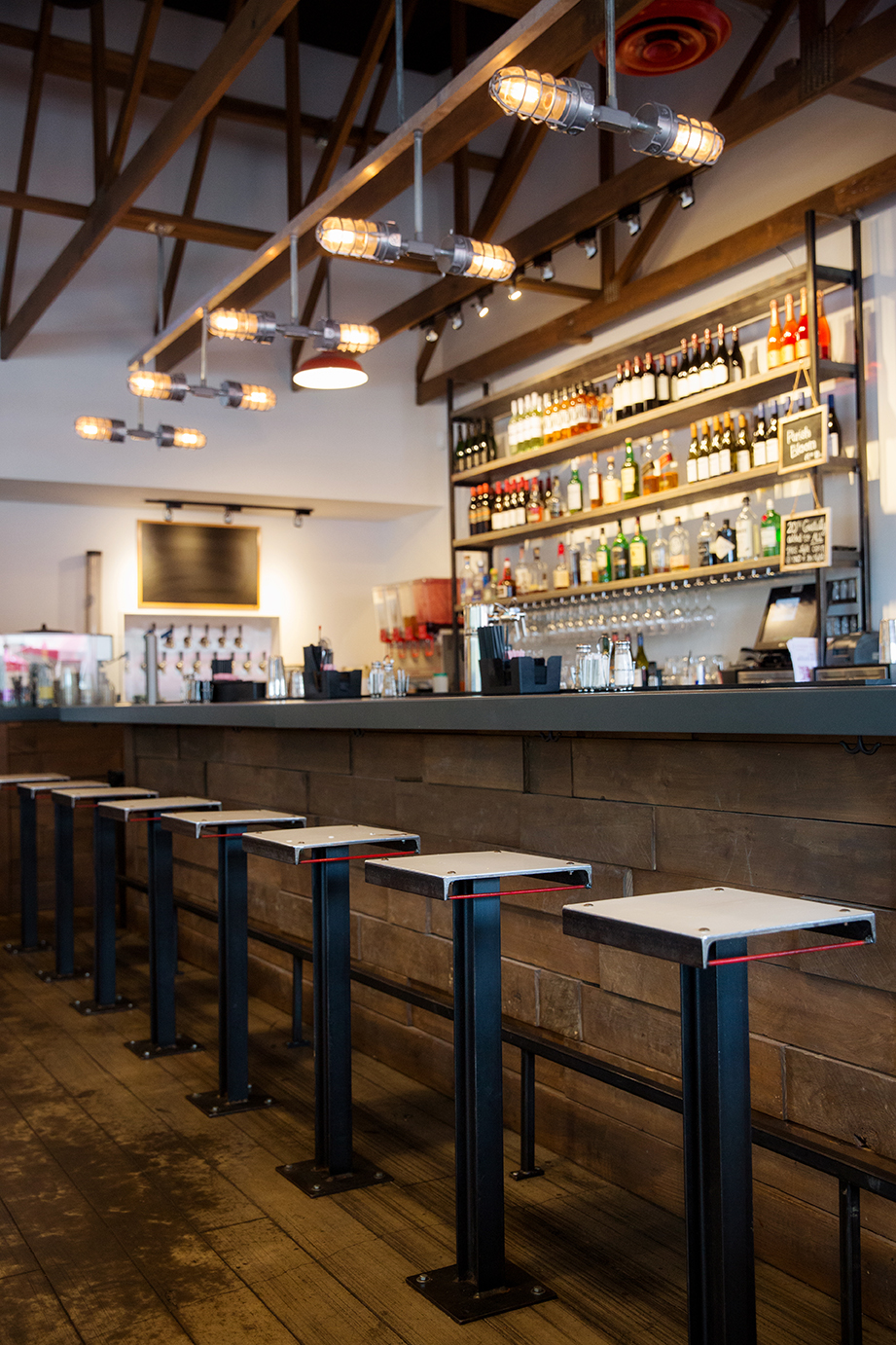 Less impulsive than I, my friends managed to wait until after dinner to enjoy the Chilly Vanilli. This shake also had a base of vanilla vodka, while Andes mints, Oreo mint cookies and whipped cream provided a minty palate-enhancer. It had more texture than the Delight, with definite mint pieces and Oreo chunks.
On the food side of the menu, beef between buns is featured almost exclusively. Thankfully, for vegetarians, three salads are offered as well.
A non-beef-eating friend in our group spied the JJ Feel Good turkey burger. The patty was juicy and well flavored, with green goddess dressing and crushed avocado adding moisture. Turkey patties can often be a dry afterthought to appease the beef-averse, but this one was hearty and filling—enough to satisfy even beef-eaters.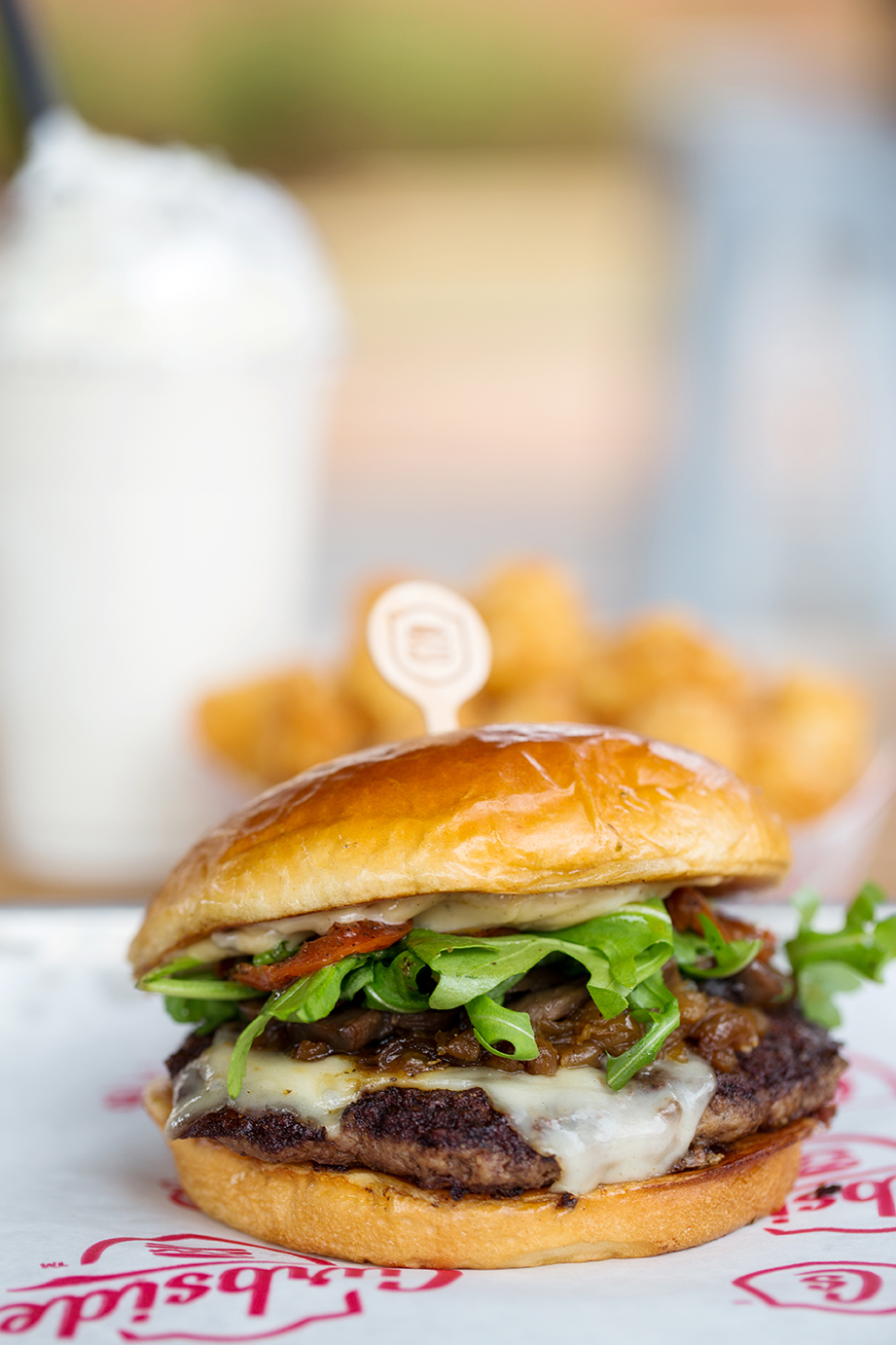 The rest of us were there for the beef. We ordered the Curbside Classic, GC2 and Shroomin' + Jammin' burgers. The simple and straightforward Classic, with supporting players of American cheese and bacon, allowed the rich flavors of the meat to be the stars of the show. As a complete counterpoint, the GC2 dropped multiple bombs of flavor, with green chili relish, bacon, pepper jack fondue, Fritos and Cholula mayo. The saltiness of the Fritos and bacon bounce around your mouth while the oozing fondue coats your palate. A slight interlude in boldness comes from the peppy relish and zippy mayo.
I was exhausted after one taste of all the GC2's components, but still had plenty of flavors to enliven me in the Shroomin' + Jammin'. With sweetness from both onion jam and roasted tomatoes, the addition of garlicky mayo and briny pickles as well as sautéed mushrooms and Swiss cheese helped to balance and unite all of the burger's flavors. The only disappointment was the limp, greasy arugula—a slight blemish on an otherwise flawless entrée.
All of our burgers were served on pillowy-soft brioche buns. A noticeable buttery sheen topped each without making them greasy. Though the bread was soft, it was still firm enough to withstand the meaty goodness and toppings within.
To complete our Curbside adventure, we opted for Tater Tots and Truffle Parm Frites. Tots are always an appealing novelty, and these did not disappoint, with their crispy, salty starchiness. A more sophisticated alternative, the frites had ample drizzles of truffle oil and heavenly shreds of nutty Parmesan. These thinly sliced fries had extra flavor and crunch thanks to the intact potato skin. A burger experience is incomplete without some form of fried potato, and both of our choices rounded out our meals perfectly.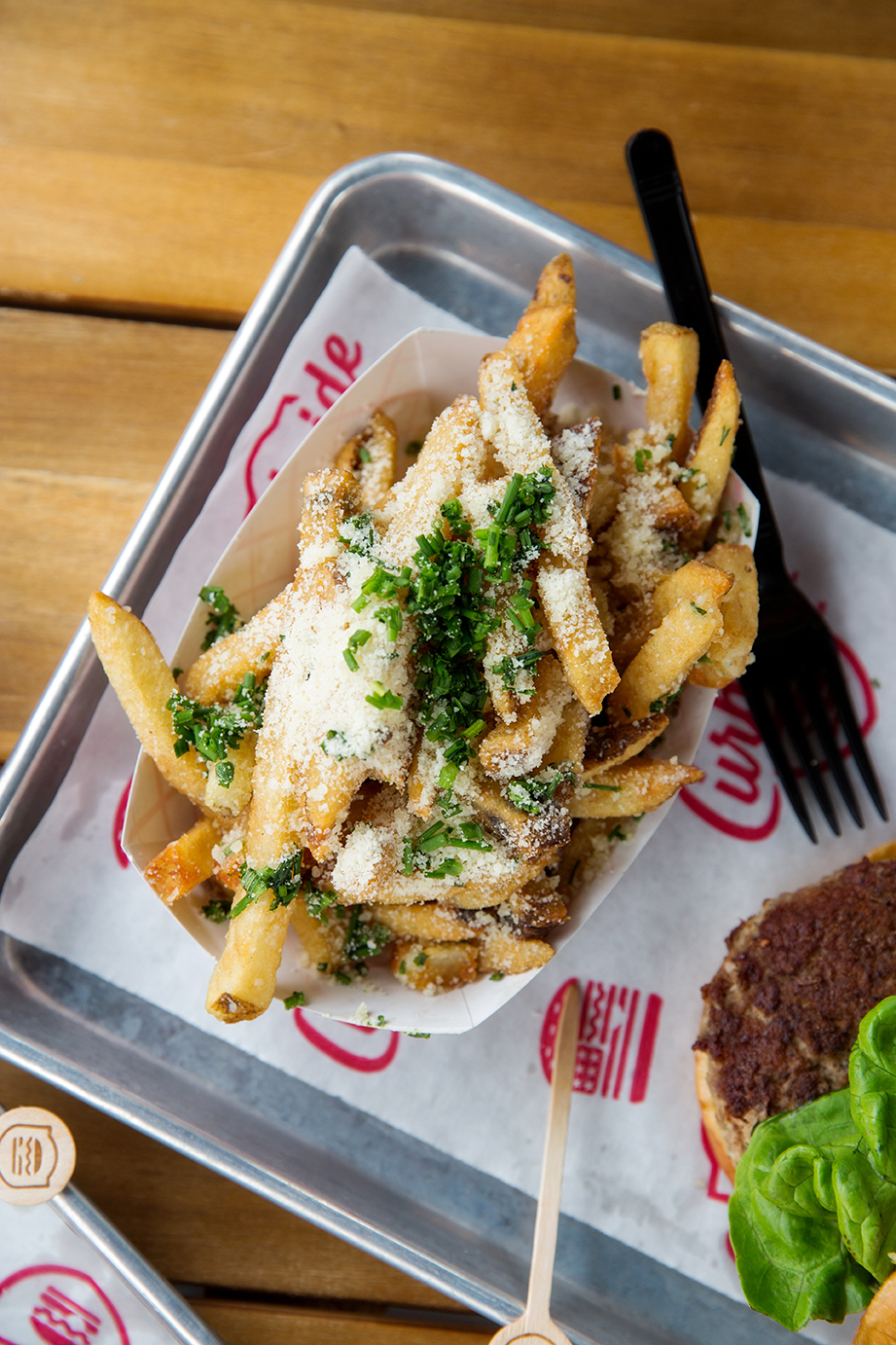 This restaurant is definitely a repeat draw. My friend admitted this visit was his third, while the lady in line behind us sheepishly said it was her second. Curbside has perfectly positioned itself to become a gathering place for friends, food and fun. It epitomizes the vibe of what's becoming the hippest, most happening street of trendy restaurants, galleries, eclectic shops and art hops in Baton Rouge.
---
The basics: After food trucks and stints at other restaurants, Nick Hufft finally gets a brick-and-mortar for his Curbside Burgers, which opened in November and has quickly become a Mid City hot spot.
What's a must: The GC2 burger piled with green chili relish, bacon, pepper jack fondue, Fritos and Cholula mayo; or the Shroomin' + Jammin' burger with sweet onion jam, roasted tomatoes, garlicky mayo, sautéed mushrooms, Swiss cheese and arugula. Be sure to order a side of Tater Tots and Truffle Parm Frites and maybe even a Boozie Shake.
---
curbside-burgers.com
4158 Government St.
Hours:
Monday-Thursday 11 a.m.-10 p.m.
Friday-Saturday 11 a.m.-midnight
Sunday 11 a.m.-8 p.m.
---
Our food critic's name may be false, but the credentials are not. This gastronome has studied the history, cultivation, preparation, science and technology of food for more than 30 years and isn't afraid to go with dessert first.
---
This article was originally published in the April 2017 issue of 225 Magazine.