What was once nearly half of local thrifting institution Honeymoon Bungalow is now a kitchen. It stretches from the front to the back of the building, where a full staff is in training to crank out the finalized menu for Elsie's Plate & Pie as its mid-September opening approaches.
But the pies—those are sacred. No matter how big the kitchen grows, owner and pieman Paul Dupre will always have his hands in the dough.
"That's my baby," Dupre says of the pie menu. "I have a couple people that will be helping with it, but I'm very hands on. … Elsie was my grandmother, and the restaurant's named after her. That's where the pies come from, so that part of it especially is very important to me to be just right."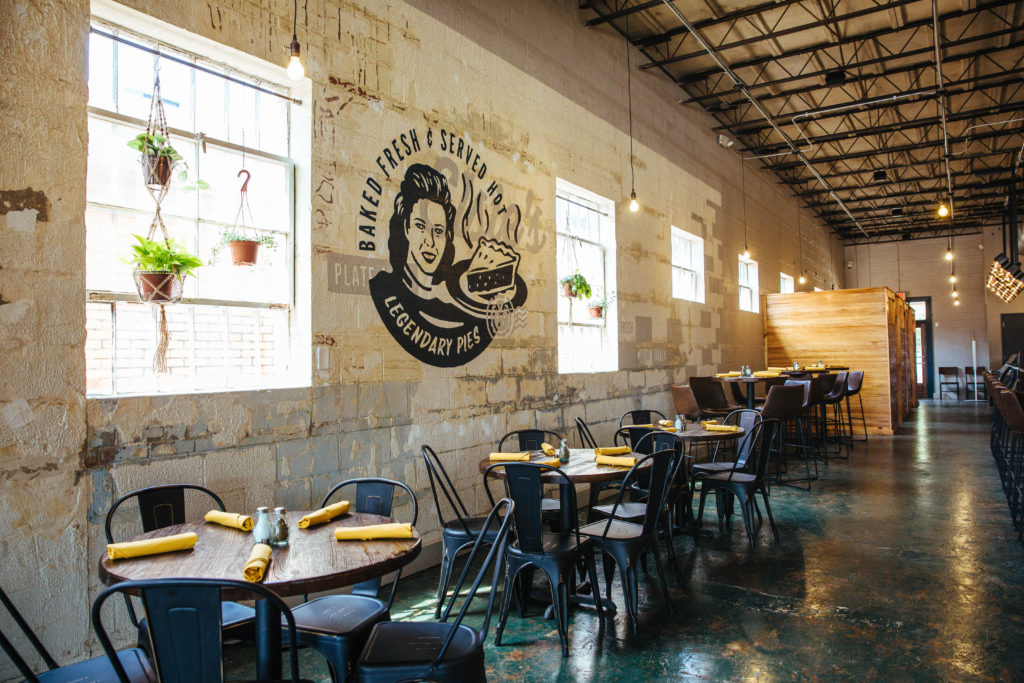 Elsie's presence is as evident on the walls as it is in the menu: On one cinderblock wall opposite the bar, a mural of Dupre's grandmother watches over the restaurant, designed from an old photo by graphic design firm TILT.
It's one of many new touches that have transformed the well-loved former space of Honeymoon Bungalow almost beyond recognition into Elsie's Plate & Pie. The new restaurant has a vibe all its own—cozy, bright, warm, casual but stylishly industrial—while still carrying through elements of its former occupant. The mixed media floors and barred windows remain the same, tables in one seating area have been made with doors from the original building, and one pie display case is an antique case left for them by previous owner Marsha Rish.
"Marsha was just overwhelmingly generous to us and so supportive of what we were doing," Dupre says. "I spoke to her the other day and told her how much that meant to us, that the people that were leaving the building were so accepting of us coming in and what we were doing."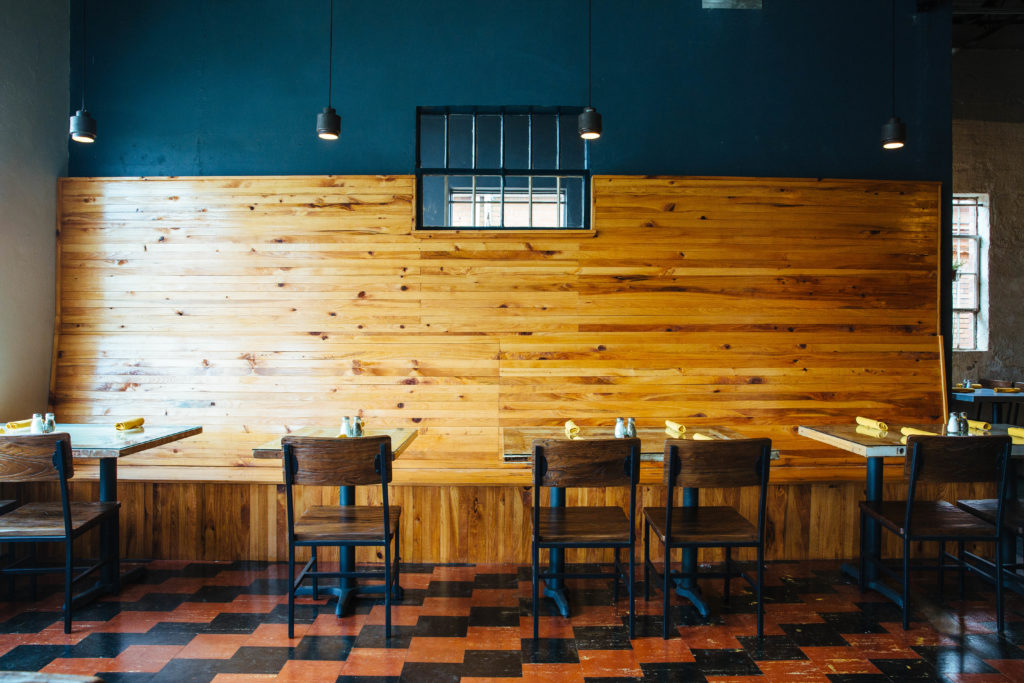 So far, Dupre says, the Ogden Park neighborhood has been welcoming, too, with "overwhelmingly positive" response to pop-ups at neighboring Radio Bar and events like Hot Art, Cool Nights. He's hoping that goodwill will carry over into the clientele, one he expects will also draw from after-school crowds, nightlife and families exploring new parts of town.
He's designed the menu with that mix of clientele in mind. It is, of course, a pie-forward menu, leading with sweet pies (apple, root beer float, s'mores, cherry and beyond) and savory pies (the after-the-boil-style crawfish hand pies are unmissable). But it also features elevated Cajun fare, soups and salads, sandwich melts and a "stuff on bread" section that encompasses burgers, poboys, a spicy boudin sandwich and more.
For an extra homemade touch, many of the dishes incorporate Arlington House Pepper Jelly, a brand made and jarred by Dupre's wife, Lindsay.
By the time Elsie's opens, Dupre also plans to have a fully stocked bar for evening crowds, with a limited menu for late-night customers. He's hoping a combination of great pies, an airy space, a landmark location in the neighborhood and lots of community engagement will help Elsie's take off—and make his grandmother proud.
Elsie's is at 3153 Government St. Starting mid-September, Elsie's Plate & Pie will be open 11 a.m.-9 p.m. Sunday and Monday, 11 a.m.-10 p.m. Tuesday and Wednesday and 11 a.m.-midnight Thursday through Saturday. Keep up with the restaurant on Facebook and Instagram to hear about the official opening date.