---
This Friday, the push for locally grown, sustainable food takes another giant step with the opening of Iverstine Farms Butcher.
The full-service butcher shop and smokehouse is owned by Galen Iverstine, 30, of Iverstine Family Farms, whose local farm-raised meat has had a strong presence in the Baton Rouge area since he and his family began the farm about six years ago.
The shop space is a beauty, with wood accents everywhere you look, and a gorgeous hand-painted wall adorned with illustrations of the farm's animals and the sleek Iverstine logo. Display cases will be filled with just about any type of fresh farm meat, from turkey to chicken to beef to hog. There will also be informational cards near each cut advising customers the best way to cook the meat. In the back of the shop is the smokehouse, where the heavenly smelling, meat-smoking magic happens.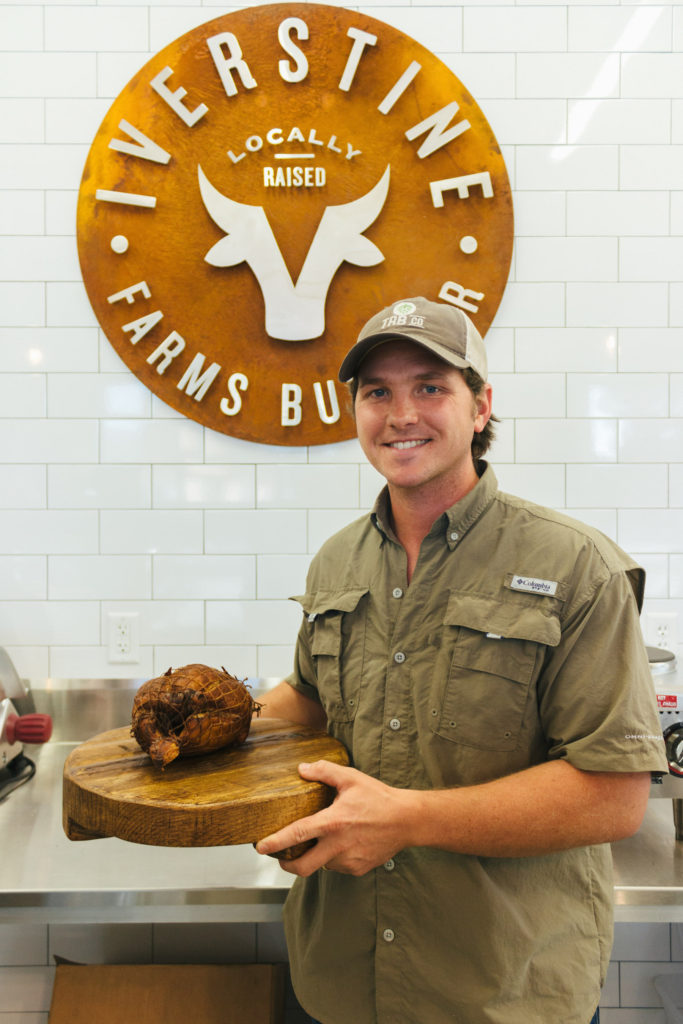 While the Kentwood farm sells sustainably and humanely raised meat at the Red Stick Farmers Market in downtown Baton Rouge on Saturdays and has been selling to local restaurants since 2011, this new shop was a way to get the product out directly to consumers on a more consistent basis.
"The number one phone call I get every week is, 'How can I get your product?'" Iverstine says. "Doing this, we're able to customize the cuts better for the customer, and we're also able to use 100% of the animal now, which is respecting the entire value of the animal and is more efficient and more sustainable."
Iverstine says that up until now, there really haven't been many full-service butcher shops in Baton Rouge where all the food is tied to one farm. With Iverstine Farms Butcher, every cut of meat is from an animal raised at the farm and handled in-house all the way through production.
In the near future, the shop will be serving up house-made, grab-and-go sandwiches and boudin sausages, as well as beer, wine, seasonings and other local products from both Iverstine Family Farms and local chefs, like Jay Ducote and the shop's head butcher Jordan Ramirez of Southern Wild Foods.
"Local is our focus," Iverstine says. "If it's not a locally produced product, we're not going to be selling it here."
Instead of a grand opening event, Iverstine is prepared to get to work as soon as the shop opens this Friday—he's even ready for your Thanksgiving turkey orders.
Iverstine Farms Butcher is at 4765 Perkins Road and will be open Tuesday-Friday 11 a.m.-7 p.m., Saturday 8 a.m.-3 p.m. and Sunday 11 a.m.-3 p.m. The shop will not open on Mondays, in honor of  Slow Food USA's "meatless Mondays," which the farm is a part of.