Walking down Florida Street, the sight of it will bring a smile to your face: a bright yellow mural, with colorful flowers blooming around the Cafe Mimi logo. The vibrant Marc Fresh mural is fitting for its namesake.
The new downtown cafe is slated for a soft opening mid to late next week. And for owners Julie and Dave Carlson and Julie's brother and sister-in-law, Steven and Sally Banh, it's been a rewarding journey getting here.
The restaurant is a tribute to the family's niece, Megan. The 12-year-old passed away in May from a rare brain AVM malformation.
Looking at photos of Megan on her iPhone today, Julie Carlson talks about her niece's spunky, buoyant spirit for life. Megan was a "mother hen," always taking care of those around her, especially her siblings and Julie's sons, she says—to them, she was their "Mimi."
"She was so loved," Julie says. "She was so beautiful and had so much personality."
The opening of Cafe Mimi, which is also named after Megan, is the turning point of a hard year for the family.
Julie and Dave are entrepreneurs, and Julie comes from a family of small business owners — she's one of 12 children.
The couple planned to open a Nashville-based juice franchise at a location in Towne Center, and they were about to sign the lease when the flood of 2016 happened. Post-flood, the Carlsons and Banhs decided to pursue other business ventures, including the cafe and one other business they'll break ground on in Denham Springs next year.
When the old Harrington's space became available, they knew it was the perfect spot for the cafe. They signed the lease the day after Megan's passing.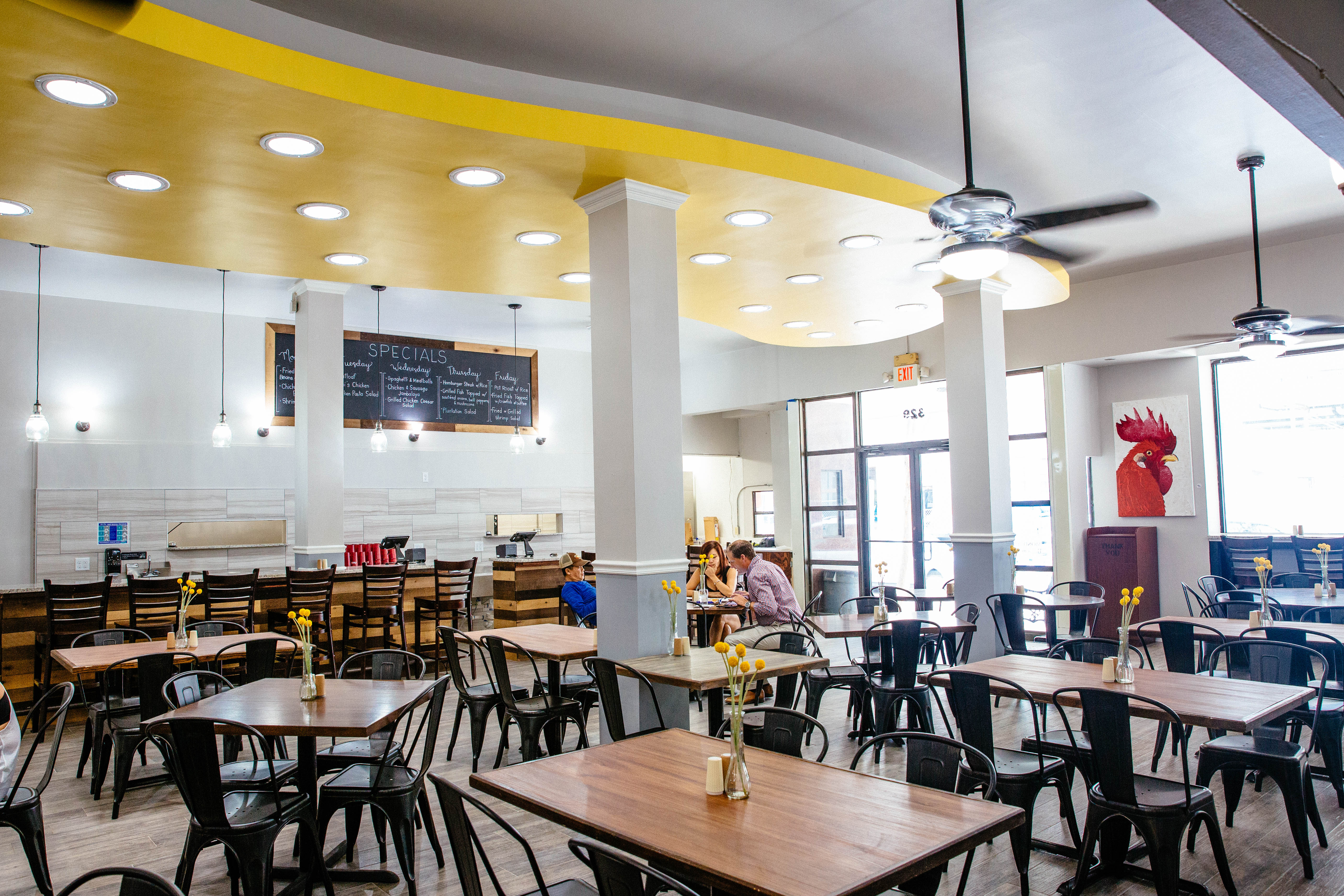 They've overhauled Harrington's old space, installing wood floors and giving the fast-casual eatery an open, modern feel. There's plenty of light, and the easygoing atmosphere is welcoming for the young professional looking for a home-cooked meal but not a full-service restaurant, Julie says.
The Cafe Mimi menu is heavily influenced by its 17-year predecessor and the Carlson and Banh families' Vietnamese culture. They wanted to keep the longstanding tradition of the Harrington's Cafe fare while also giving downtown diners some lighter options, Julie says.
The cafe will have Harrington's former menu of Louisiana culinary favorites like red beans and rice, po-boys and hamburger steak. Along with Southern comfort food, some lighter Vietnamese staples will be also available, such as pho, spring rolls and iced coffee.
Work by local artists Noelle Gabehart, Glynn Wallace and Hannah Lugibihl dots the walls.
"I had an idea and a vision for the restaurant, and it's far exceeded that," she says. "A lot of blood, sweat, tears and prayers."
Cafe Mimi will be open from 6 a.m. to 2 p.m. Monday through Friday at 329 Florida St.