Our food critic's name may be false, but the credentials are not. This gastronome has studied the history, cultivation, preparation, science and technology of food for more than 30 years.
---
Beausoleil used to be a go-to spot for me, but over time, my interest waned. To say that the restaurant has now shifted its focus under City Group Hospitality is an understatement. I was blown away with the upgrades to the menu and the space that took place late last year. The once-familiar restaurant has now adopted a whole new dining style focused on elevated seafood dishes.
Similar to restaurants across the country, Beausoleil has jumped on the small plates trend. Shareable offerings allow a table to get a sampling of the chef's strong suits before moving on to the main entree. At Beausoleil, those small plate offerings range from raw to cold and hot choices—and we decided to make a meal out of them.
We started with the Golden Sun Roll, which was presented as a sushi roll. Before I dove in, I was drawn to the red smear in the center of the plate. This curry gochujang sauce was a perfect representation of both ingredients. Tropical fruit was listed in the menu description but was lost with all the mayonnaise and opulent lobster, crab and shrimp. A crown of pickled jalapeños and a slice of raw tuna capped the roll perfectly, offering a cleansing counterpoint to the luxurious interior.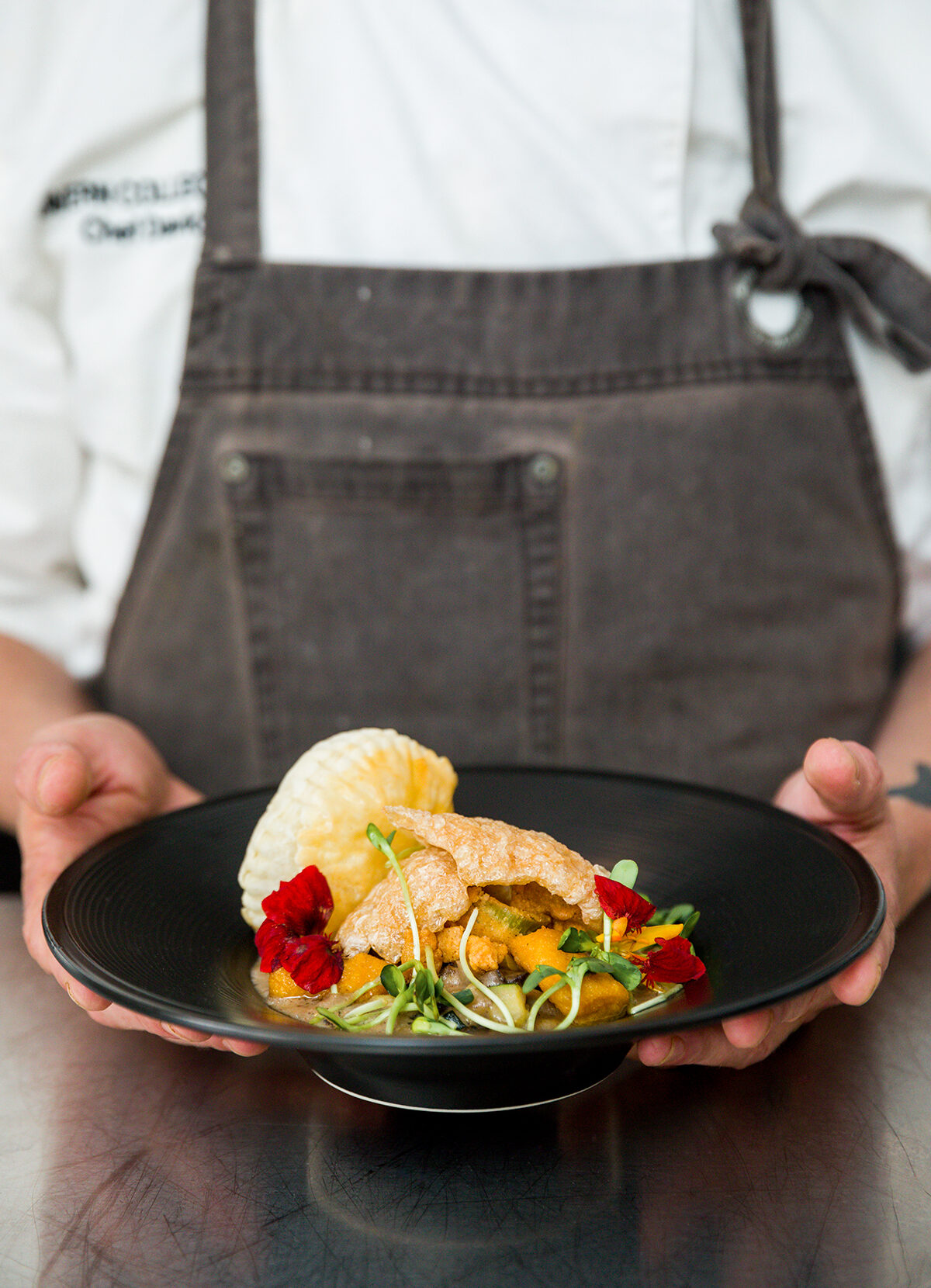 In the Smoked Burrata salad, a huge ball of burrata cheese was sauced with a gorgeous pea purée that was light and lovely. A scattering of salty candied prosciutto surrounded the burrata, while halves of crisp, roasted Brussels sprouts added a nice vegetal component.
Deviled Lobster Boudin sounded so intriguing. It was sauced with a kind of sweet mole-barbecue sauce that surprisingly did not overwhelm. But the spice mixture in the rice completely masked the lobster, and it was the least favorite dish for everyone at our table.
From the "On Toast" section, we tried the Mushroom Sauté. An enormous mound of local mushrooms was piled high atop ciabatta smeared with a savory truffle compound butter. One would think the extra butter would be overindulgent, but in fact it made the dish's flavor and composition sing. Textural contrasts abounded, with some mushrooms chewy while others were tender. This and a tossed salad would make for an excellent light supper.
---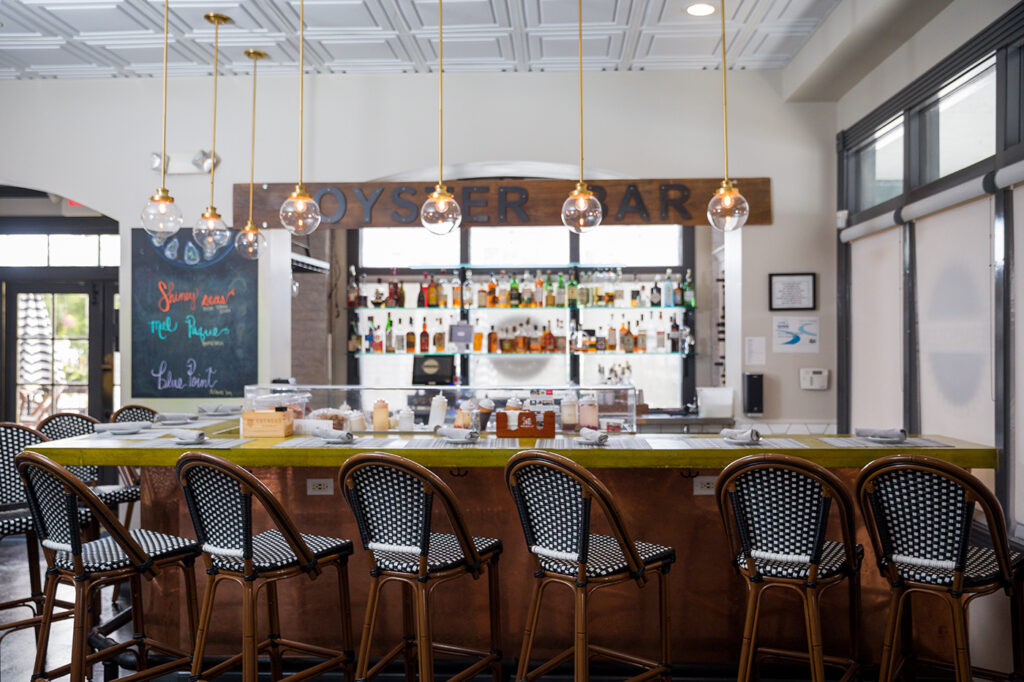 Less light and more sumptuous was the Chicken + Dumplings dish. Shredded chunks of tender chicken were paired with light, pillowy sweetpotato gnocchi, making this appetizer worthy of an entree. Subtle truffle notes colored the rich dish, while firm, earthy mushrooms added more heft.
The French Onion Consume was the most luxurious-sounding item on the menu. It included foie gras-stuffed wontons, so I couldn't resist ordering. Crisp cauliflower was a surprise, as were the slices of tofu. Though dark, the sauce was refined and refreshing. As for those wontons, they were ridiculously lavish and luscious. I didn't want to share, but I couldn't eat more than one bite, it was so obscenely indulgent.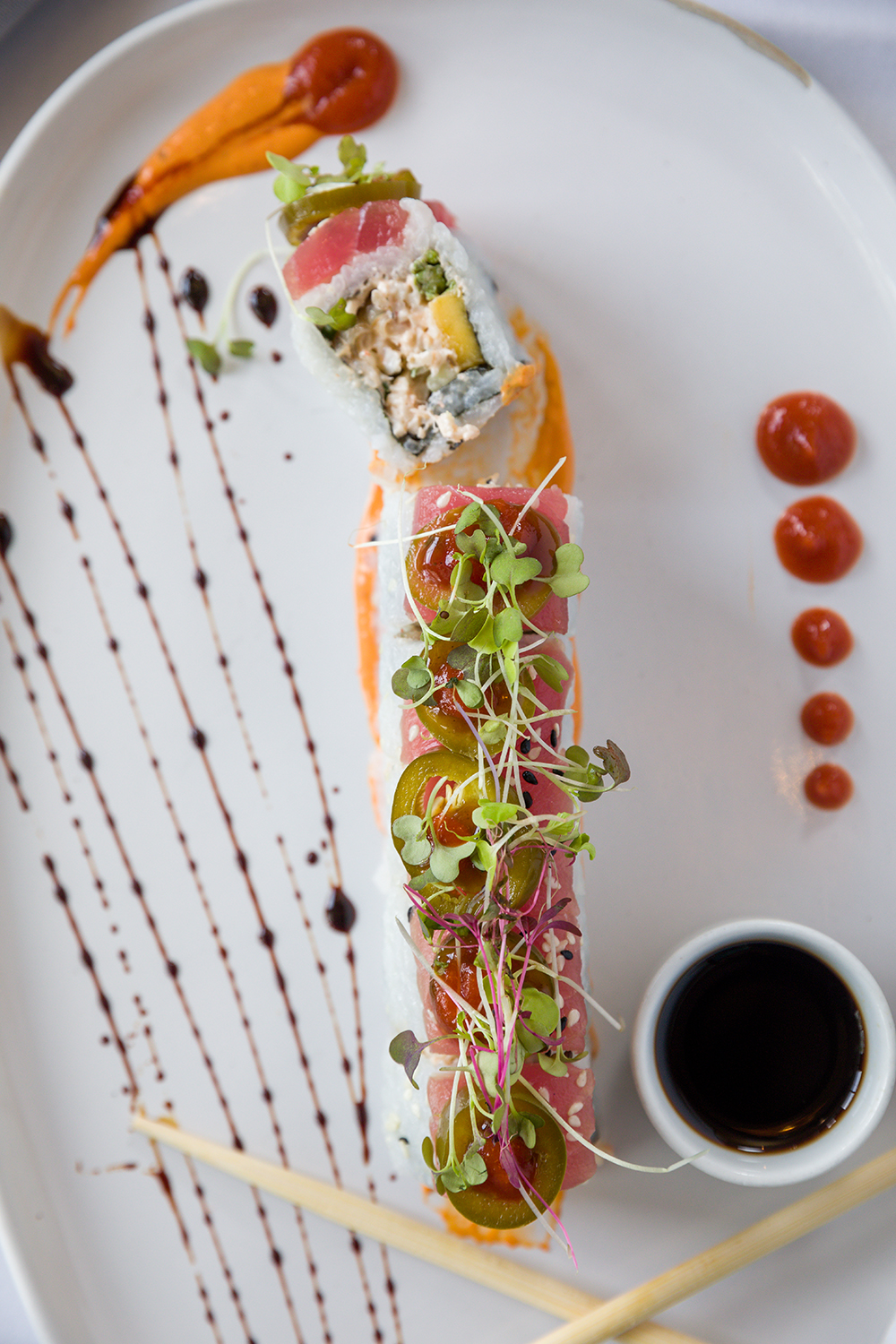 Surprisingly, all of our small plates came out at once rather than at a more spread-out pace. Our table was tiny and the large dishware left little room as food kept coming. We rushed to eat, but unfortunately some hot items had cooled off by the time we were able to enjoy them.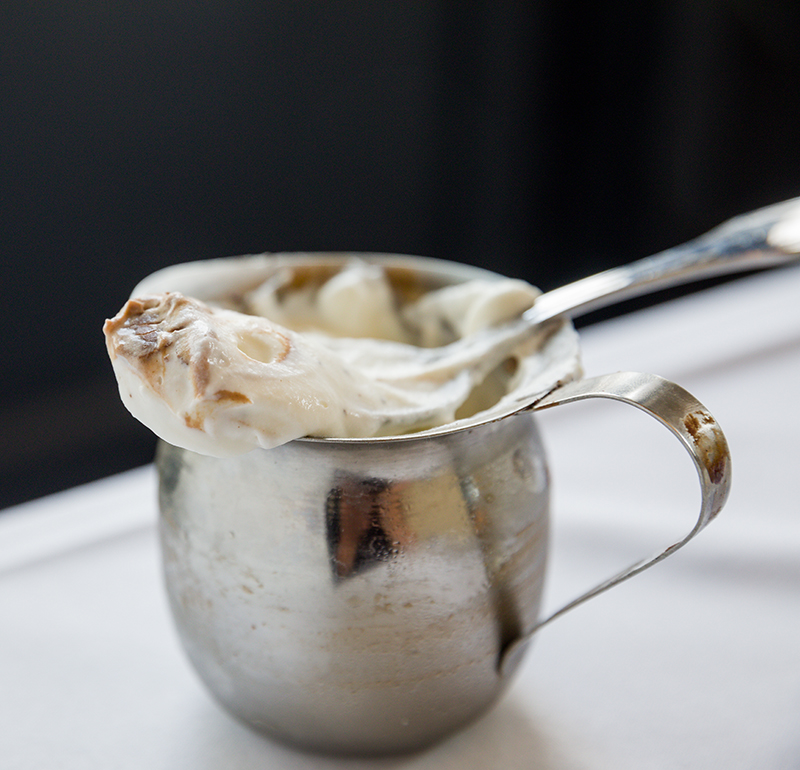 The menu is so ambitious, and we were all concerned whether it could consistently be executed. We wondered if the kitchen team might be doing too much at one time, especially given the lasting strains the pandemic has left on the restaurant industry.
Nonetheless, we were overall impressed and still more than ready to indulge in dessert by the end of our meal.
Starting with Pot de Creme, this old favorite of the original Beausoleil menu was brought back to raves and whoops. Ambrosial, chocolatey, mousse/pudding magic is still served in a demure silver pitcher perfect for two to share or one selfish chocoholic to hoard. It's topped by, dare I say, an unnecessary dollop of whipped cream.
Bananas Foster Creme Brûlée was our server's favorite. It was extremely boozy from banana liqueur but truly delightful. We thought the roasted sugar on top was wholly delectable.
Made by a local baker, the Red Velvet Cake was an apparent must-have for my friend and consequently was ordered for our table. It was extremely moist but with an overabundant sugary sweetness. If cloying sugariness is your thing, this is the cake for you.
Described as a lava cake, Mexican Mink Cake was anything but. Crumbly airy chocolate cake was highlighted with tinges of chili powder that heightened the chocolate flavor. Shards of peanut brittle were scattered around offering crunch and whimsy to this requisite curious dessert.
With the wide variety of dishes, it's clear the new and improved Beausoleil is trying to modernize both ingredients and preparation styles. And based on the dishes we tried, the restaurant is definitely on a great path lined with interesting flavors.

THE BASICS: Beausoleil reopened under new management in November 2020 after City Group Hospitality took over the local trailblazer for elevated Southern cuisine. Chef David Dickensauge, known previously for an inventive menu at
Bin 77, has added his stamp
to Beausoleil's seafood-focused cuisine layered with interesting flavors and textures.
WHAT'S A MUST: Do like our reviewer did and make a meal out of small plates. Try the restaurant's take on sushi with the Golden Sun Roll, or cut into the creamy Smoked Burrata salad. Want some carbs? Munch on the Mushroom Sauté on housemade ciabatta. For dessert, the restaurant brought back its classic, decadent Pot de Creme.

Monday-Thursday, 11 a.m.-9 p.m.
Friday, 11 a.m.-10 p.m.
Saturday, 10:30 a.m.-10 p.m.
Sunday, 10:30 a.m.-9 p.m.
7731 Jefferson Highway
---
This article was originally published in the July 2021 issue of 225 magazine.