Everybody's feeling avocado toast these days—including us. You'll see that if you pick up this month's issue, in which we feature French Truck Coffee's own rendition.
But healthy, green, Instagrammable fats aren't the only thing French Truck is spreading on toast. The new kid on Government Street has five different sweet and savory toast varieties available all day. They are ideal for a fast bite when grabbing a coffee or a lunch that requires the minimum amount of focus while you work at one of the coffee shop's many tables.
For a midday sampling over some work of my own, I went in for a sweet option (the Bacon Date) and a savory (the White Bean).
The first thing that stands out about the toast is the bread. It's layered and beautifully structured, thanks to the genius pastry team at Kalurah Street Grill led by Chef Kaila Kay, who provide all the baked goods for French Truck. It's a strong, sturdy foundation for the toast, which is important. These toasts might be sitting on the plate for a while between bites while I'm working, so I don't want them to get soggy.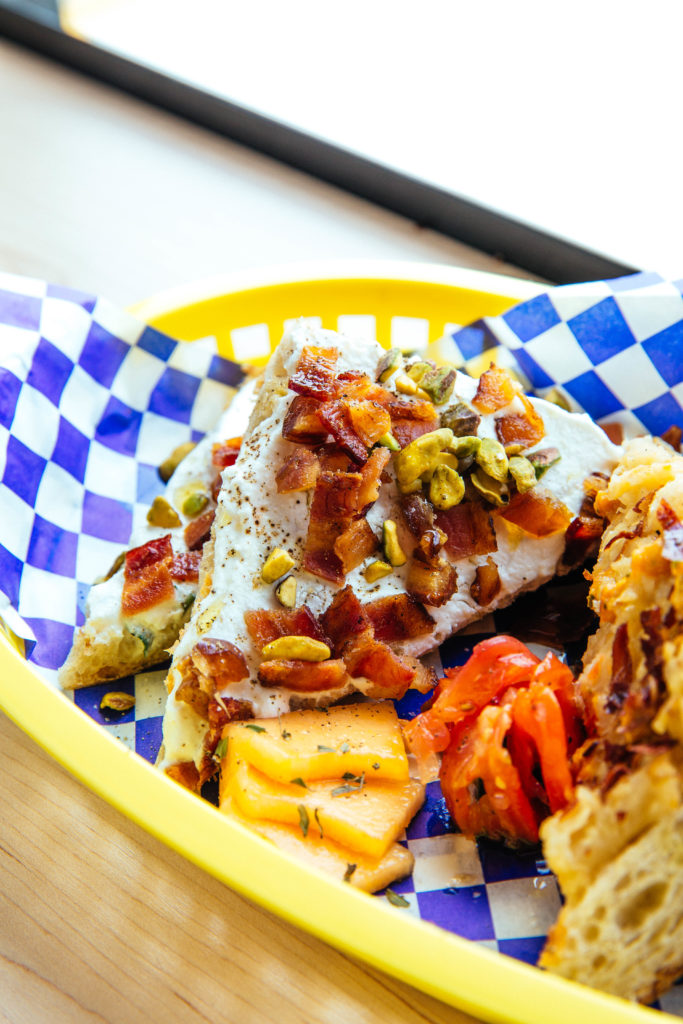 I was skeptical about the White Bean, since it's not my go-to choice of bean. But the thick spread on the toast is savory and filling, with a cutting crunch of prosciutto brittle to keep it from sticking too much to the roof of your mouth and a drizzle of pistou (a zesty sauce reminiscent of pesto) to brighten things up. My favorite, though, is the Bacon Date: a bed of creamy ricotta topped with crumbled bacon, slivers of dates and a pistachio crunch. Sweet, salty, savory and mellow all balanced together well. I was sad to see the last bite go.
The only downside is the price. Trying two kinds of toast will run you $9, and with my $5 coffee, that rounded up to about $15 plus tip for a lunch that was essentially two pieces of toast and a coffee. Delicious, creative, one-of-a-kind, artisanal toast and coffee, but … toast and coffee. It was worth it as a nice treat yo'self solo lunch for me, but you'll have to decide if it's worth it to you.
French Truck Coffee is at 2978 Government St. and is open 6:30 a.m.-6 p.m. Monday through Friday and 8 a.m.-6 p.m. Saturday and Sunday.
---
Fast Break is a 225 Dine series that celebrates lunch in Baton Rouge. Follow along as we tour different dining options for a quick bite around the city.