The little restaurant on the corner of Perkins Road and Balis Drive has been through a lot in recent years. It was Marcello's. Then it was Romacelli. Then it was Portico. Then it was Table Kitchen & Bar.
But Marcello's has returned to claim the spot it left in 2012, bigger and better and ready to break the location's curse in the Southdowns Shopping Center. The team has brought with it a menu familiar to old regulars and those who frequent the New Orleans and Lafayette locations—upscale but rustic Italian fair. You'll find plenty of classics, like lasagna and parmigiana (both veal and chicken), and lots of the more unusual, like pisto manchego, a Spanish-style ratatouille cooked in cast iron with burrata, herb gremolata and focaccia.
From the moment you step inside, you know you're in for a treat-yo-self type of experience. The interior is unrecognizable from past tenant Table, with a classed-up bar and rich, deep wooden fixtures. The screened-in patio is particularly striking, with mid-century table and chair sets and an accent wall made of old wine barrels and boxes. You'll take a seat knowing you're about to really go all out for lunch.
The waitstaff is quick and confident with their recommendations when asked—it's clear that it's a menu they're proud to serve. We went with the suggestion of our server: the pork cheek stracci.
Not only is the plate a feast for the eyes, but the dish itself is hearty and indulgent enough that the $22 price tag starts to makes sense. The braised pork cheeks have that back-of-the-stove depth of flavor reminiscent of mom's roast, and the house-made, rough-torn pasta creates a base that feels just as down-home and handmade. A bright pea pesto keeps things from getting too heavy, while the runny yolk from a poached egg binds it all together.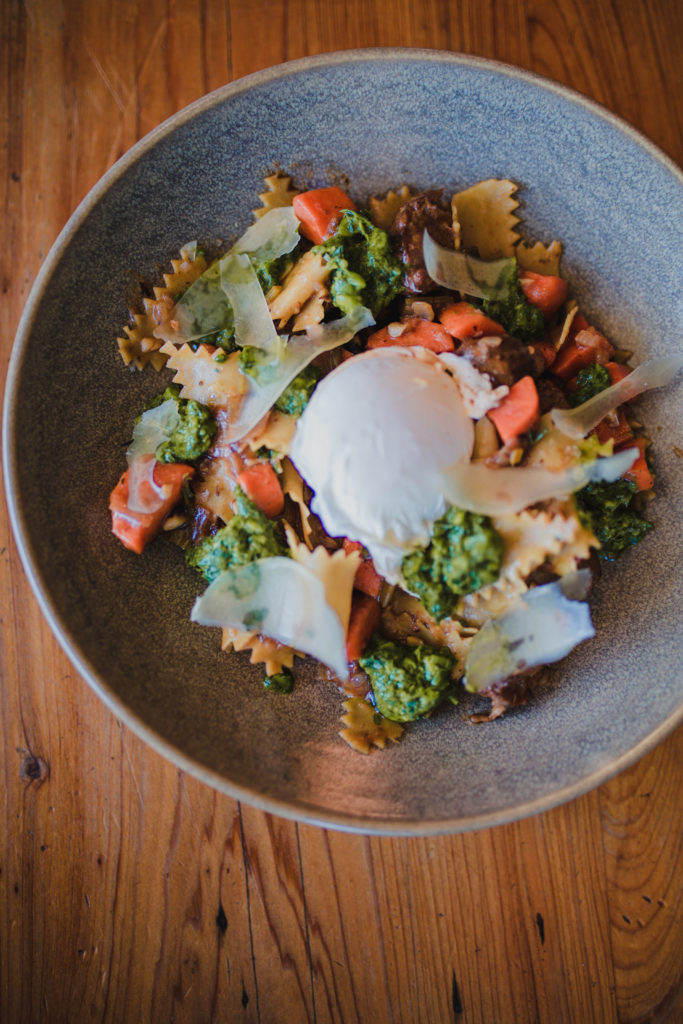 If you're looking for a new spot for a nice lunch (don't worry, there are dishes at all price points on the menu) in a bit of a luxurious setting, Marcello's is a worthy destination. Right now lunch is only available on Fridays starting at 11:30, but with that exception, it's open Monday through Saturday 4 p.m.-10 p.m. Find them at 4205 Perkins Road and on Facebook.