Growing up in Baton Rouge, more than one Saturday night culminated in piling into the family Suburban and hopping on I-10 for a barbecue feast at TJ Ribs.
Everything from the veritable museum of sports memorabilia at the entrance to the waiter scrawling his name upside down in crayon on the paper tablecloth to the baby back ribs ready in a matter of minutes was part of the TJ Ribs experience. I always considered it a local institution growing up: iconic and unchangeable.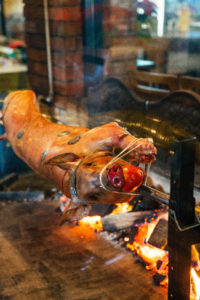 So it's a little strange to set foot inside the Acadian Thruway location now—the one from my childhood—since the restaurant overhauled its interior and its offerings this summer. The first thing that hits you is the smell of smoke, like you're stepping into a lodge. The source: an open fire cochon de lait set up right in the center of the restaurant near the entrance, where Billy Cannon's Heisman trophy used to spin. Instead of a trophy slowly rotating, there's a whole pig on a spit, roasted daily and available to order. On Sundays, the same spot now offers up prime rib.