Growing up in Baton Rouge, more than one Saturday night culminated in piling into the family Suburban and hopping on I-10 for a barbecue feast at TJ Ribs.
Everything from the veritable museum of sports memorabilia at the entrance to the waiter scrawling his name upside down in crayon on the paper tablecloth to the baby back ribs ready in a matter of minutes was part of the TJ Ribs experience. I always considered it a local institution growing up: iconic and unchangeable.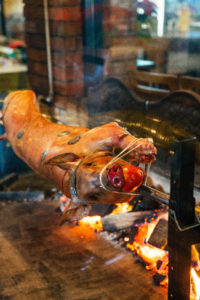 So it's a little strange to set foot inside the Acadian Thruway location now—the one from my childhood—since the restaurant overhauled its interior and its offerings this summer. The first thing that hits you is the smell of smoke, like you're stepping into a lodge. The source: an open fire cochon de lait set up right in the center of the restaurant near the entrance, where Billy Cannon's Heisman trophy used to spin. Instead of a trophy slowly rotating, there's a whole pig on a spit, roasted daily and available to order. On Sundays, the same spot now offers up prime rib.
Additional seating and a brighter atmosphere have refreshed the old building, and the whole package is a push toward a slightly more upscale vibe. The waiter's crayon signature on the table is the same, but the squeeze bottles of barbecue sauce are now pourable glass bottles, with a third garlic Sriracha option joining the classic mild and hot varieties. The bar is still airing all the sports anyone could want on big screens, but with the addition of a new draft beer system and locally focused and seasonal beer menus.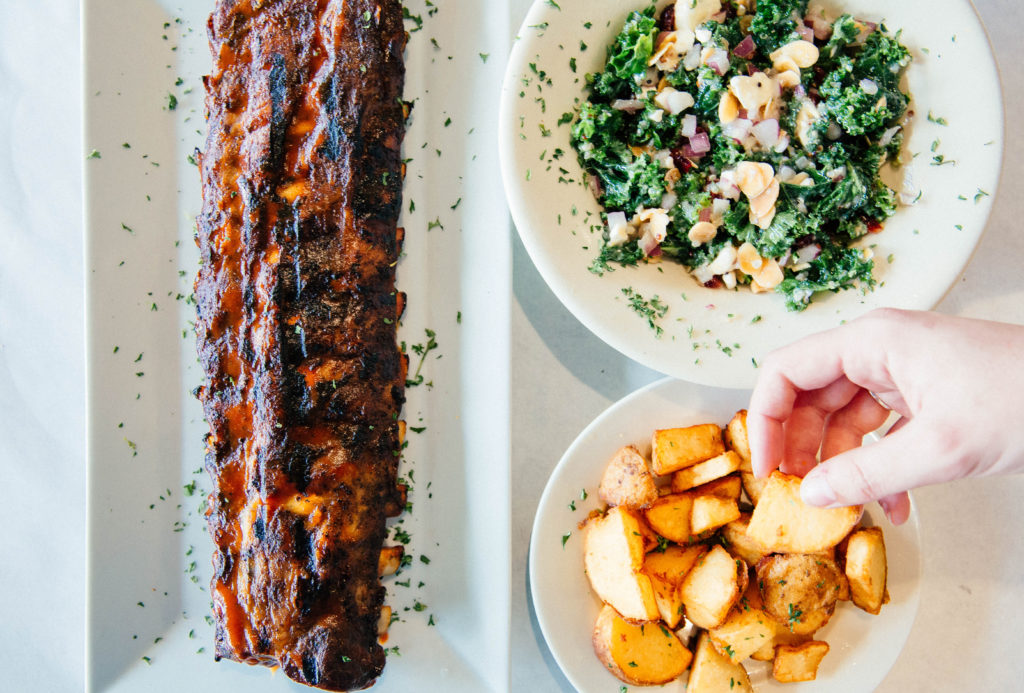 For lunch, I opted for some classics and a bit of something new: baby back ribs with TJ's signature Cajun Mojos side and a new option, the kale salad. The Mojos are a reliable favorite—spicy, crispy, fried potatoes—but I'm intrigued by the kale salad, something that would never have been served here when I was a kid. Turns out it's springy and surprisingly light, tossed with quinoa, feta and a house dijon vinaigrette. And the ribs? Those are as good as I remember: a little smoky, crisp on the outside, tender enough to fall off the bone easily. I went with my usual hot sauce, but the garlic Sriracha sauce shouldn't be overlooked—it has a pleasantly zingy kick.
After all these years, TJ Ribs is jumping back into a shifting culinary scene in Baton Rouge filled with trendy new eateries and contemporary menus. This reboot may just get them back in the game.