Brunch is the new lunch. I love the easygoing philosophy behind the meal—you can have it at 10 a.m. or 2 p.m., during a work break or lazy Sunday morning. It can be sweet or savory. It's usually enjoyed by good company and with bottomless mimosas, if it's the weekend. 
Fortunately, The Ruby Slipper Cafe blends brunch and lunch every day, so we never have to go without again. The brunch rush on Labor Day lingered into the late afternoon when we stopped in. After waiting a few minutes, my dining partner and I were seated at the bar. We had a front row seat to watch a few of the cafe's signature drinks be prepared, such as The 19th Hole, a Big Easy Mimosa and the Irish Cream Coffee.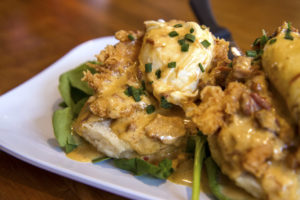 While I've heard of the restaurant's popular from-scratch fare, this was my first time experiencing its rich Southern dishes. Although all of the entrees sounded appetizing, I ordered the Chicken St. Charles—an open-faced buttermilk biscuit with fried chicken topped with two poached eggs and a pork tasso cream sauce. The menu description had me at chicken and biscuits, but the creamy sauce was a game-changer.
The biscuits were warm and fluffy, but not flaky, and the flavors of the poached eggs mixed with the cream sauce enhanced the dish. At $13, the biscuits are a little pricey for lunch/brunch, but they're filling.
I ordered my summertime staple of an iced coffee to drink. Fun fact: The Ruby Slipper uses fellow New Orleans-based French Truck Coffee's roast. Subtly sweet and not too heavy, the brew didn't disappoint.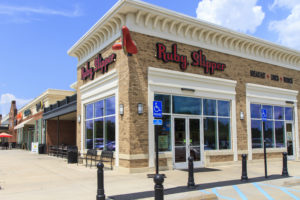 My dining partner ordered the Bam Bam Biscuit, which was two eggs (she had them scrambled), with pepper jack cheese, bacon and a fried green tomato on a buttermilk biscuit. The candied bacon alone was worth the trip here. At $9, you still get the essentials with this biscuit, plus the fried tomato.
With the eatery's open dining area and bright, funky decor, the culture of New Orleans definitely shone through. Light jazz played while we ate, and the easy demeanor between staff members felt familiar.
The Ruby Slipper is at 3535 Perkins Road, in the Acadian Village Shopping Center. Hours are 7 a.m.-2 p.m. Monday through Friday and 7 a.m.-3 p.m. on weekends.
---
Fast Break is a 225 Dine series that celebrates lunch (and sometimes brunch) in Baton Rouge. Follow along as we tour different dining options for a quick bite around the city.