Not every lunch break has to be casual. There's a time and place for drive-thrus, counter service and quick, no-frills plates, but sometimes you want something a little classier. That's where Kalurah Street Grill excels: upscale vibes and lunch specials without extreme price tags.
The transformed former home of Chelsea's Cafe brings back plenty of memories for many locals, including that of the famous and long-lost Chelsea's grilled cheese and tomato soup. That particular menu item may only live on in our hearts, but the caprese sandwich at K Street seems to be its spiritual successor.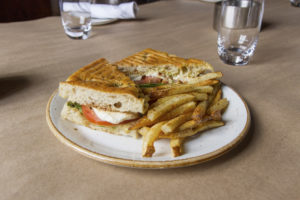 Served up on from-scratch focaccia flavored with Italian herbs, this sandwich melts fresh mozzarella together with a dijon and basil aioli and balsamic vinegar marinated tomato. It takes the refreshing, slightly sweet flavors of a caprese salad and makes it hearty, savory and warming—perfect for long rainy days, just as the Chelsea's grilled cheese was.
But even without the ghost of grilled cheeses past, the sandwich stands on its own, a dressed-up take on a classic that feels at home within the stylish walls of K Street. At $12, it's pricier than a carry-out lunch, but if you're looking for a midweek treat, a power lunch or simply some comfort from the storm, it's well worth it.
Kalurah Street Grill is at 2857 Perkins Road. It's open 11 a.m.-2:30 p.m. and 5 p.m-10 p.m. Tuesday through Friday, 5-10 p.m. on Monday and Saturday and 10:30 a.m.-2:30 p.m. on Sunday. Visit the official website or Facebook page for more information.
---
Fast Break is a 225 Dine series that celebrates lunch in Baton Rouge. Follow along as we tour different dining options for a quick bite around the city.