---
February is a short month, but this year it will be especially busy. Fat Tuesday comes early, with Valentine's Day the next day—which also happens to be Ash Wednesday, the first day of Lent.
So, we came up with an easy and delicious crawfish menu for your celebrations that also adheres to the dietary restrictions of those abstaining from meat. The whole dinner takes less than two hours to put together, from prep work to plating. It will give you plenty of time to relax after Mardi Gras and enjoy a special evening with the ones you love.
On the menu:
Vol-au-vent of Crawfish
Beet and Asparagus Salad with Mixed Greens and Orange Vinaigrette
Dark Chocolate Shortbread Cookies
Strawberries Steeped in Port Wine
Recipes by Tracey Koch
---
VOL-AU-VENT OF CRAWFISH
A vol-au-vent is a small, round puff pastry shell filled with a savory mixture of chicken, meat or seafood in a rich sauce. This classic French dish is a delicious way to start a meal or can even be served as a main course. A vol-au-vent sounds and looks very elegant and intimidating, but it is actually quite simple to put together. With the help of frozen puff pastry dough, this version can be made in as little as 30 minutes. It's easy yet pretty and is a perfect midweek Valentine's dinner to wow that special someone.
Servings: Makes 6 stuffed pastries
1 package of frozen puff pastry shells (we use Pepperidge Farm brand)
3 tablespoons butter
½ cup chopped shallots
½ cup chopped celery
½ cup chopped carrots
3 tablespoons flour
½ teaspoon kosher salt
½ teaspoon black pepper
½ teaspoon dried thyme
1½ cups seafood or chicken broth
½ cup half and half
¼ cup sherry
1 pound crawfish tails
1 tablespoon chopped fresh parsley
¼ cup chopped green onions
1. Heat the oven to 400 degrees. Place the frozen puff pastry shells on a baking sheet lined with parchment paper. Bake the shells for 15 to 17 minutes or until puffed and golden.
2. Remove the shells from the oven and allow them to cool on a rack for 5 minutes. Cut the tops off the shells and remove any excess dough from the center. Set them aside until you are ready to fill them.
3. In a large skillet, melt the butter. Add the shallots, celery and carrots, and sauté 4 to 5 minutes or until the vegetables start to become soft.
4. Stir in the flour and continue to cook for an additional 2 to 3 minutes.
5. Add the spices. Pour in the broth and stir until everything becomes smooth. Allow the mixture to thicken a little, and then stir in the half and half and sherry.
6. Continue stirring over medium-high heat until the mixture begins to bubble and thicken. Fold in the crawfish tails, and allow the mixture to cook for an additional 5 minutes to ensure the crawfish are cooked through.
7. Fill the pastry shells with the warm crawfish filling. Serve immediately.
---
BEET AND ASPARAGUS SALAD WITH MIXED GREENS AND ORANGE VINAIGRETTE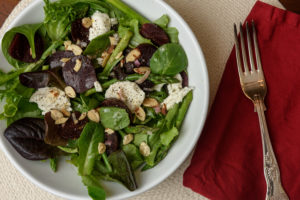 This is an easy salad to throw together if you use beets that are already steamed and then vacuum sealed, refrigerated and ready to use. They can be found in most grocery stores in the produce section and are a great way to bump up a salad or side vegetable dish without going through the mess of peeling and cooking beets yourself. We also threw in some fresh blanched asparagus along with the mixed baby greens to dress this easy salad up. We topped it with a little honey-infused goat cheese and toasted almonds. The quick orange and shallot vinaigrette has the right balance of sweet and tangy to help bring all the flavors together into the perfect bite.
Servings: 6
For the dressing:
¼ cup fresh squeezed orange juice
1 tablespoon orange zest
2 tablespoons white wine vinegar
1 teaspoon chopped shallots
1 tablespoon Dijon mustard
¼ teaspoon kosher salt
¼ teaspoon black pepper
In a small bowl, whisk all the ingredients together. Cover and chill the dressing for 30 minutes before serving to allow the flavors to come together.
For the salad:
1 bunch fresh asparagus, trimmed and cut in half
1 6-ounce bag mixed baby greens
8 ounces peeled and steamed beets
2 ounces goat cheese infused with honey (if not available, plain goat cheese works well, too)
¼ cup toasted sliced almonds
1. Bring a large pot of salted water to a boil. Drop the asparagus into the water for 1 minute.
2. Drain and run the asparagus under cold water to stop them from cooking further.
3. Place the greens, asparagus and beets in a large serving bowl. Drizzle with half of the dressing, and toss to make sure everything is well-coated. Add in a little more dressing if desired. You may have leftover dressing.
4. Top the salad with the crumbled goat cheese and almonds, and serve.
---
DARK CHOCOLATE SHORTBREAD COOKIES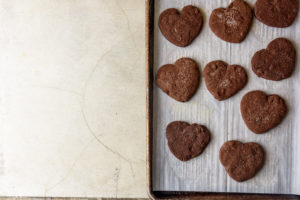 It wouldn't be Valentine's Day without a rich, dark chocolate dessert, and this shortbread cookie totally delivers. The buttery and tender shortbread will melt in your mouth. The chocolate is deep in flavor and color, and the addition of the dark chocolate chips scattered throughout are a fun surprise to bite into.
Servings: Yields 2 dozen cookies
cup powdered sugar, sifted
¼ cup cocoa powder
1 stick softened butter
2 teaspoons vanilla
½ teaspoon cinnamon
¾ cup unbleached flour
¼ teaspoon salt
1/3 cup dark chocolate chips
Crystallized sugar for topping
1. In a large mixing bowl, sift the powdered sugar and cocoa together.
2. Add the softened butter and vanilla. Cream everything together until smooth.
3. Sift in the cinnamon, flour and salt. Add the chocolate chips. Fold everything together until well combined but avoid overmixing the dough.
4. Turn the dough out onto a floured surface and roll it into a round disk, about 1/3-inch in thickness.
5. Cover the disk and chill for an hour.
6. Heat the oven to 325 degrees. Line a baking sheet with parchment paper.
7. Remove the shortbread dough from the fridge and cut it using a heart-shaped cookie cutter. Place the cookies onto the baking sheet and sprinkle with the crystallized sugar.
8. Bake for 12 to 14 minutes and remove from the oven. The cookies will firm up as they cool.
---
STRAWBERRIES STEEPED IN PORT WINE
Strawberries in port are the perfect complement to the chocolate shortbread cookies. The flavor of the port as it infuses with the sweet and tangy strawberries helps balance out the rich chocolate in the shortbread. This very festive Valentine's Day dessert is the perfect way to round out an elegant dinner.
Servings: 6
4 cups strawberries
2 to 3 tablespoons sugar
1/3 cup port wine
2 tablespoons fresh lemon juice
1. Cut the tops off the strawberries and slice them in half. Place them in a bowl.
2. Sprinkle the sugar over the berries. Add the port and lemon juice. Mix well to combine.
3. Cover and chill for an hour. Serve in a dessert dish along with the chocolate shortbread cookies.
---
Tracey Koch is a chef, cooking instructor and food columnist, and the author of Georges: The Goose From Toulouse Who Only Ate Couscous. Stephanie Riegel, Tracey's sister, is the editor of Business Report and host of "Out to Lunch" on WRKF.
This article was originally published in the February 2018 issue of 225 Magazine.