Sponsored by Pennington Biomedical Research Center
Summer is finally here—let the cookouts begin! Bring some fresh flavors to your BBQ with these summery recipes from Pennington Biomedical Research Center's Metabolic Kitchen.
Understanding the way our bodies metabolize and use food can help us make choices the give us the nutrients we need while still delivering the tastes we crave. The Metabolic Kitchen supports nutritional research at Pennington Biomedical Research Center by designing, preparing, and serving meals to meet study-specific criteria and produce valid scientific results. They're also delicious!
Here are three fresh recipes straight from the kitchen, sure to make your summer cooler.
---
Patriotic Popsicles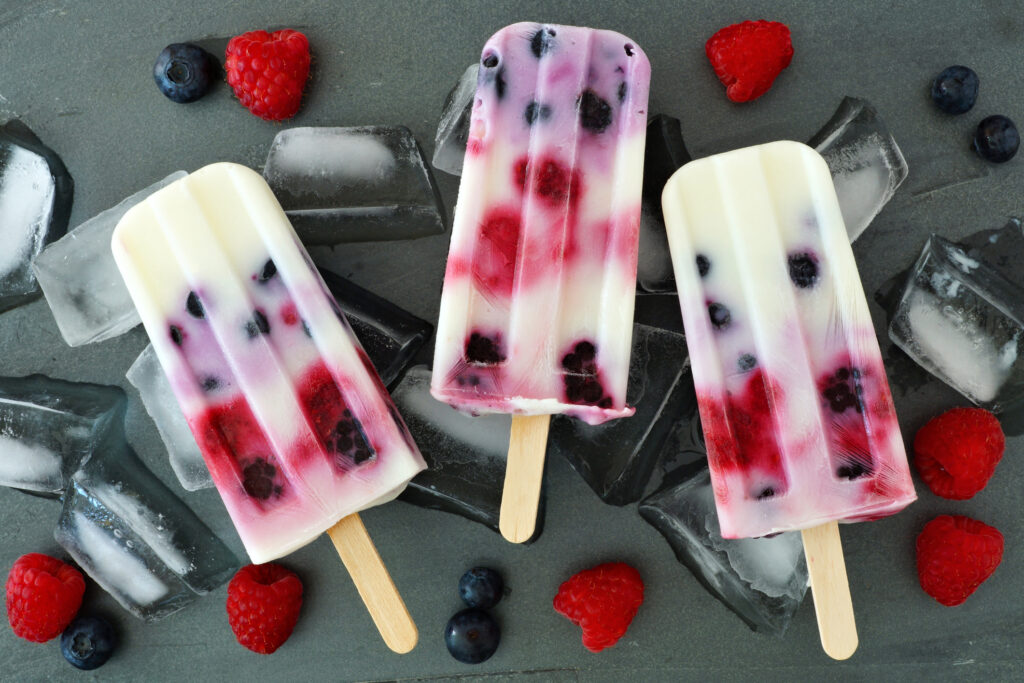 Makes 4 servings. One serving gives you 90 calories, 4 grams of protein, 18 grams of carbohydrates, 1 gram of fiber and one gram of fat.
Simple Ingredients
1 cup low-fat vanilla yogurt
1 cup low-fat milk
½ cup chopped strawberries or raspberries
½ cup chopped blueberries
Easy Directions
1. Mix together the yogurt and the milk.
2. Add one quarter cup of the mixture into a bowl with the strawberries and stir until combined.
3. Add one quarter cup of the mixture to a bowl with the blueberries and stir until combined.
4. Layer the strawberry, yogurt/milk, and blueberry mixture into popsicle molds and freeze according to manufacturer instructions.
.
---
Teriyaki Salmon and Pineapple Skewers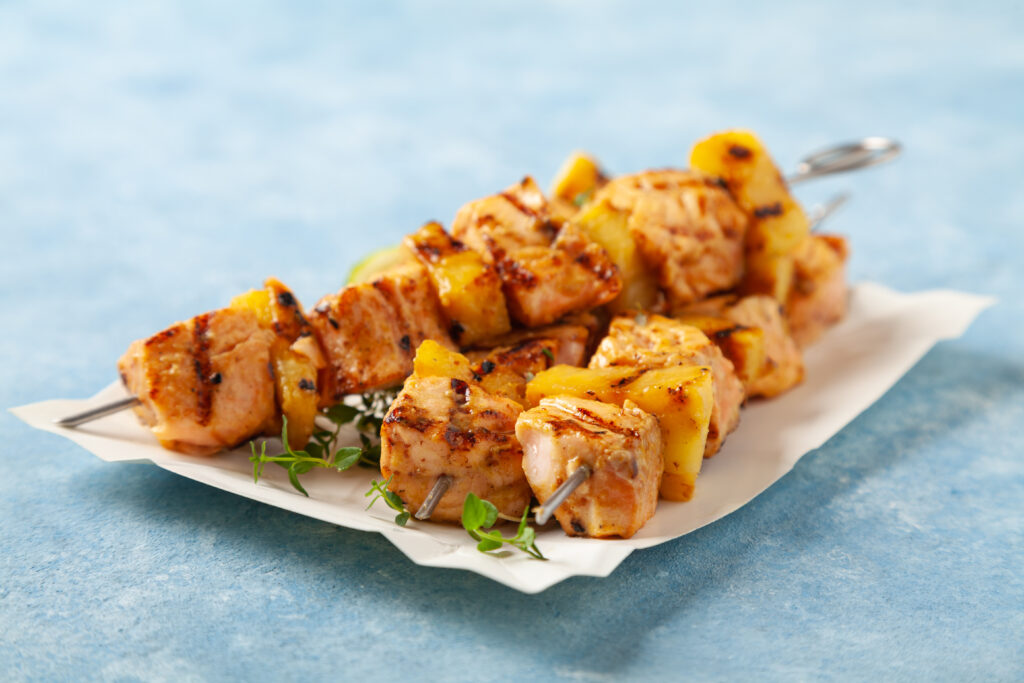 Makes 4 skewers. One skewer gives you 310 calories, 25 grams of protein, 17 grams of carbohydrates, 2 grams of fiber, 16 gams of fat (3 grams saturated, 6 grams PUFA, 6 grams MUFA)
Simple Ingredients
1 pound raw salmon, skin removed
2 cups fresh pineapple cubes
1 red bell pepper
4 tbsp low sodium soy sauce
1 tbsp sesame oil
2 tbsp brown sugar
1/2 tbsp corn starch
1 tsp garlic powder
1/2 tsp powdered ginger
Salt & pepper to taste
4 wooden skewers
Easy Directions
If using an outdoor grill, soak the skewers in water for 30 minutes (this is not necessary if using a grill pan). Cut the salmon into 1-inch chunks, and the bell pepper in to 1-inch pieces. You will need at least sixteen pieces each of salmon, bell pepper, and pineapple. Thread the salmon, bell pepper, and pineapple onto each skewer until four of each item have been threaded. Once finished, place the skewers into a baking dish or pan.
Combine the soy sauce, sesame oil, brown sugar, corn starch, garlic powder, and ground ginger, and whisk together until all ingredients are thoroughly combined. Spoon or brush the mixture onto the skewers, making sure all sides of the skewers are coated. Sprinkle the skewers with salt and pepper, and place them in the refrigerator for 15-30 minutes to marinate.
Preheat the grill (or a grill pan) to medium heat. Once hot, spray the grill or pan surface with oil. Place the skewers on the grill and cook for about 2 minutes per side, for 8-10 minutes total. Remove skewers from the grill and place them onto a clean plate to serve.
.
---
Strawberry Jalapeno Mock Margarita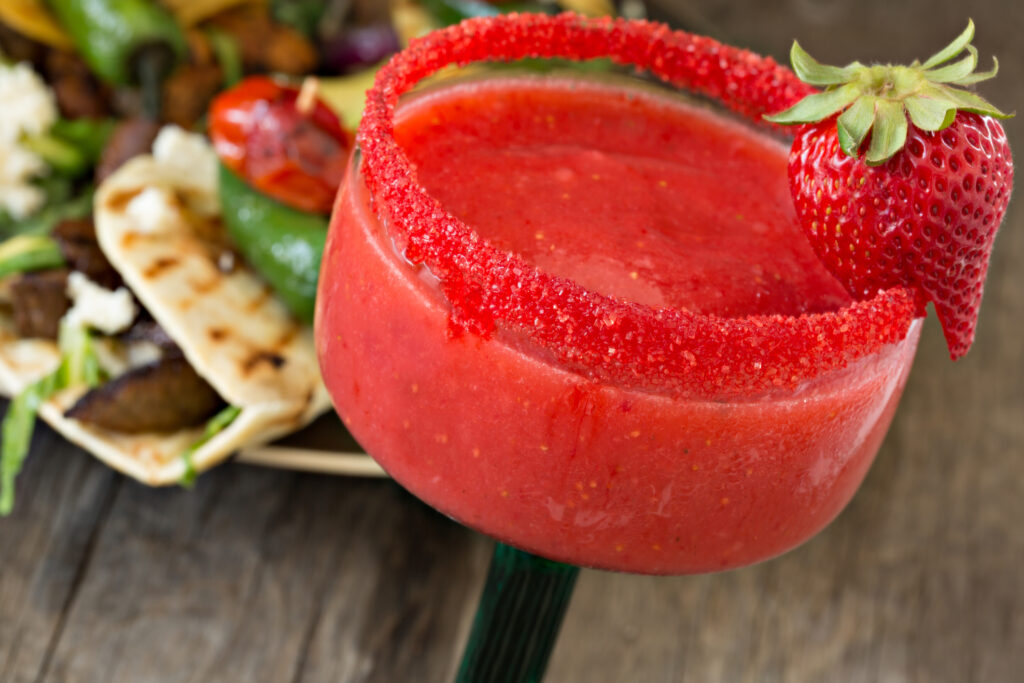 Makes two 12-ounce drinks. One serving gives you 140 kilocalories, 1 gram of protein, 37 grams of carbohydrates, 2 grams of fiber and 0 grams of fat.
Simple Ingredients
1/3 of 1 cucumber, peeled
¼ of 1 jalapeno, seeds and pith removed
1 cup frozen strawberries
¾ cup orange juice
2 tbsp honey
Juice from one lime
1 packet (0.8g) True Lemon unsweetened crystallized lemon
½ cup ice
Easy Directions
Add the cucumber, jalapeno, and frozen strawberries to a blender.
Combine the orange juice, honey, lime juice, and True Lemon, and pour into the blender.
Add ice and blend until smooth.
Try it with other fruits like blackberries or mango too.
---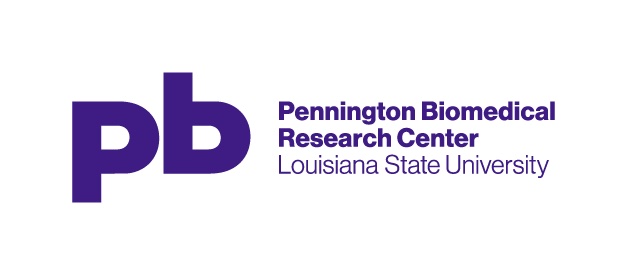 Visit PBRC.edu to find more delicious (and healthy) recipes from the Pennington Biomedical Research Center Metabolic Kitchen.