---
My Denham Springs friends had been bragging about this area restaurant for months. After constantly hearing them sing its praises, we finally had the opportunity to check out Duke's Seafood and Steakhouse.
Duke's, which counts its first location in Watson, is prominently located on Range Avenue just off the interstate. You can't miss its bright yellow exterior, rustic tin roof and comfortable front porch.
A bubbly hostess welcomed us warmly and allowed us a moment to look around as we waited. We took in the tastefully decorated walls of murals, paintings and coastal scenes. Slightly different in tone, the bar has the feeling of a boat dock at night with dark walls, warm woods and netted bar lights.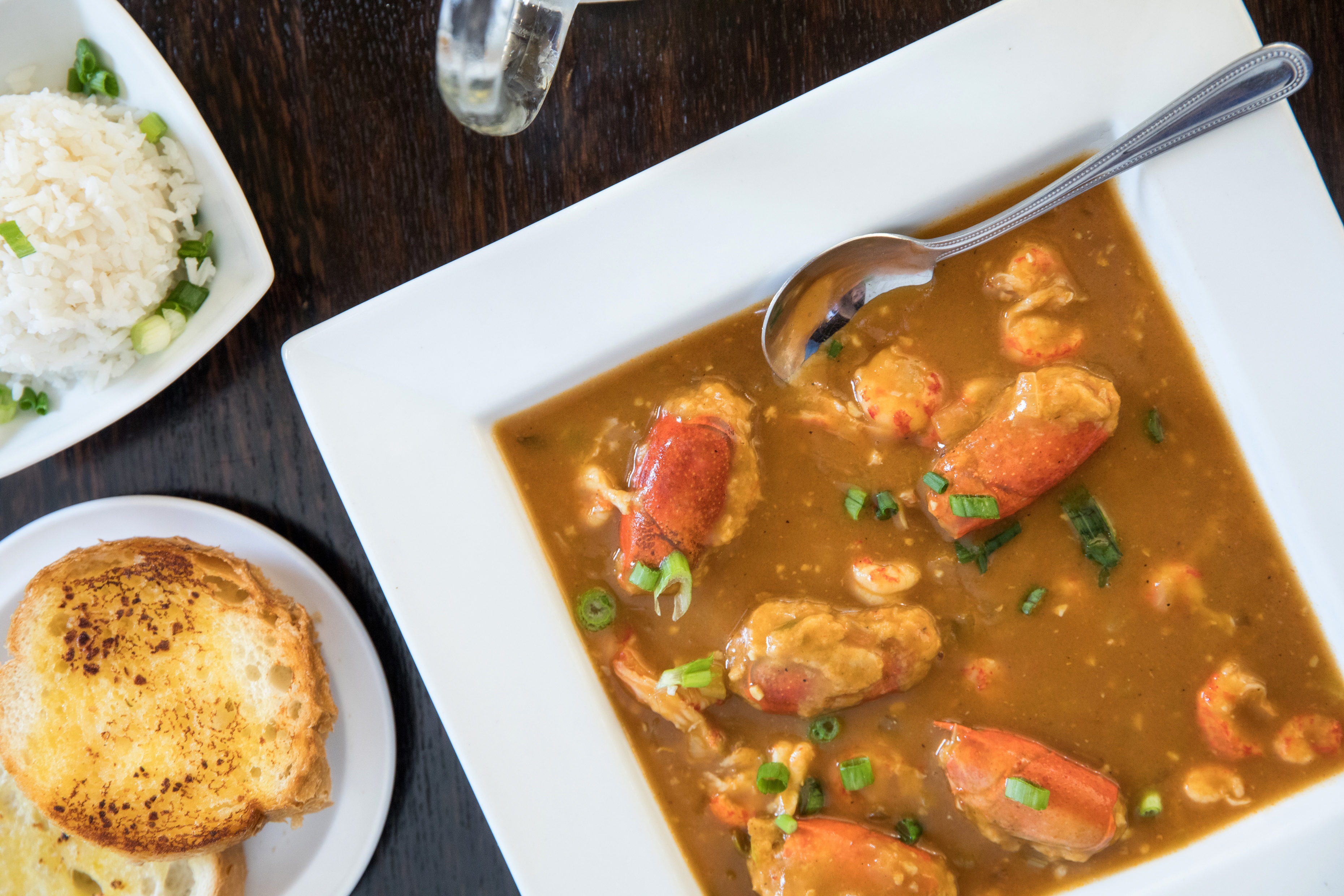 I had an inkling ahead of time that we should try the Crawfish Bisque as a starter. A rarity on menus—due, no doubt, to the labor involved—there was a visible sign of authenticity: stuffed crawfish heads nestled on top. The cornbread and crawfish were evident in the stuffing, but it was a tad gummy. Loaded with the Cajun trinity of onions, bell peppers and celery, the bisque was flavorful, though the side of rice was needed to mitigate some of the salt.
Baked Crab Cake isn't usually found at typical south Louisiana seafood joints, but we found it a refreshing change of pace for an appetizer. This version had huge hunks of crab with little else to hold it together. It had a softer, creamy texture and mild seasonings that never masked the sweet succulence of the fresh crab.
An encompassing entree offering—and a nice Cajun music reference—was the Jambalaya, Crawfish Pie & Filé Gumbo. The sufficient serving of jambalaya was moist and red. My personal preference is generally dry and brown, but one bite made me a convert. Plump grains of rice held incredible zest and heat, while chunks of sausage added additional spice and coarseness. The biggest surprise was the juicy crawfish tails throughout.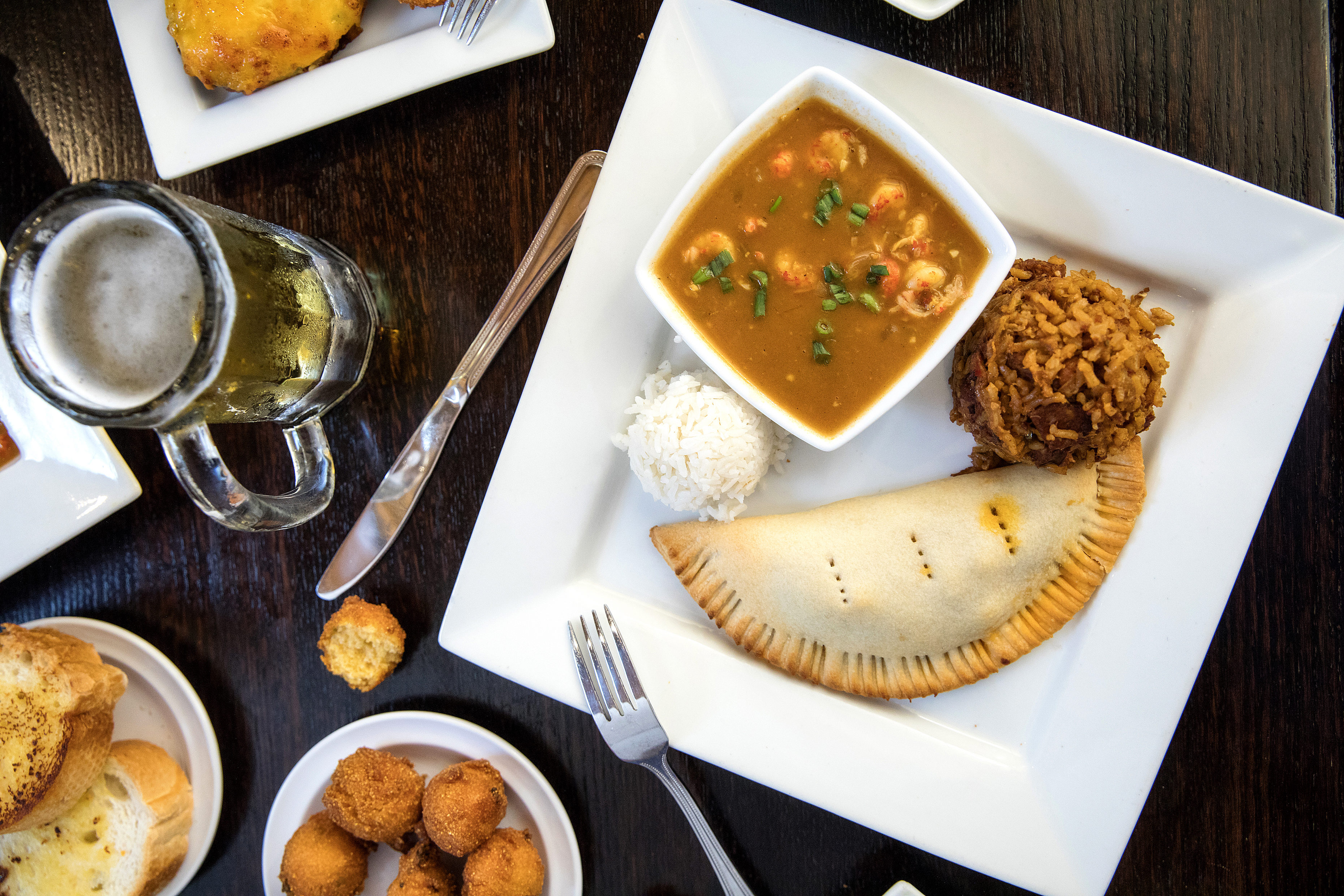 The crawfish pie had flakey and buttery edges but seemed pale, doughy and undercooked toward the middle. But the filling was well spiced with abundant crawfish in a rich gravy. Whether there was filé in the gumbo I cannot say, but there were crawfish tails, which I found confusing. It was less a gumbo and more a spicy stew. Good, just not gumbo.
I'm always game for whole fish, but I was daunted by the description of the Whole Grilled Flounder as "a big one." They weren't kidding, either. As the behemoth arrived, I noticed stares from neighboring tables.
The mild fish was flaky and tender, gently enhanced by a butter sauce that offered nuanced flavors. With each bite, I was more pleased with my choice. While I'm not usually much for stuffed potatoes, I found the included side enjoyable. It had just enough cheese to keep it from being excessive and zippy bits of jalapeños.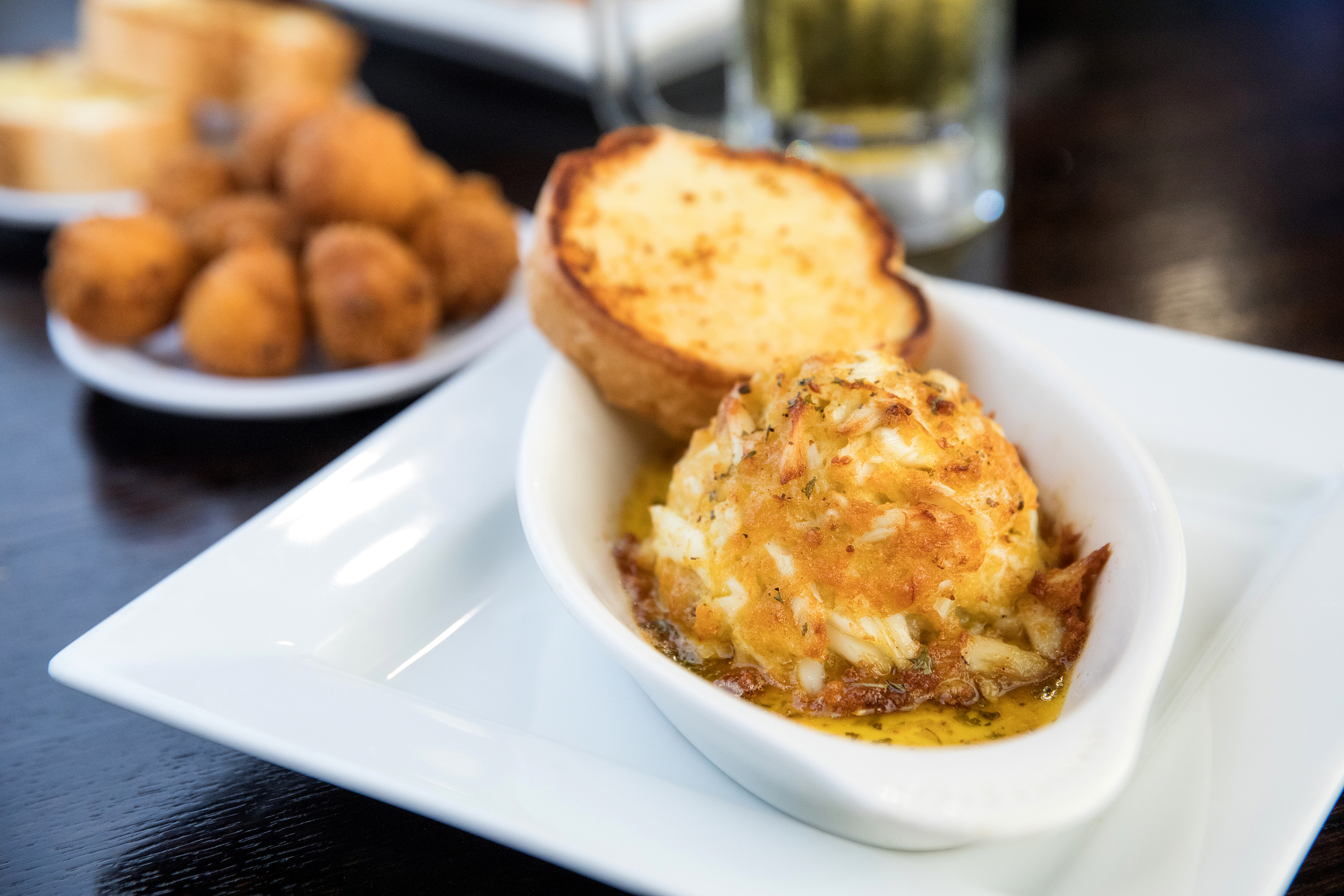 Wanting to try as much as our stomachs could handle, our table added a side of Red Beans and Rice. The serving had a deep ruddy color indicative of a Creole version with creamy beans that held their shape. Though I typically prefer it Cajun-style with a thinner sauce, I couldn't stop eating this thicker, more indulgent alternative.
Unlike the expansiveness of the rest of the menu, Duke's only offers three desserts. Of those, the Bananas Foster Bread Pudding seemed like the most logical choice. Two Louisiana staples combined sounded like a match made on the bayou, but sadly the slice was incredibly dense and a bit too bready. The boozy sauce had just enough cinnamon, but overall there was no indication this was supposed to be a bananas foster/bread pudding hybrid other than the raw sliced bananas on top. We found it lacking.
Still, it's easy to see why my friends enjoy this place. Duke's offers solid seafood dishes with ample variety in a casual and comfortable setting. When seafood is not your thing, there are plenty of beef and chicken entrees to satisfy. It's is a definitive boon for the eastern edge of the Capital Region.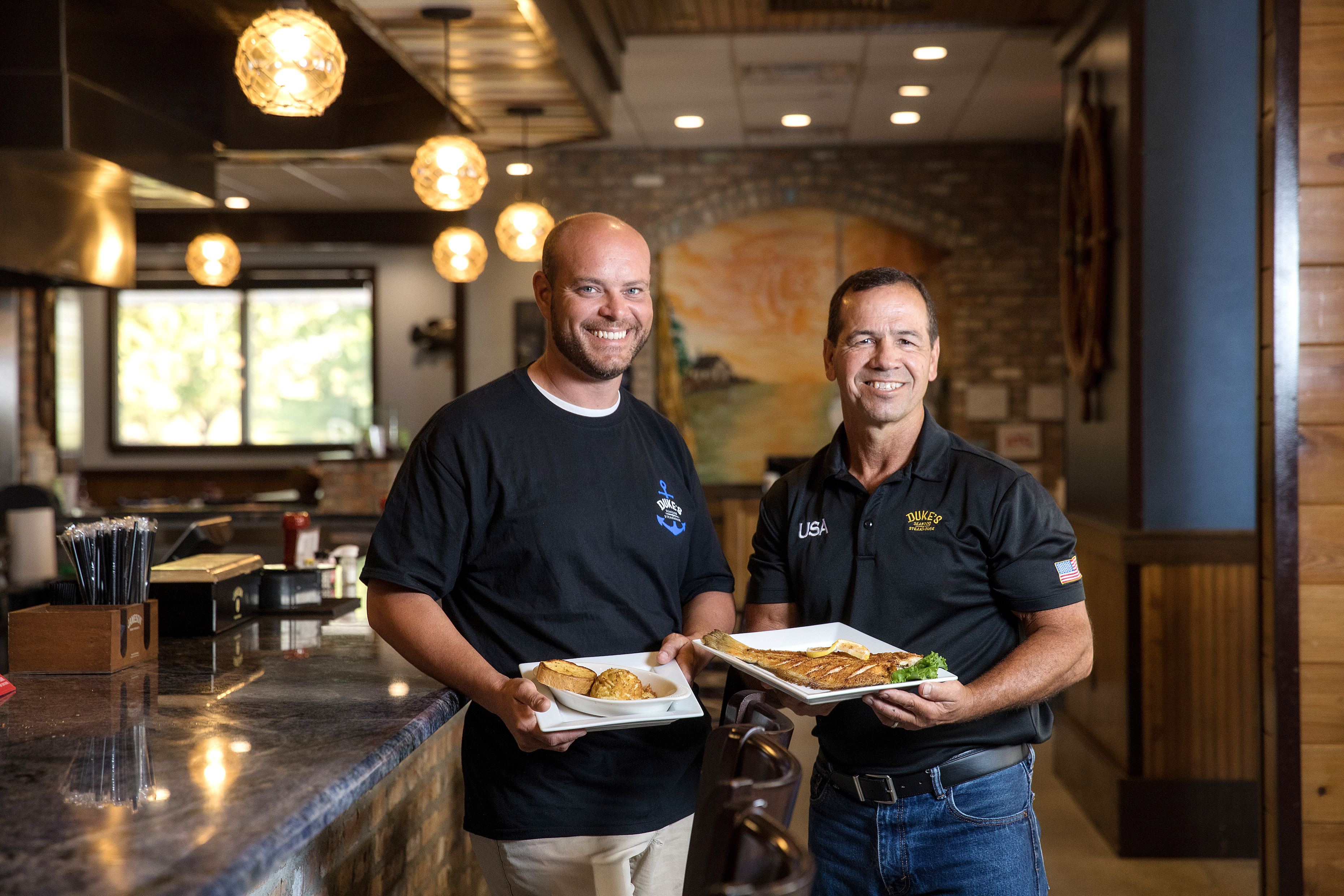 The basics: Duke Landry opened the first of his restaurants in Watson in 2015, then followed its success with the Denham Springs location in the fall of 2017 in what was previously a Piccadilly. Duke's joins an explosion of restaurant activity around the Bass Pro Shops, and offers a full steak menu and plenty of traditional Southern seafood options.
What's a must: The Crawfish Bisque if you want to experience the traditional version, crawfish heads and all; Baked Crab Cake if you want less breading and more meat in your crab cakes; and the Whole Grilled Flounder entree if you're not one to shy away from skin- and fin-on fish.
---
DINE AT DUKE'S
dukesseafoodandsteakhouse.com
2591 Range Ave., Denham Springs
(Its Watson location is at 33920 Highway 16)
Hours:
Monday-Thursday and Sunday, 11 a.m.-9 p.m.
Friday-Saturday, 11 a.m.-10 p.m.
---
Our food critic's name may be false, but the credentials are not. This gastronome has studied the history, cultivation, preparation, science and technology of food for more than 30 years.
This article was originally published in the November 2018 issue of 225 Magazine.