---
Twice-baked potato casserole is one of my family's favorites. It is easy to throw together, feeds a crowd and is the perfect complement to pot roast. However, now that so many of us shy away from excess carbs in our diet, potatoes may be a side dish to pass on. Recently I began substituting riced cauliflower in place of my starchy side dishes, like potatoes or rice. Cauliflower has about a quarter fewer net carbs per serving than mashed potatoes. The mild flavor in riced cauliflower lends itself to be the perfect substitute in place of potatoes. The addition of a little cornstarch and milk blended together binds the cauliflower, keeping the consistency smooth and creamy. I fold in a little sour cream along with the other ingredients found in a traditional twice-baked potato recipe to make this low-carb version taste very much like the original recipe.
Servings: 6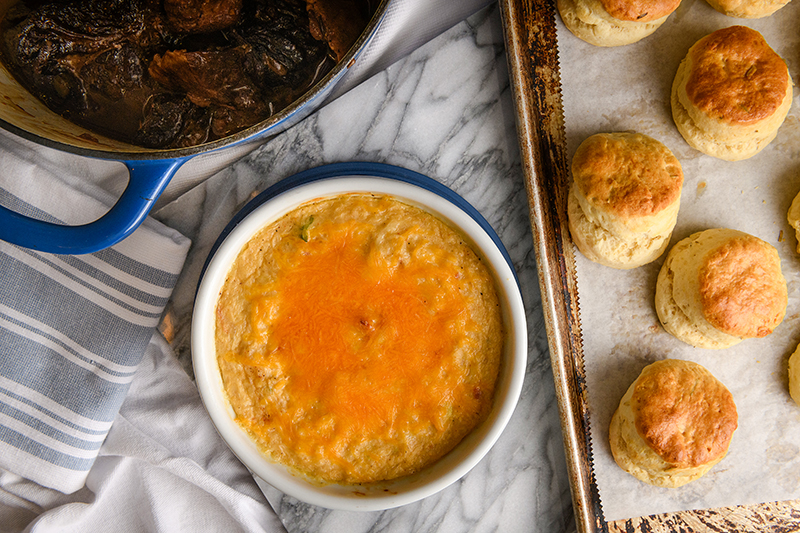 2 tablespoons butter
2 (12-ounce) bags riced cauliflower
3 cups chicken broth
¼ teaspoon salt
¼ teaspoon black pepper
1 tablespoon cornstarch
1⁄3 cups milk
¼ cup sour cream
¼ cup chopped green onions
2 strips cooked bacon, crumbled
1 cup shredded sharp cheddar cheese
¼ teaspoon Creole seasoning
Heat the oven to 350 degrees. Use 1 tablespoon of the butter to grease a 9-by-9 casserole dish.
Place the riced cauliflower in a large sauce pot. Add in the chicken broth, salt and pepper. Bring the cauliflower to a boil over medium-high heat. Reduce the heat and simmer for 7 to 10  minutes, or until cauliflower is soft enough to mash and most of the broth is absorbed.
Turn off the heat. In a separate dish, stir the cornstarch and milk together until smooth. Pour this mixture into the cauliflower, and stir to combine.
Use a potato masher to mash the cauliflower mixture until smooth and creamy. Fold in the remaining butter, the sour cream, chopped green onions, crumbled bacon and ½ cup sharp cheddar cheese.
Season with the Creole seasoning, and spoon the mixture into the buttered casserole dish.
Top the mashed cauliflower with the remaining shredded cheese and place in the preheated oven. Bake for 15 to 20 minutes until the cheese is melted and the sides are bubbling. Serve as a side or with the Smothered Pot Roast on top.
---
This article was originally published in the March 2023 issue of 225 magazine.