A small group of us recently took a weekend drive to picturesque St. Francisville. Knowing The Myrtles had launched an open-hearth restaurant at the beginning of this year, we thought we'd cap off the day trip with some wood-fired treats.
Given the historic location of Restaurant 1796, we were delighted by the interior decor. Most lighting was reminiscent of old gas lanterns and candle chandeliers, with the exception of a back room that featured Edison bulbs on exposed wire. Other nods to history were showcased in the exposed beam ceiling, brick walls and floor-to-ceiling stacks of firewood.
Arriving ahead of your reservation for a pre-dinner drink is a must. We bellied up to the bar and noticed that while the restaurant's drink menu is small, it's well crafted with some interesting cocktails and a variety of wines.
As we perused the dinner menu, our waiter brought cornbread to the table. It was perfectly sweet with just enough salt to balance the sugar and enhance the corn. A topping of pickled white onions made for a lovely and rustic amuse-bouche.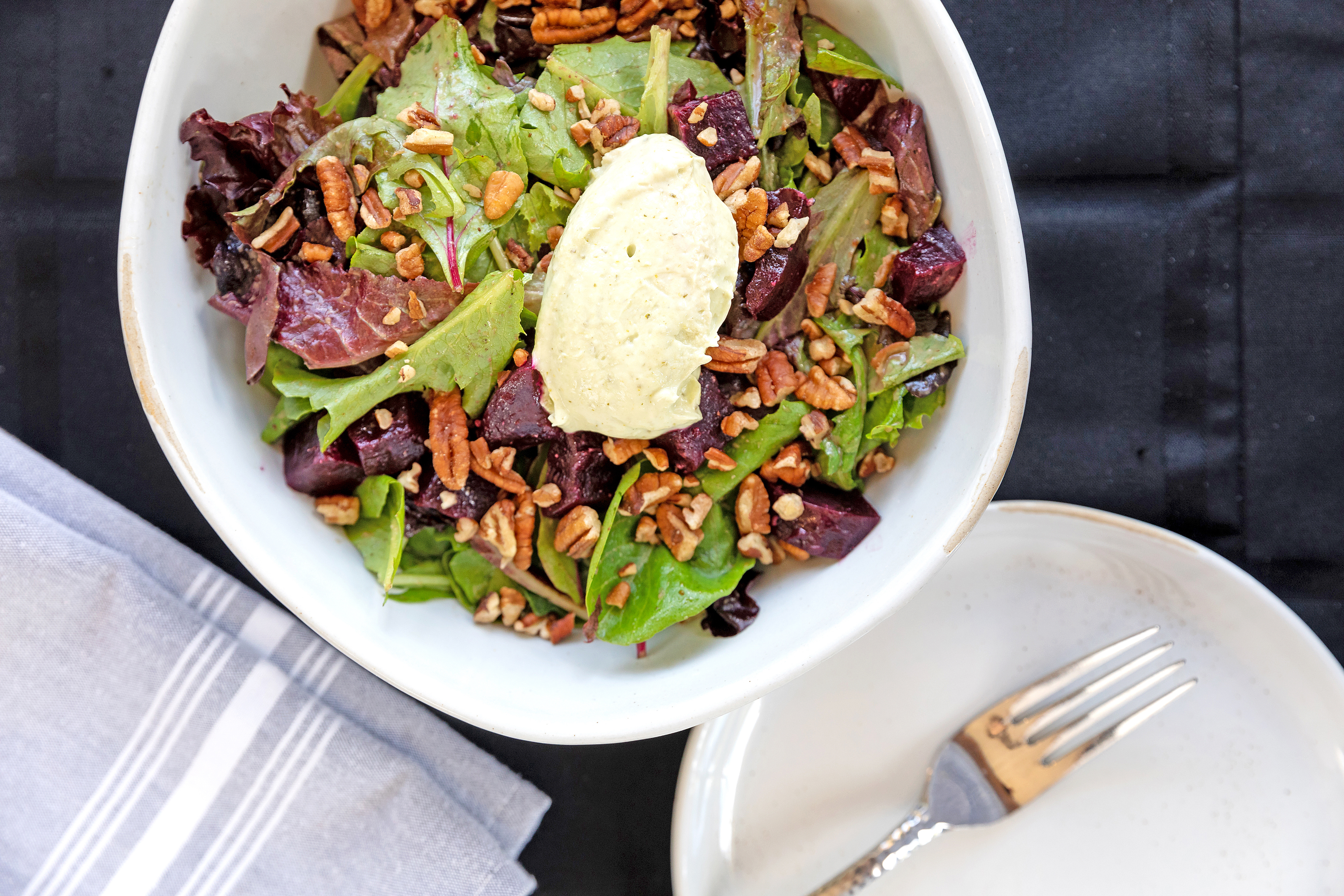 With so many delicious-sounding options on the appetizer menu, we struggled over what to choose. Our server suggested Fried Rabbit Livers, and it was an outstanding recommendation. We were surprised by the lack of minerality often found in animal liver, but that's not a complaint. A drizzle of hot sauce buttermilk ranch packed a well-balanced wallop, while the side of cucumbers wasn't exactly a memorable accompaniment.
Smoked Tuna Dip seemed an appropriate counterpoint to the rabbit. There was the barest kiss of smoke in the dip. Thankfully, this didn't rely too heavily on salt, as other fish dips might. Pepper jelly added an unexpected sweetness that harmonized beautifully with the fish.
Roasted Beet and Goat Cheese Salad offered bright acidity and creamy goat cheese, creating a wonderful marriage of flavors. The hearty greens with earthy pecans and chunks of roasted beets were gobbled up in record time and left us wanting for more.
The duck entree came with a black sesame tamarind jus sauce that created a combustion of flavors. The breast, cooked to medium perfection as ordered, had an appropriate gamey taste. My friend loved the Asian-sauced bok choy and devoured the whole dish long before I had a chance for a second bite.
The Rack of Lamb entree came with four monster chops, but somehow the sizing of this entree was still manageable. Sweet pepper jelly sauce overwhelmed the delicate mushroom risotto on the side, but worked wonderfully with the scrumptious, tender lamb.
The evening's fish special featured American red snapper with parsnip purée and pepper jelly Brussels sprouts topped off by an asparagus salad that was light and refreshing. An uber crisp fish skin hid fabulously moist meat with a nice light smokiness. Sweet and spicy Brussels sprouts were a fantastic counter to the rich and creamy purée.
After gorging on cornbread, appetizers and salad, I had just enough room for dessert. My partner and I were craving sweets, but our friend was full. Still, as soon as the desserts hit the table, he wasn't shy about digging in.
The Butterscotch Pudding was sophisticatedly designed but with a concentrated sweetness far from your boxed Jell-O pudding variety. It was topped by toasted meringue and candied pecans—so if you added pastry crust, you just might be fooled into thinking it was pecan pie.
Caroline's PB&J Sundae took us by surprise with peanut butter ice cream, honey raspberry jam and smoked peanuts all topped with a stunning brûléed marshmallow fluff. Digging underneath, you're first hit with ice cream that was like a delicate, flavorful mousse. Add the jam, and it takes you back to childhood PB&Js minus the crusts. A delightfully whimsical treat.
I can't stand coconut, and yet I gobbled up the Thai Coconut Ice Cream. With such copious sugar in the other desserts, it was an appropriate foil to the saccharine coating on our tongues.
On the drive home, we assessed our experience, uttering nothing but superlatives. Phenomenal this. Outstanding that.
This is a true destination restaurant, and right in our friendly West Feliciana backyard. Should you require it to be your front yard for the night, the hotel can accommodate you in the main house or in a personal cabin. It's a great way to end a weekend getaway, haunted mansion tour included.
---
The basics: It took more than a year to construct a new restaurant on the grounds of The Myrtles Plantation, but proprietor Morgan Moss' undertaking has paid off greatly. Opened in February, the restaurant centers on a 10-foot open-fire hearth where much of the food is roasted, grilled or charred by the flames.
What's a must: The menu changes with the seasons, but some favorites include the Smoked Tuna Dip to start, the Roasted Beet and Goat Cheese Salad, the duck entree that's been iron-seared over the fire, and Caroline's PB&J Sundae with peanut butter ice cream, honey raspberry jam and a stunning brûléed marshmallow fluff on top.
---
Eat at Restaurant 1796
myrtlesplantation.com/restaurant-1796
7747 U.S. Highway 61, St. Francisville
Hours:
Tuesday-Saturday, 11 a.m.-2 p.m. and 5-9 p.m.
Sunday, 11 a.m.-3 p.m.
---
Our food critic's name may be false, but the credentials are not. This gastronome has studied the history, cultivation, preparation, science and technology of food for more than 30 years.
This article was originally published in the December 2019 issue of 225 Magazine.