Let's face it: Coming up with new ideas on how to celebrate your dad on Father's Day can get tough. From mini golf to barbecuing, you've probably done it all.
With this year's Father's Day also being International Picnic Day, we found just the right places to take dad for a Father's Day picnic this Sunday—plus some great local finds to pack in your picnic basket.
---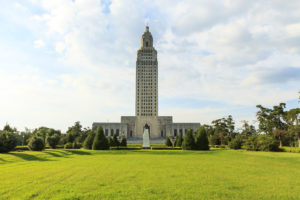 WHERE TO PICNIC 
The State Capitol grounds
What better place to picnic than in front of the tallest capitol building in the United States? Find some shade, roll out your blanket and enjoy the view of the 450-foot-tall building from the lawn. When you're done eating, take a stroll through the garden to see the variety of flowers and plant life that surrounds the capitol. 
LSU and City Park lakes
Miles of walking trails, large areas of grass and a boat dock to watch the sunset are just a few of the features that make the lakes the perfect place to take your father on Father's Day. Crack open a cold drink and catch the sunset by the lakes. There's nothing like it.
Independence Community Park
Stroll through the Botanic Gardens, play a game of tennis or watch a soccer game at Independence Community Park. With more than 90 acres of land, this park offers plenty of space for your set up. Don't want to sit in the grass? No worries. There are plenty of benches and a gazebo with seating and tables.
City Brooks Community Park
Grab your dog and head to the Raising Cane's Dog Park at the City Brooks Community Park. Once Fido is worn out, grab a spot in the grass near Baton Rouge Gallery or check out the splash pads, tennis center, golf course, playground or the soccer field.
---
WHAT TO PACK 
Swamp Pop sodas: Served in a variety of flavors, these Louisiana-made sodas are refreshing and naturally sweetened with cane sugar. We picked them up at CC's Coffeehouse but they are widely distributed.
Hog head cheese from Twine: Bold and flavorful, this spicy mold of pork pairs well with bread or crackers.
Granny Smith apples from Calvin's Bocage Market: Take a snack break and bite into a fresh, crisp and slightly tart Granny Smith apple for a healthy treat.
Abita Brewing Company and Covington Brewhouse beers : Sit back, relax and celebrate the holiday with an ice cold beer from one of our local breweries. We picked these up at World Market but they are available at many local grocers.
Cheddar cheese from Matherne's Market: Whether you pair it with wine and crackers or bread and beer, cheese is a picnic must-have.
Whole wheat applesauce bread from Our Daily Bread: Locally made with organic ingredients, top a slice of this sweet bread with apple butter for a delicious bite.
EXTRAS
Blanket/table cloth from World Market: No need to be fancy, grab a blanket or tablecloth from the pantry and voilaーyour picnic setup awaits you.
Basket from World Market: To hold all of your goodies, bring a woven basket or cooler to keep your perishable items cool.