---
Brunch would not be brunch without some type of waffle or pancake. My daughter Maggie perfected this easy homemade pancake recipe, and it's the perfect final touch to this festive spring or Easter brunch menu. This recipe makes extremely fluffy and tender pancakes that have become my family's favorite. They are delicious with butter and lots of maple syrup. But for this occasion, I added in grated carrots and spices to mimic my favorite springtime dessert: carrot cake. This basic pancake recipe is easy to change up to suit your favorite flavor pancakes by adding in other ingredients like lemon zest and fresh blueberries, or bananas and pecans.
The batter in this pancake recipe tends to thicken up as it rests. The addition of a little extra milk will help to make the batter a bit easier to manage if it becomes too thick.
Servings: 6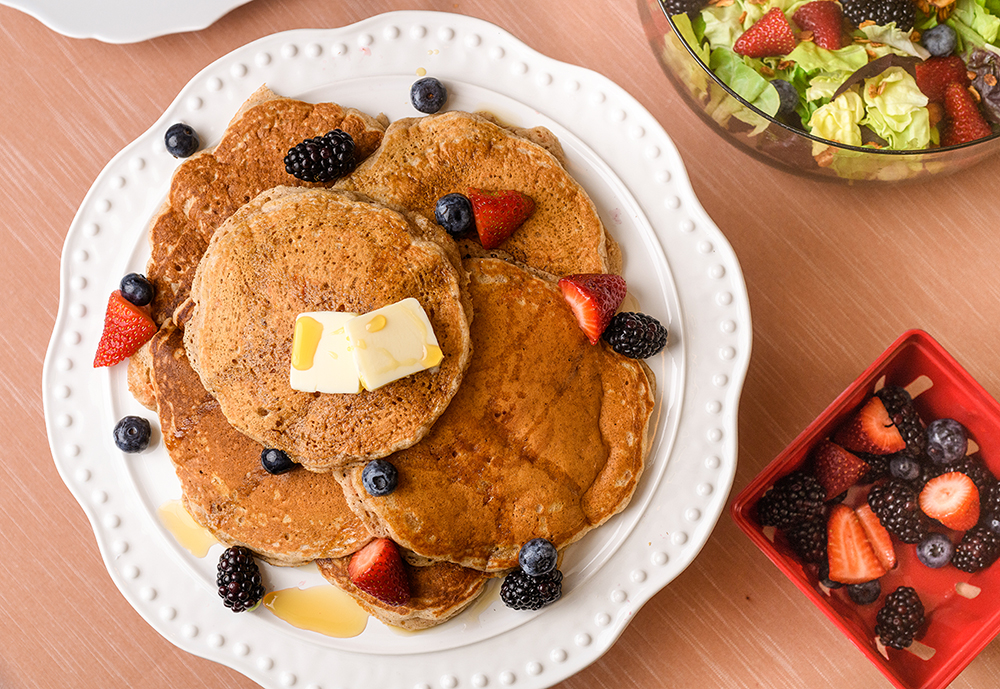 ---
2 cups cake flour (all-purpose flour works well, too)
4 tablespoons baking powder
¼ cup sugar sugar
1 teaspoon salt
½ cup shredded carrots
1 teaspoon cinnamon
½ teaspoon ground ginger
¼ teaspoon nutmeg
2 large eggs
2 teaspoon vanilla extract
6 tablespoons melted butter
2 ½ cups whole or 2% milk
In a large mixing bowl, combine the flour, baking powder, sugar and salt together and whisk until well combined. Fold the carrots, cinnamon, ginger and nutmeg to upgrade the traditional pancakes to Carrot Cake Pancakes.
Separate the eggs, placing the yolks and egg whites into 2 mixing bowls. Add the butter, milk and vanilla into the yolks and whisk to combine. (The butter will become a little lumpy once the milk is added.)
Use a whisk to beat the egg whites until stiff peaks form. Fold the egg whites into the egg yolk mixture, and then fold this mixture into the dry ingredients.
Allow the batter to rest for 10 minutes. The batter will become very thick and fluffy.
Preheat a griddle over medium heat and pour ¼ cup of the batter onto the heated griddle. Use the back of a teaspoon to spread the batter out to a 3-inch circle.
Cook the pancakes 2 to 3 minutes per side. Serve warm with butter and syrup.
---
This article was originally published in the April 2023 issue of 225 magazine.