---
Approaching BRQ, I was reminded of a country roadside store. The front porch is festooned with metal signs that look like vintage advertisements. Simple tables, rustic aluminum chairs and linens that seem straight out of a farmhouse make the porch a welcoming spot.
Inside is a massive dining room with enough seating that waits are short. A bar area pulls in crowds for happy hour.
Top down, the restaurant is comprehensively linked to the Louisiana Culinary Institute at its back door. From executive chef to the dishwasher, much of the kitchen staff are graduates or current students of LCI. So it's no surprise nearly everything is made in house. Even the desserts are created by the students at the culinary school.
Once seated, fresh barbecue-spiced kettle chips and housemade bread-and-butter pickles are brought to the table. My dining partner kept repeating how the pickles were a favorite.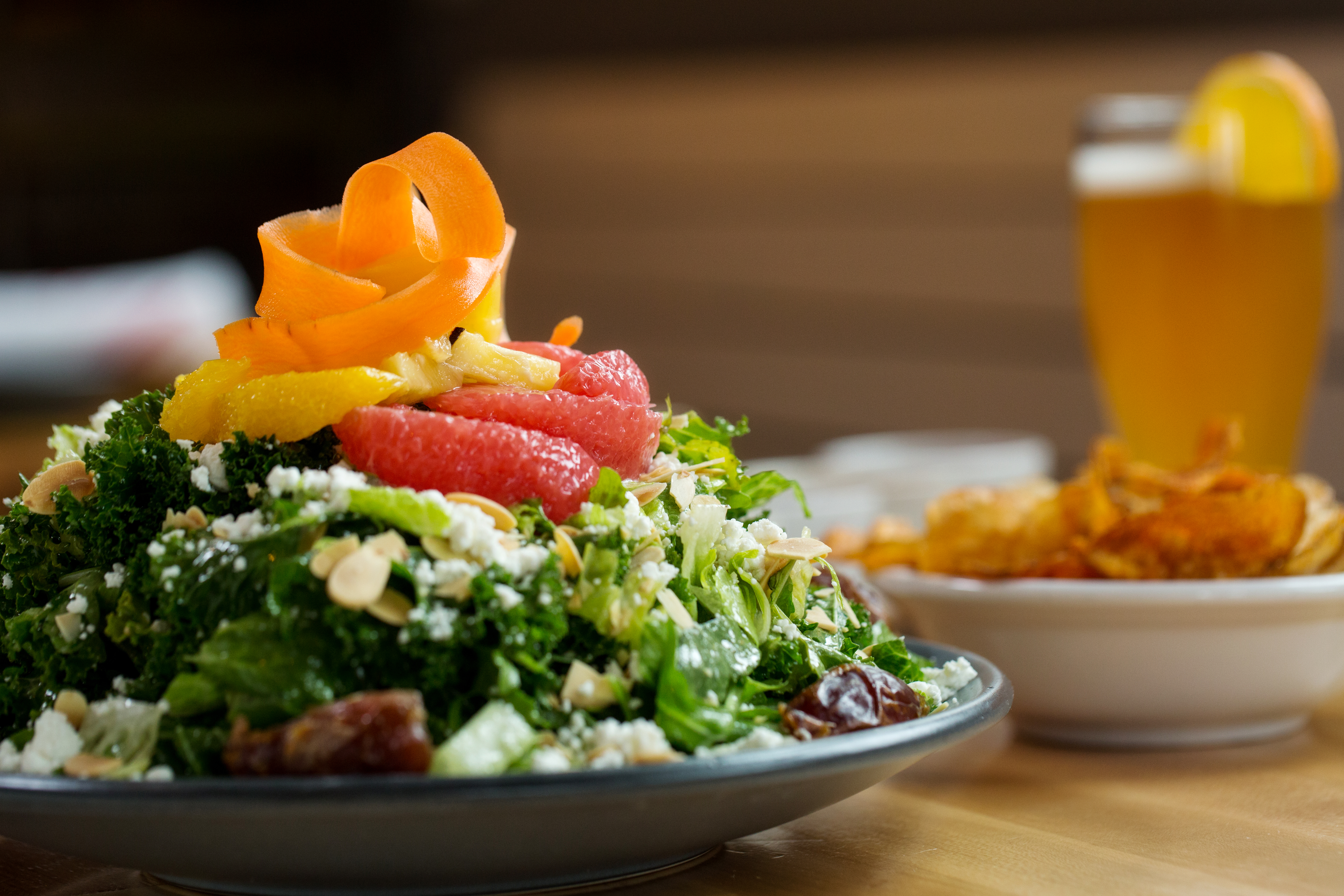 For a starter, we ordered the Crawfish Cornbread, which is served in a bowl smothered in crawfish étouffée. The cornbread had a pleasing sweetness and firm texture, but the étouffée was soupy and salty.
We also ordered the housemade Boudin Balls. They were not as spicy as some I've had, but they were still delicious with an appropriate rice-to-meat ratio and perfectly fried exterior.
While the appetizers were suitably portioned, other items are so big they should come with a warning. Thinking I'd ordered something light, I was taken aback by the Moroccan Citrus Salad. It was a gorgeous mound of kale and mixed greens with grapefruit and orange segments, shaved carrots, dates, almonds and goat cheese. Bright notes of citrus played off the tangy cheese while the sugary dates complemented all of the veggie goodness.
Described by our server as a dish that would "blow your mind out of the universe," the Smoked Brisket Pastrami Grilled Cheese was certainly creative. The dark rye bread was slathered in butter and toasted. The fact that the sandwich wasn't swimming in cheese allowed the mild meaty flavor to be distinguishable. The "special sauce" was a subtle enhancement, yet its ingredients remained mysterious.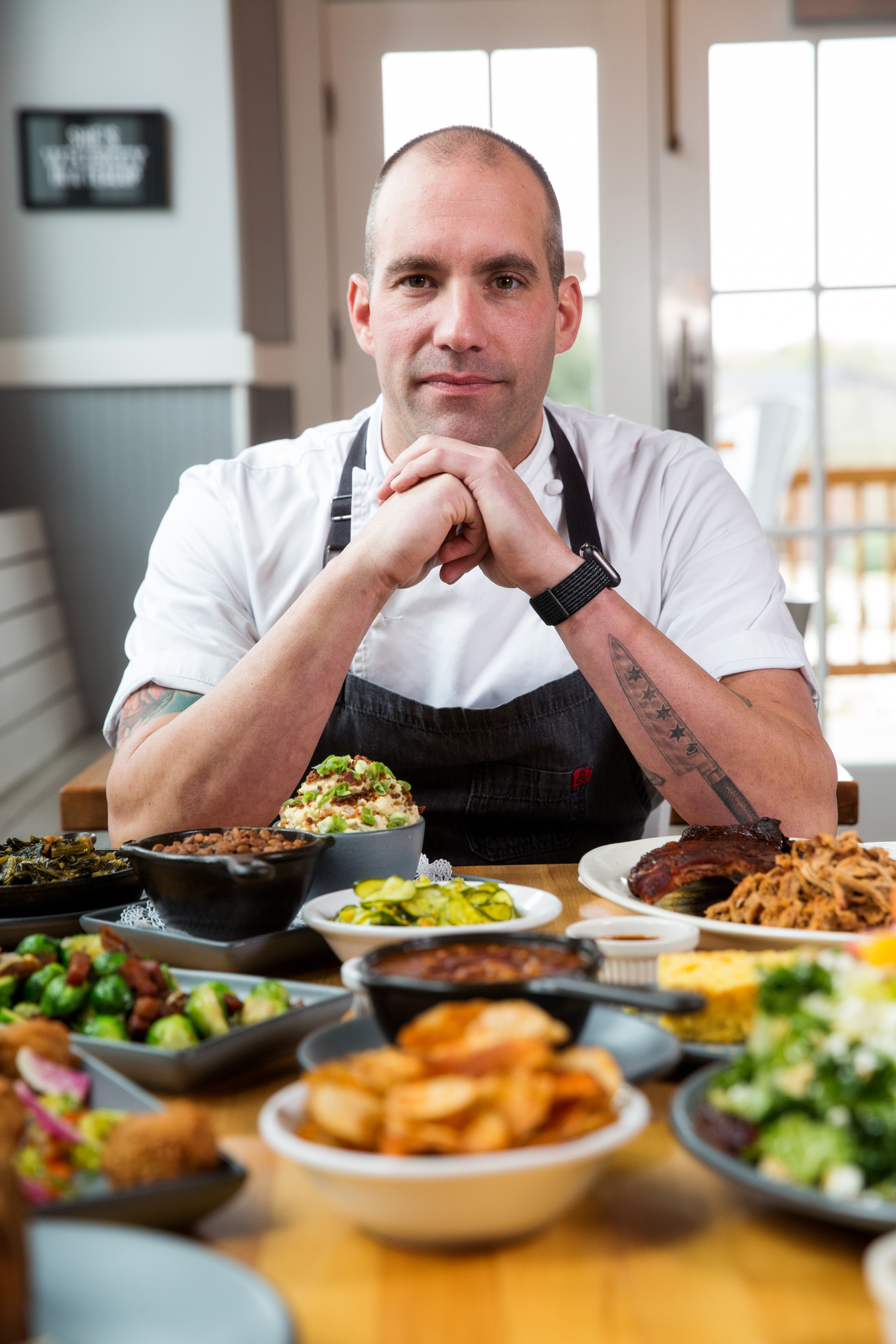 The sandwich is served with a choice of fries, coleslaw or potato salad. My friend went for the French fries, which appeared double fried with a great crunch and fluffy interior.
My dining partner is a rib fanatic and indulged in the Half Rack of St. Louis Ribs. They were super succulent—a bit more tender than the baby back ribs we had later, and required no sauce whatsoever. The pink smoke ring was evident: a surefire sign of properly pit-smoked meat.
The Pitmaster combo—truly a tour de meat–came with our choices of sliced brisket and pulled pork, a half rack of baby back ribs and two sides. The baby back ribs were firmer than the St. Louis ribs but still fall-off-the-bone tender with another notable smoke ring. I found the spicy sweet Louisiana barbecue sauce that came with the dish enhanced the meat, which had a simple seasoning rub.
For sides, we chose pit beans and field peas. Expecting baked beans, we were a bit disappointed by the pit beans' lack of sweetness and found them similar in flavor to the peas, with both in the savory/mild/saucy category. They were both enjoyable but fell short of our expectations.
The menu claimed the Pitmaster "feeds two or one hungry human," yet with sides and cornbread it was a challenge not to bring a third of the plate home.
Still, we couldn't resist adding more sides. The Brussels Sprouts were al dente with a hint of smokiness and huge hunks of bacon.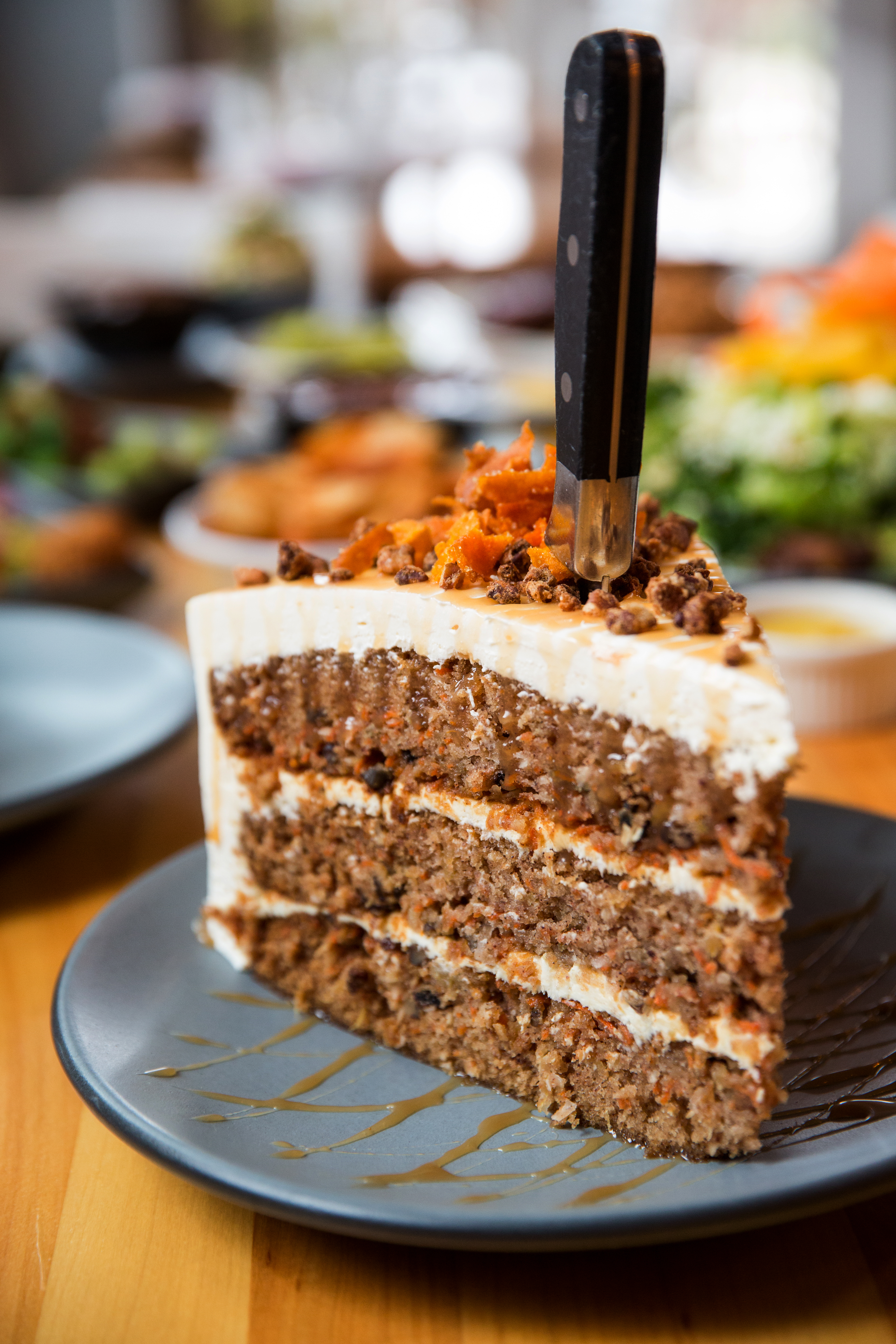 BRQ's Collard Greens were cooked down to dispel the bitterness, and bits of ham brought it all together. Figs offered a hint of sugar—a wonderful unexpected addition.
After all that meaty goodness we all had the meat sweats—and sticky hands. Thankfully hot towels with lemon allowed us to tidy up before dessert.
When the menu says "Jumbo" Carrot Cake, take notice. This "slice" is a massive three layers at least 10 inches tall. It had to be at least a quarter of a humongous cake. Given the size, I expected a dry texture, yet it had a super moist crumb with ridiculously rich cream cheese frosting and caramel sauce drizzled over the sides. The whole thing was crowned with thinly sliced cinnamon-sugared carrot ribbons. Even now my heart palpitates at the memory of it.
Not jumbo but certainly not small, the Lemon Meringue Pie was too sweet, lacking the tang this dessert is known for. The meringue was light as air and wonderfully torched to a candied top, but we all found the overall pie lackluster.
Service was outstanding and informative, and our server was a delight. The menu has something to satisfy just about every taste, and daily lunch specials look like they keep the noon crowd satisfied.
For a region not exactly known for distinctive barbecue, BRQ has set the standard to put us on the map.
---
EAT AT BRQ
brqrestaurant.com
10423 Jefferson Highway
Hours:
10:30 a.m.-9 p.m. Monday-Thursday
10:30 a.m.-10 p.m. Friday
9 a.m.-10 p.m. Saturday
9 a.m.-8 p.m. Sunday
---
Our food critic's name may be false, but the credentials are not. This gastronome has studied the history, cultivation, preparation, science and technology of food for more than 30 years.
This article was originally published in the February 2018 issue of 225 Magazine.