---
I love serving grilled sausages as an easy appetizer. They are great filler food, and I tend to keep a few different types of sausages in my freezer at all times, in case people pop by and I need to serve something quickly. This German-inspired Beer-Braised Bratwurst with Red Onions is a perfect pickup appetizer that can be served along with warm, fresh pretzels and spicy mustard. This bratwurst dish can also be served as a main course along with sauerkraut and German-style potatoes.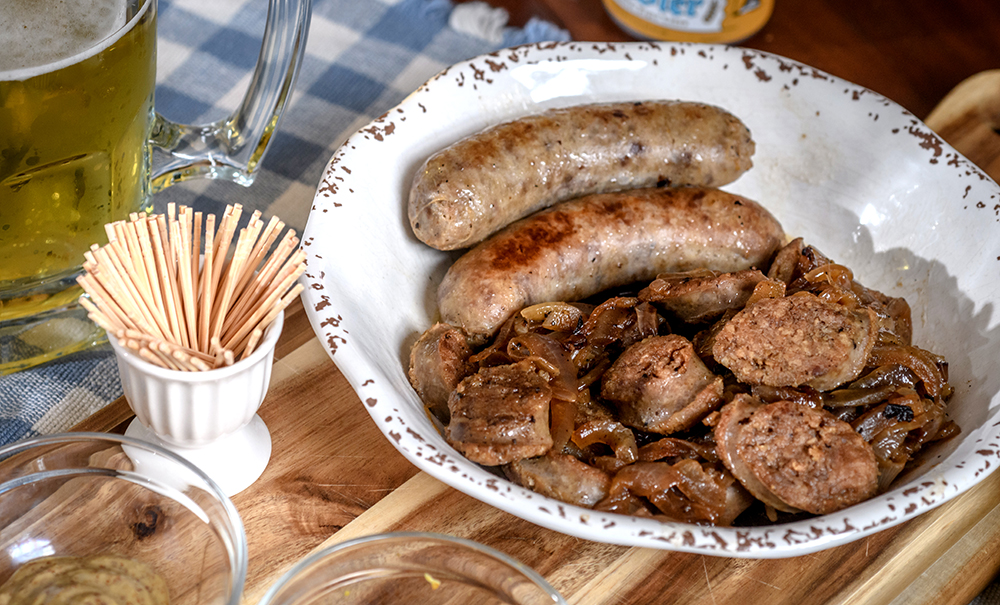 Servings: 6
12 ounces German-style beer
2 pounds Bratwurst or German-style sausage
2 tablespoons butter
1 cup sliced red onions
In a heavy skillet or Dutch oven, bring the beer to a simmer. Add in the bratwurst and continue simmering for 10 to 12 minutes. Turn them occasionally to ensure they cook evenly.
Remove the bratwursts and place onto a cutting board. Once cooled, slice and set aside the bratwurst. Reserve the cooking liquid in a heat-safe bowl or measuring glass. 
Place the skillet back on the stove with one tablespoon of butter and the sliced red onions. Sauté the onions 3 to 4 minutes or until very soft. Add in the sliced bratwurst and continue sautéing for another 3 to 4 minutes, or until the onions are beginning to caramelize and the bratwurst are browning on the outside.
Pour the reserved cooking liquid and remaining tablespoon of butter into the brats and onions to deglaze the pan and coat everything. Pour the bratwursts and onions into a dish. Serve with pretzels, spicy mustard and, of course, lots of German beer to wash it down with. 
---
This article was originally published in the October 2022 issue of 225 magazine.