Photo of Jesse Romero, courtesy of FOX.
---
If you're a fan of food reality television, then you might notice a couple of Baton Rougeans currently making their mark on a few national shows.
On Fox's sixth season of MasterChef, 29-year-old petroleum landman and Capital City native Jesse Romero has placed in the Top 19. Romero is a self-described "grill-master," who picked up a few cooking tricks from his family and is known for providing the goods at an LSU tailgate.
In the fourth episode airing last week, Romero's team won the challenge, feeding thousands of guests at an amusement park. This week's episode is said to feature a cooking challenge with live crabs and an elimination test.
Update: On Wednesday night's episode airing June 10, Romero won the mystery box challenge. Contestants were given live crabs for use in a dish. Romero's crab dumpling soup with a mango and avocado salad was the winning dish.
"You can cook," judge Gordon Ramsay said during this week's episode. "Let's get that right. You need to cook like this every time you come to this kitchen. Period."
Since Romero won the mystery box challenge, he did not have to compete in the elimination challenge. Then, he chose if the remaining chefs would cook a savory or sweet dish, using corn as the main ingredient.
If Romero comes out on top on MasterChef, he could win $250,000. But he'll have to repeatedly impress judges Ramsay, Graham Elliott and Christina Tosi. Charlie Chapman, an HVAC technician from New Orleans, is also currently in the Top 18.
You can follow Romero's status on his Facebook page. Check out a clip from the show featuring Romero. A new episode of MasterChef airs tonight, Wednesday, June 10, at 7 p.m.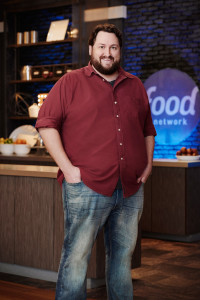 On Food Network's Food Network Star, Bite and Booze blogger Jay Ducote is competing for the chance to host his very own show on the cable network.
The 33-year-old made a good impression in the season 11 premiere episode Sunday. In his 30-second intro, season seven winner Jeff Mauro complimented Ducote's authenticity and likability. In his first cooking challenge, the Baton Rouge native's Cajun corn maque choux placed in the top three. Read Mauro's full recap.
There's no doubt Ducote has become a big part of the culinary scene of the Capital City. On the show, he'll have to impress judges Bobby Flay and Giada De Laurentiis.
Food Network Star airs Sunday at 9 p.m. A party will be held at Schlittz & Giggles' Perkins Road location (2355 Ferndale Ave.) for this week's episode (Sunday, June 14) from 7 p.m.-9 p.m.
Track Ducote's status on the show. Plans for screening parties for each episode will be updated on Facebook.