Ryan and Kristen Grizzaffi haven't turned 30 yet, but they already own two national companies. As Ryan tells it, it's a far cry from the bread truck and $500 with which they started.
Over the last couple of years, their first company, The Cajun Spoon, has undergone quite the evolution. It was first a food truck, then a catering business and now a nationwide dinner-mix company—complete with packaged mixes for classic Cajun dishes like jambalaya, gumbo, chicken and dumplings, and shrimp and grits.
Through it all, the husband-and-wife duo has stayed true to their southern Louisiana roots—his in Baton Rouge, hers across the river in Plaquemine—and stuck to Creole creations. But with their latest endeavor, The Bamboo Chef, the Grizzaffis are thinking outside the box (OK, so some of their products are technically still in boxes) and trying their hand at Asian dinner mixes.
Mixes include the likes of fried rice and stir fry seasonings as well as tempura and potato frying flours. Products will be on the shelves at 2,000 Walmart locations starting in September, Ryan says.
Ryan and Kristen say their jump into the Asian market was inspired by what they saw as an open market space, a far cry from the increasingly crowded Cajun section at the grocery store. "The Cajun industry as a whole is getting pretty saturated," Kristen says. "There's very little shelf space."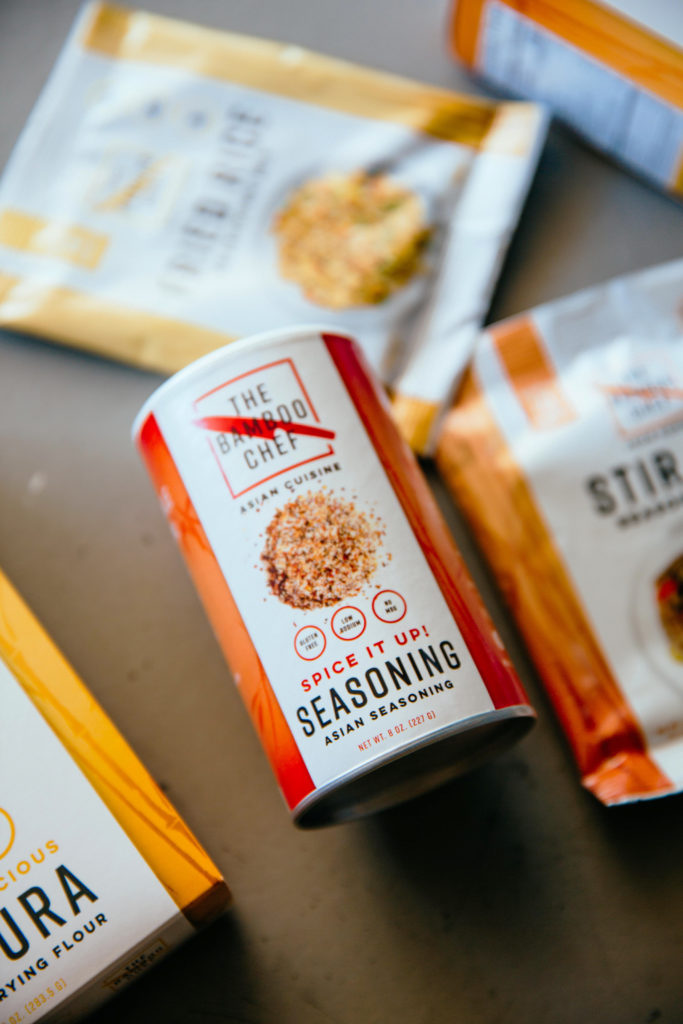 Health-conscious products were also a selling point for the couple. Growing up, one of Ryan's closest friends was Vietnamese, and he taught Ryan healthier ways to fry and cook food. While The Cajun Spoon products are lower in sodium than other dinner mixes, Ryan says he'll be able to offer even more nutritious meals with The Bamboo Chef.
"I wanted to develop these mixes that are gluten-free, vegan friendly," Ryan says. "Everything about it is clean eating, 100%. There are no major allergens in it. That is the current and future trend of food."
Although young, both were able to use their different skill sets to bring the companies to life. Ryan had knowledge of the inner workings of the food industry from working various restaurant jobs, while Kristen was able to put her graphic design background to use designing the company's packaging and branding.
With products on the shelves of Walmart, Rouses and Winn-Dixie stores from Baton Rouge to Anchorage, Alaska, Ryan and Kristen say they can never really escape their work. That's thanks, in part, to their 2-year-old daughter, Amelia, who often recognizes her parents' products while grocery shopping.
"She will be like, 'That's Dada's box,'" Ryan says. "We give her a box, and she opens it up and starts biting the bag. We have to buy our own product at the store."
"If a 2-year-old can walk down the aisle and spot your brand, you're doing something right," he jokes.
With the early success of The Cajun Spoon and products from The Bamboo Chef about to launch, the Grizzaffis stress the importance of giving back to the community where it all began, one to which they attribute much of their success in the first place.
For every box of The Cajun Spoon sold, the Grizzaffis donate one to the Greater Baton Rouge Food Bank. They also volunteer with Famine is the Enemy, a group that helps feed people who are homeless in the city. For Ryan, this work is not only company policy, it's personal.
"I was adopted, so that's another whole facet of how appreciative I am of the life I have," Ryan says. "I want to make sure that every single aspect of what I've been blessed with … that I give that back to other people who don't have that."
"There's a big budget of stuff for our state, but there's plenty of things here that need a little extra help," he adds. "That's where we're trying to play our role as taxpayers and as citizens who care to help alleviate that problem."