Kombucha isn't everyone's cup of tea. But Baton Rouge residents Olivia and Jody Johnston have made the fizzy and sour fermented drink—touted for its health benefits—their own, mixing flavors that might entice even skeptics to change their minds.
Olivia and Jody have used their Instagram feed to show off delicious recipes they make at home, including plenty of batches of homebrewed kombucha. The couple always keeps homemade kombucha in the fridge in flavors such as rosemary clementine, cherry basil, honey lavender, lemon lavender, blueberry ginger and apple cinnamon.
Jody, who owns the workspace/event space The Parlor, has been watching his mom make kombucha since he was a kid. After Olivia and Jody married in March, Jody's mom gave them her recipe and their own SCOBY (symbiotic culture of bacteria and yeast). The SCOBY, which is similar in color and shape to a pancake, is the secret weapon for transforming sweet tea into a beverage that is fizzy and sour.
To make their kombucha, the Johnstons first boil four cups of distilled water. In that water, they brew four to six bags of green tea in an open-mouth gallon or half-gallon container. They add one cup of raw cane sugar, then they dilute the tea with distilled water until the container is 3/4 full. Once the water is at or below room temperature, they add the SCOBY. 
They cover the container with a paper towel and fasten it with a rubber band. Then they let it sit for one to three weeks, leaving it in a room with good air circulation but no sunlight. 
How do they know the kombucha is ready? "You can stick a straw in it and taste it. If it's too sweet, it's not ready. If it's too vinegary, it's been too long," Olivia says. 
When the kombucha is tangy enough, they place the SCOBY and some of the liquid in a separate container. The next step, flavoring the kombucha, has to be their favorite.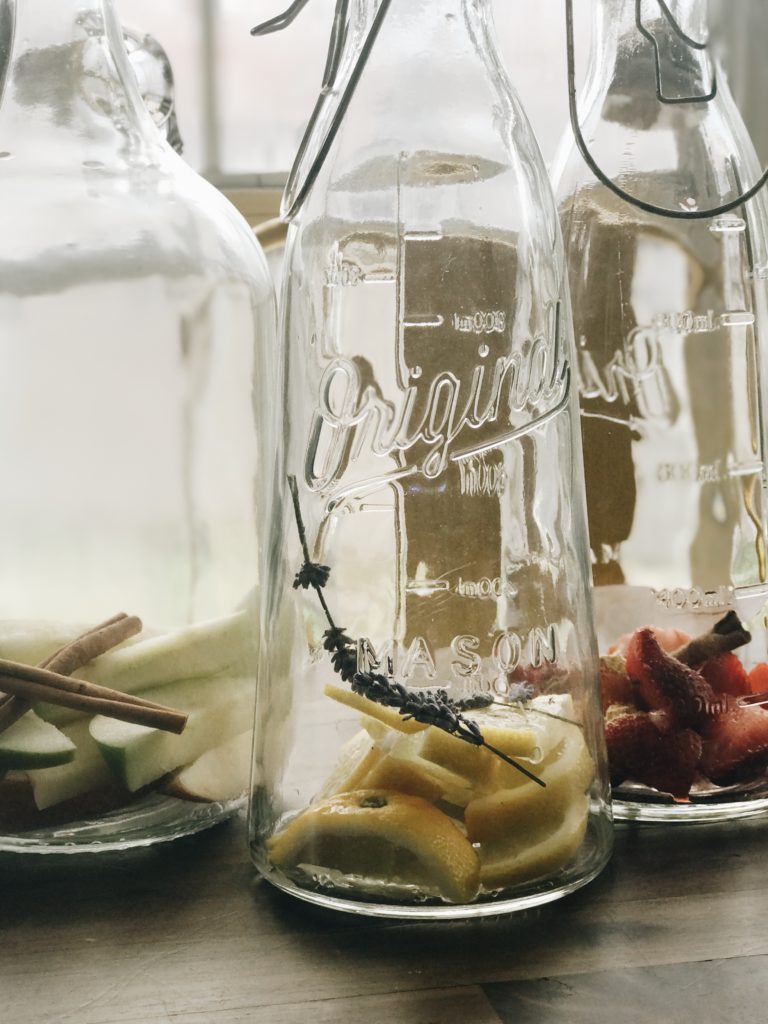 "Liv is probably the most creative person you've ever met when it comes to flavor combinations," Jody says of his wife. "I would've never thought to put cherry and basil together. It's incredible."
They agree that too much of a spice (like cayenne) or an herb (like mint) can ruin the brew. On the other hand, they say, you can never have too much fruit.  
"I don't think you can go overboard, unless it's citrus," Olivia says. "You kind of learn by eyeballing it."
In an airtight container, they add fruits, herbs and spices and pour the kombucha over it through a funnel.
Brewing kombucha can be a tricky process, because some ingredients cause more carbonation than others. The Johnstons recall a night when they heard what sounded like a gas leak.
"This jar was bubbling, and the moment that I even got close to it, the jar just exploded," Jody says. "It was a learning experience for us because, it turns out, ginger specifically requires what's called burping the jar. Every half day or so, you open it up and close it. We had a pretty big mess that day."
Once in the airtight container, the kombucha sits for three days at room temperature before it has to be refrigerated.
"The longer it sits, the better tasting it is," Olivia says. "Refrigeration will stop the fermenting process, but the fruit will still make it flavorful."
"Now that we make it and know how cheap it is to make it, I never feel justified buying kombucha. We pretty much never run out," she says, laughing.
For more, follow the Johnstons on Instagram.