---
I will always remember hosting my first brunch.
It was a brisk October morning. Slices of fluffy French toast, diced hash browns and scrambled eggs were fresh off the stove. The scent of pumpkin spice candles drifted through my Beauregard Town home. The table was set, untouched and picture perfect: The silverware was precisely aligned, the plates were stacked and centered, and the colors from the flowers and greenery brought life to the room.
This was the moment of truth.
I'd decided to host a brunch to connect women in the community. I'd been planning for weeks—who to invite, what food and drinks to serve and how to decorate. After hours of tireless shopping, cooking and styling, I was left with a few quiet moments before my guests arrived. It was then, as I savored my last moments of calm, that I learned to appreciate the beauty of hosting gatherings centered around food.
There's so much more to a successful brunch than pretty tablescape pictures on Instagram. Every little bit counts, from the company you invite to what's on the menu. As the event host, you are the creator. You envision and execute the experience your guests will have.
Once the guests walked through the door that day, time flew by. We sipped mimosas and iced coffee while sharing stories and swapping business advice. We skipped the surface-level smalltalk and dove head-first into deep conversations normally reserved for close friends.
This was the birth of Brunch for the Soul, a gathering for creative women that I now host bimonthly. It's a safe space for women to socialize, learn, connect and be empowered over hearty food and flowing drinks.
The first brunch was scheduled to end at 1 p.m. One hour later, my kitchen was filled with attendees excitedly encouraging me to continue hosting Brunch for the Soul. It wasn't just the bottomless mimosas they were craving, but the opportunity to make lasting bonds.
If entertaining is an art, then setting a table is like putting paint to the canvas. For me, the best events I've hosted are stored in my memory like an album of photos, mere moments in time I wish could last forever. Once the meal is done and I've hugged the last guest goodbye, all that's left is a stack of dirty dishes, a full trash can, a stuffed belly—and a soul full of contentment.
---
HOW TO HOST THE PERFECT BRUNCH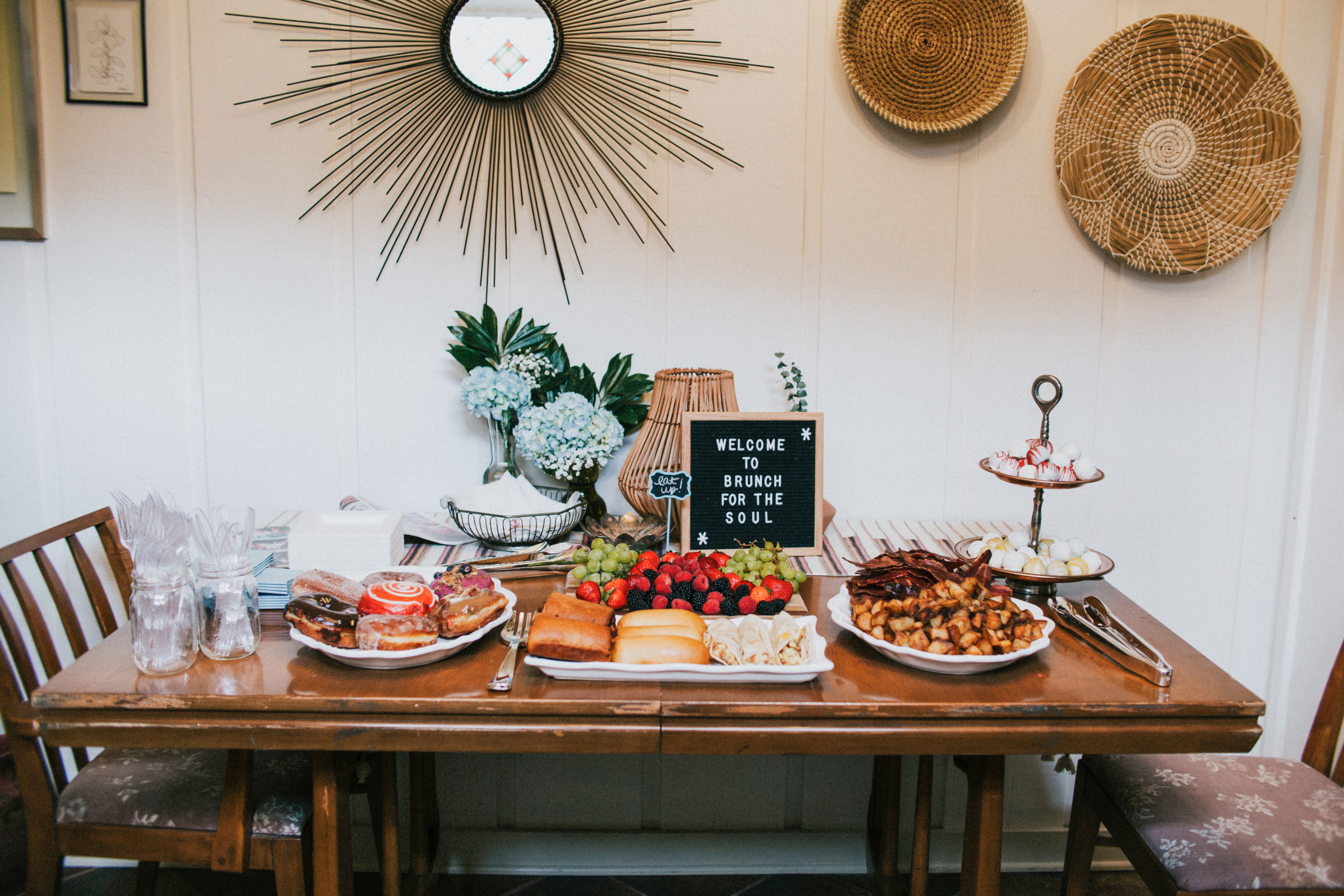 Design unique invitations and an event flyer. The invites set the tone for what guests can expect at your brunch. Customize your invitations by matching the colors to the theme of the brunch. There's just nothing like holding a physical invitation in your hands and seeing your name inscribed on an envelope.
Plan your tablescape in advance. Two nights before my first brunch, I went through my mental checklist of all the necessary table decor. Tablecloth, runner, plates, silverware, linen napkins—check. I cleared my living room and began decorating. Piece by piece, the table transformed before my eyes. There were so many areas for me to be creative. I used disposable plates made out of palm leaves, a burlap table runner and bouquets of assorted white and yellow flowers—creating a bohemian-chic feel.
Cook what you know. Growing up as an only child to a single mother, I trailed behind her like a shadow. I learned so much of what I know from her, from how to apply eyeliner to how to bake chicken. The breakfast essentials I cooked at that first brunch were dishes she taught me—a mix of sweet, savory, healthy and indulgent bites.
Write out an agenda. My smoothest events are the ones that are well-planned. At least a week before every brunch, I break down the agenda in 15- and 30-minute blocks. The detailed schedule allows the party to flow naturally without feeling rushed.
The next Brunch for the Soul is March 17 at Mid City Ballroom. brunchforthesoul.org
---
This article was originally published in the March 2019 issue of 225 Magazine.
Click here to dig into the rest of our brunch cover story.