---
Modesto Taco Tequila Whiskey is closed on Mondays, so when it starts its week on Tuesdays, it does so with a bang. Its Taco Tuesday ritual, when the restaurant dishes out discounted tacos, margaritas and apps, is so popular that about 2,000 tacos fly out of the kitchen by the end of the night. 
"Taco Tuesday is a wildly popular day, not just for us, but it seems like it has taken off across the country," Ozzie Fernandez, Modesto's founder, says. "Everybody's eating tacos on Tuesday."
He's right. Around the Capital City, you'll find authentic Mexican and Tex-Mex restaurants offering discounted prices on these delicacies on the second day of the work week. In fact, you'll even find a few non-Mexican bars and restaurants that dabble in taco making when Tuesday comes around. Whether you like corn or flour tortillas or prefer birria over shredded chicken, you can get all the tacos with flavors that will please your palate and prices that will please your wallet. 
Here are some spots to find local deals on tortilla treats. 

Mexican and Tex-Mex spots
---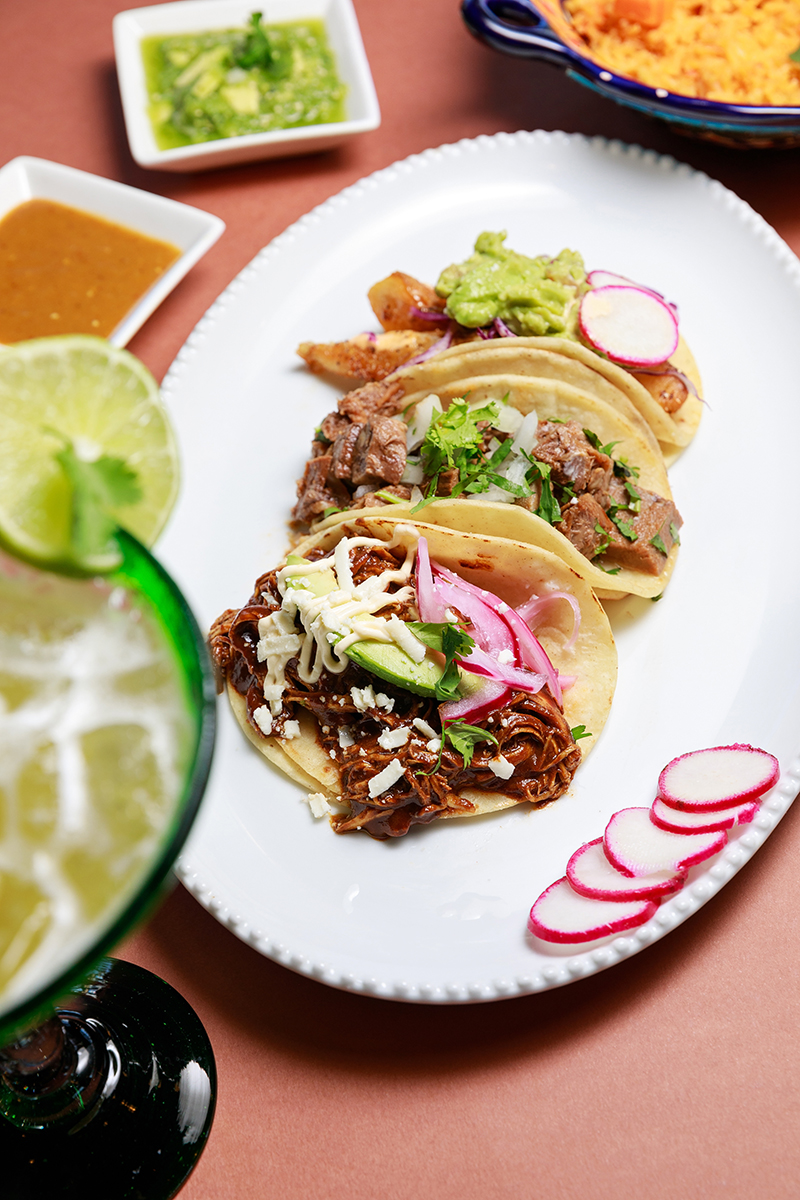 Blue Corn Modern Mexican
The Perkins Road eatery celebrates Taco Tuesday by knocking down the price of its specialty tacos to $4. bluecornrestaurant.com
Modesto Taco Tequila Whiskey
With the word "taco" in the name—and a prime location near LSU—you know Modesto has deals every Tuesday. Enjoy $4 tacos, $10 Dip Trios and half off Modesto Ritas, served frozen or on the rocks with a salt or tajin rim. eatmodesto.com
Gov't Taco
Get back to the basics each week with Gov't Taco's $2.50 Regular Tacos. The Regular Tacos include a hard shell with ground beef, cheese, lettuce, tomato and sour cream served with a packet of Valentina hot sauce. govttaco.com
Rock Paper Taco
On Tuesdays, Rock Paper Taco's two locations knock off a few dollars on their taco combos. Prices vary, but you can order discounted plates with chips, salsa and a drink. rockpapertaco.com
Mami's Mexican
Take a trip to Zachary to indulge in $2.50 tacos all day at this small town favorite. (This deal excludes the shrimp and fish tacos.) mamismex.com
La Chilanga Taco House
Head out to La Chilanga on Lee Drive for $2 Tacos, $3 tequila shots and $4 margaritas. This eatery turns Taco Tuesday into a party, complete with a DJ spinning tracks.  Find it on Facebook
Torchy's Tacos
Get a cheap taco fix at Texas-born favorite Torchy's Tacos with $3 Trailer Park and Green Chile Pork tacos. Whet your appetite with its famous green chile queso, which is priced at $4 on Tuesdays. torchystacos.com

Non-Mexican spots
---
Mid City Beer Garden 
We all know beer and tacos make a great pair. It only makes sense that Mid City Beer Garden's Tuesday dinner special includes $1.50 beef or veggie tacos, plus specials like quesadillas and chimichangas. midcitybeergarden.com
Chow Yum Phat 
This Perkins Road Overpass spot is known as a destination for Asian street food—and more recently, birria tacos. What started as a fun experiment turned into a weekly staple with  folks lining up for a taste every Tuesday. chowyumphat.com
Soulshine Kitchen & Bar
At the comfort food-themed restaurant near LSU, the Tuesday menu includes two to three tacos and a shot of tequila with salt and lime for $10.  soulshinebar.com
---
This article was originally published in the November 2022 issue of 225 magazine.