---
Many of us love to get into the holiday spirit this time of year. Some of us, though, could be accused of overdoing it. While turning your house and front yard into an amazing light display attraction is fun, there's an easier, more delicious way to spread holiday cheer—through your food. Here are 10 easy, DIY ways we found to make your food more festive in presentation and in taste.
Gingerbread doughnuts
For those who want to get into the Christmas spirit but don't want to cheat on their diets, here are some fantastic, festive vegan and gluten-free gingerbread donuts.
Oatmeal chocolate pizza
This one from local healthy cookbook author Holly Clegg is fun to make and fun to eat. Be sure to top it with red and green M&Ms for optimal Christmas-ness (I reckon it's possible to use Christmas as a noun, verb, adverb, adjective and just about every other grammatical term).
Sparkly macarons
If you want to get fancy on your family and friends, hit them with these red and white Christmas beauties that are sure to impress.
Christmas Bugles
Seriously, who doesn't love Bugles? Now, you can use that half-eaten bag of Bugles (for something other than sticking them on your fingers and pretending to be a witch) and that half-eaten bag of M&Ms for Christmas, just as baby Jesus would want.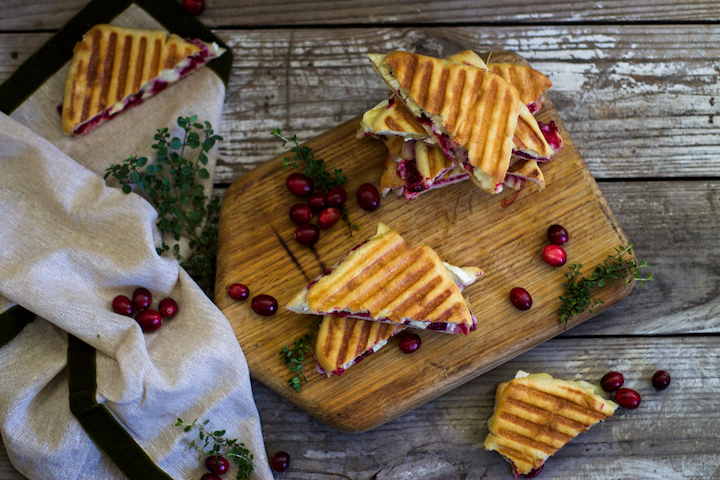 ---
Cranberry paninis
You may never find more Christmas-perfect paninis than these brie and roasted thyme cranberry ones from inRegister contributor Leigh Ann Chatagnier of My Diary of Us, complete with candy cane-like red and white stripes.
Christmas cookies
This one's a given. You've got to leave something for Santa, so why not leave him these adorable sugar cookie Christmas-themed cutouts. If you want to shake things up cookie-wise, try these peppermint snowball cookies or these peanut butter blossoms.
Rice Krispy ornaments
In the mood for Rice Krispy treats? Why not make a project out of it with the kids and turn them into ornaments, fulfilling your destiny as a legendary parent? (We've got some other ideas for edible ornaments here.)
Hot dog Christmas stockings
For a more savory option, ridiculously easy-to-make hot dog stockings are clever and cute.
Snowflake dinner rolls
Turn plain dinner rolls into a winter wonderland with this easy recipe.
Reindeer beer
Turns out, you can "Christmas-ize" your drinks too! Grab some googly eyes, red pom-poms, brown pipe cleaners and glue, and spread that holiday cheer to your beer.