Nearly 90 animals, including this one picture, were rescued from a puppy mill in the Estrie Region of Quebec. Louisiana recently passed a bill that works against high-volume dog breeders. Photo by Jo-anne McArthur.
---
While this year's Legislative Session was clearly focused on the budget, representatives did find time to address a few animal-related issues.
According to Humane Society of the United States' (HSUS) Louisiana Director Julia Breaux, the most important bill for pet owners is HB847, which passed and is awaiting the governor's signature.
The bill helps protect animals and the public from unscrupulous breeders. While the individuals targeted could breed exotics or cats, the majority are high-volume dog breeders. These breeders aim to maximize profits and keep animals in crowded, unsanitary, inhumane conditions with little to no veterinary care.
These breeders frequently dupe the public into believing their purebred and designer dogs were raised in a loving environment. Many owners are later heartbroken as their puppies fall victim to fatal, preventable illness, behavior issues or a congenital problems.
The original bill—HB710—required breeders to provide state government agents with the name of their veterinarian; their United States Department of Agriculture (USDA) license; their state tax ID numbers; the name, location and amount of dogs they had onsite; and, the types of animal they were breeding. All breeders' dogs were required to see a vet prior to sale.
When HSUS could not persuade any state agency to collect and house the information, they pared down the bill and reintroduced it as HB847.
When the new bill arrived in committee, many members were unaware dog breeding was an industry. They became a lot more interested when Breaux explained breeders with only five dogs could easily make $100,000 annually.
"The state is losing a lot of money by not having these people pay [taxes]," Breaux says.
Now, in parishes with kennel licensing laws, HB847 requires breeders, who have more than 4 dogs and sell dogs on the Internet and/or by shipment, to provide their parishes with their USDA license and state tax ID numbers. Since the USDA conducts inspections and makes its results available online, the public can access those reports and make informed decision about whether to buy from a particular breeder.
Right now, only 8 Louisiana breeders are registered with the USDA. Based on number of Louisiana pets sold on websites, there are nearly 800 breeders in the state.
Even though those breeders have been flying under the radar, the USDA is playing catch up, Breaux says.
"Within the next 5 years, they will be cracking down because they are losing revenue [by having] people sell dogs unlicensed," she says. "And, the state, sheriffs and municipalities have another tool, too."
Breeders who sell dogs locally are exempt from HB847. However, they are subject to parish and city ordinances.
"Several parishes have enacted licensing laws on their own. They vary across the state in terms of what they require of breeders and owners of intact dogs," Breaux says. "I'd like to see all the majorly populated areas of the state take something like that on."
Creature Feature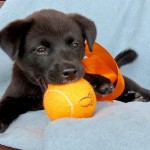 Cola is a baby lab/border collie mix, who is loaded with playful puppy energy. For more information, contact her foster at [email protected].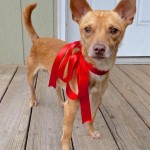 Jiminy is a 3-year-old Podengo Portugueso. This smooth-coated, toy type is a regular social butterfly. Unlike most small dogs, this sturdy go-getter likes going for daily walks on leash. He enjoys running in a safe, fenced area. For more information, contact his foster at 225-324-1644 or 225-938-7326.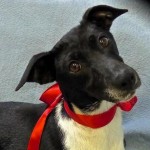 Elsie is a dynamic, little 18-pound cutie that is perky, super-friendly and highly alert. For more information, text her foster at 225-933-7572.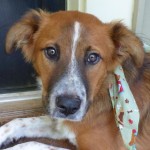 Rainey is 7-month-old border collie/terrier mix. She loves playing with other dogs. Although still shy, she is very loving and likes to snuggle. She is crate-trained and best-suited to a home without young children. For more information, contact her foster at 225-205-2738.
At approximately 90 pounds and two years old, Taco is a full-blooded black lab. This sweet, happy, obedient boy is good with all people, housebroken, walks well on a leash and knows basic obedience commands.
Jubilee is an aw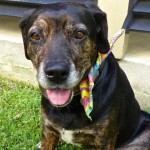 esome 60-pound Plott hound/lab mix. Jubilee responds to sit and shake, walks well on leash and enjoys taking things easy with her favorite human companions. Jubilee is completely housetrained. Meet her at the FOTA Adoption House, or contact her foster at 225-281-4638.
All these pets have been spayed/neutered, vaccinated, heartworm tested and microchipped. Many other adoptable dogs are available through Friends of the Animals.