What's new downtown? And even more importantly, what's next?
---
It's not just about packing up your boxes and hiring a truck. Choosing the moment to move to a new area of town requires just the right timing, and with the docket ahead of downtown, now could be the time. In case you missed any new amenities, here's the present and future for downtown residents.
New additions
If you went back in time five years, you probably wouldn't even recognize downtown. The area has grown and changed drastically since 2010. Here are a few of the new additions.
North Boulevard Town Square: Green space and gathering area for events like the Live After Five concert series, including the Galvez Plaza stage and jumbo screen on the Beacon
Matherne's Market: Locally owned grocery store and deli on Third Street
Creative Bloc: Collaborative workspace for creative professionals on a membership basis on Main Street
Florida Street Riverfront Access: Riverfront access point at River Road and Florida Street, first component of the Downtown Greenway project to connect walking and biking paths to the riverfront and levee
Repentance Park: Green space near the Old State Capitol, first component of the Central Green connecting neighborhoods to the river
Prescriptions to Geaux: Quick pharmacy on Third Street
YMCA: Fitness center on Third Street
New retail options: 1010 Nic complex on Nicholson Drive
New food & drink: Ruffino's Catering on Third Street, Fresh Bowls on Florida Street, Fresh Junkie in two locations, The River Room on Laurel Street, Jolie Pearl Oyster Bar on North Boulevard, Blend on Laurel Street and Restaurant IPO on Third Street to name a few. Magpie Cafe inside the Commerce Building and Driftwood Cask & Barrel on Third Street on the way.
New hotels: Hampton Inn & Suites on Lafayette Street, Hotel Indigo on Convention Street and Holiday Inn Express on North Boulevard
Coming by 2020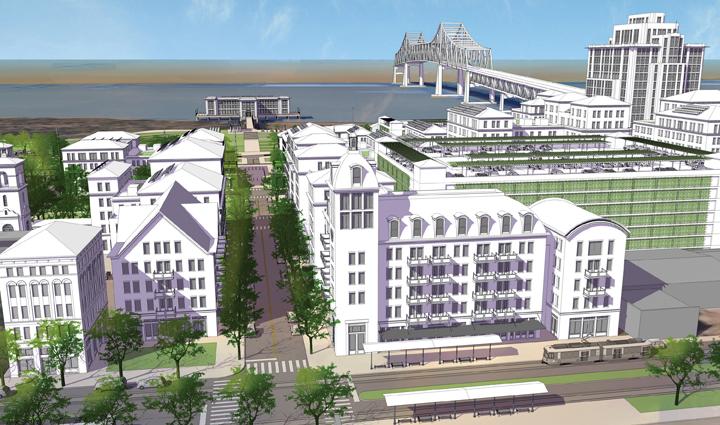 The Water Campus: A 1.6-million-square-foot riverfront facility that will include retail and residential spaces as well as offices for 4,000 scientists, engineers and researchers—all part of a new Baton Rouge skyline
Downtown Greenway: Connecting walking and bike paths throughout the area
TramlinkBR: Modern streetcar system connecting downtown, Old South Baton Rouge and LSU
River Center Library: A $19 million library project that will house more than 80,000 books and hold seats for 800 people in meeting rooms, business pods, teen areas and more
New hotels: Courtyard by Marriott on Third Street and Watermark Hotel on Third Street