---
For many Mardi Gras krewes, yearly balls are all about getting dressed up, revealing the royal court and having fun. The men of the Mystic Krewe of Apollo Baton Rouge take it to another level.
Their annual Bal Masque is an elaborately costumed, professional-theater-level production. To prepare, royals in the gay men's krewe devote about 10 to 11 months and spare no expense to create and perfect their one-of-a-kind ensembles with their costume creation teams and the krewe's costume designer, Carol Bien.
This year's royals are currently busy doing final makeup trials, testing their outfits for the runway, and finishing off their looks with extra stones and glitter. We can't wait to see what's in store with the "Apollo Blueprints" theme, which the krewe will unveil Jan. 6 at the Raising Cane's River Center ​Ballroom. Until then, let's look back at some of the most impressive costumes from this year's "Viva Las Vegas"-themed Bal Masque. apollobatonrouge.com
---
King & Queen Apollo XXXV (pictured above): The outgoing king and queen Dr. Walter Patrick Cain and Thomas Allen Merrill opened the night with a Vegas-themed homage to Gone with the Wind. Their looks featured a blue version of Scarlett O'Hara's classic curtain dress, a nod to Rhett Butler's gambling and, a rare sight for the Krewe of Apollo's royalty, matching crowns.
---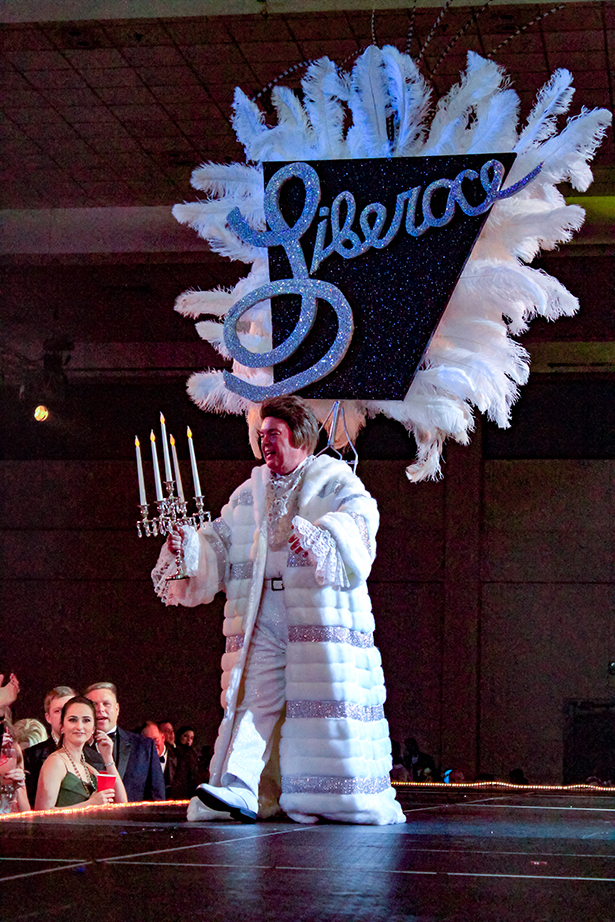 Liberace: The man behind the "Viva Las Vegas" theme would have to be Liberace himself, Krewe of Apollo Captain 2017 Joe Boniol. Equipped with head-to-toe Swarovski crystal, a dazzling mink coat and his quintessential crystal candelabra, Liberace oversaw the entire night's festivities onstage.
---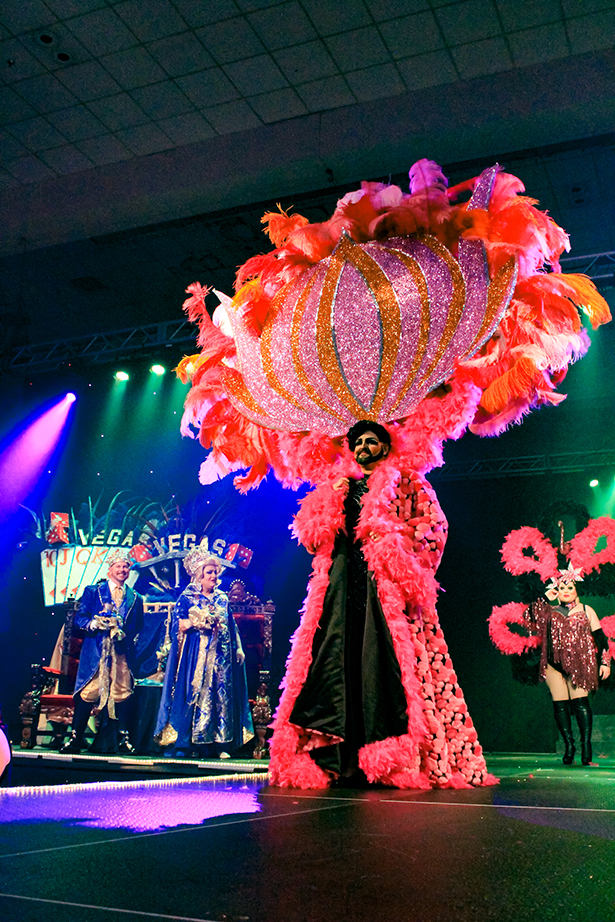 Flamingo Casino and a flock of showgirls: It wasn't just famous people imitated at Bal Masque, but iconic places too, such as the Flamingo Hotel & Casino. K.D. Linkous-Smith's sparkling backpiece was in the style of the Flamingo's unforgettable sign, comprised of glitter, stones and flamingo-like feathers.
---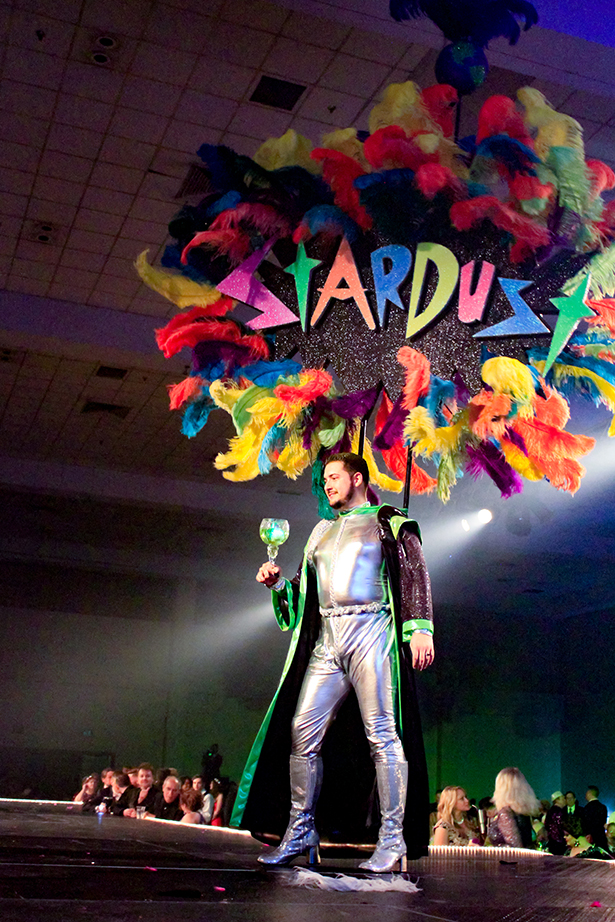 Stardust Casino: Honoring another Las Vegas staple, the Stardust Casino, was Channing Gauthier. He brought his futuristic look together with a silver lamé bodysuit, matching knee-high heeled boots and hundreds of multicolor feathers.
---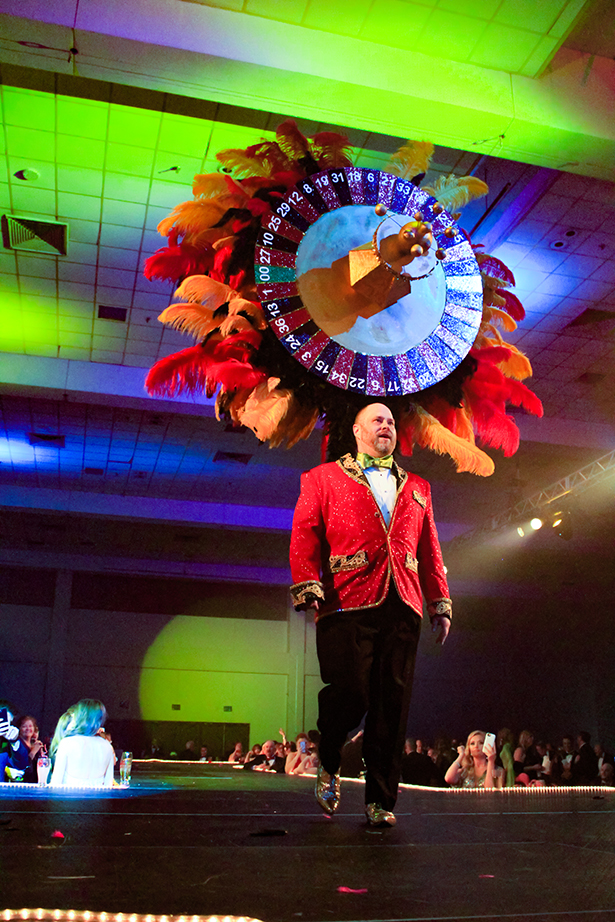 Roulette: For John Deshotel, Bal Masque isn't just about showing up with a colorful, thematic ensemble. Every year, he finds a way to make his display move. Thanks to the addition of a rotisserie motor, his roulette-table backpiece included a spinning wheel with a play-worthy ball. All bets aside, we're told it was a very moving performance.
---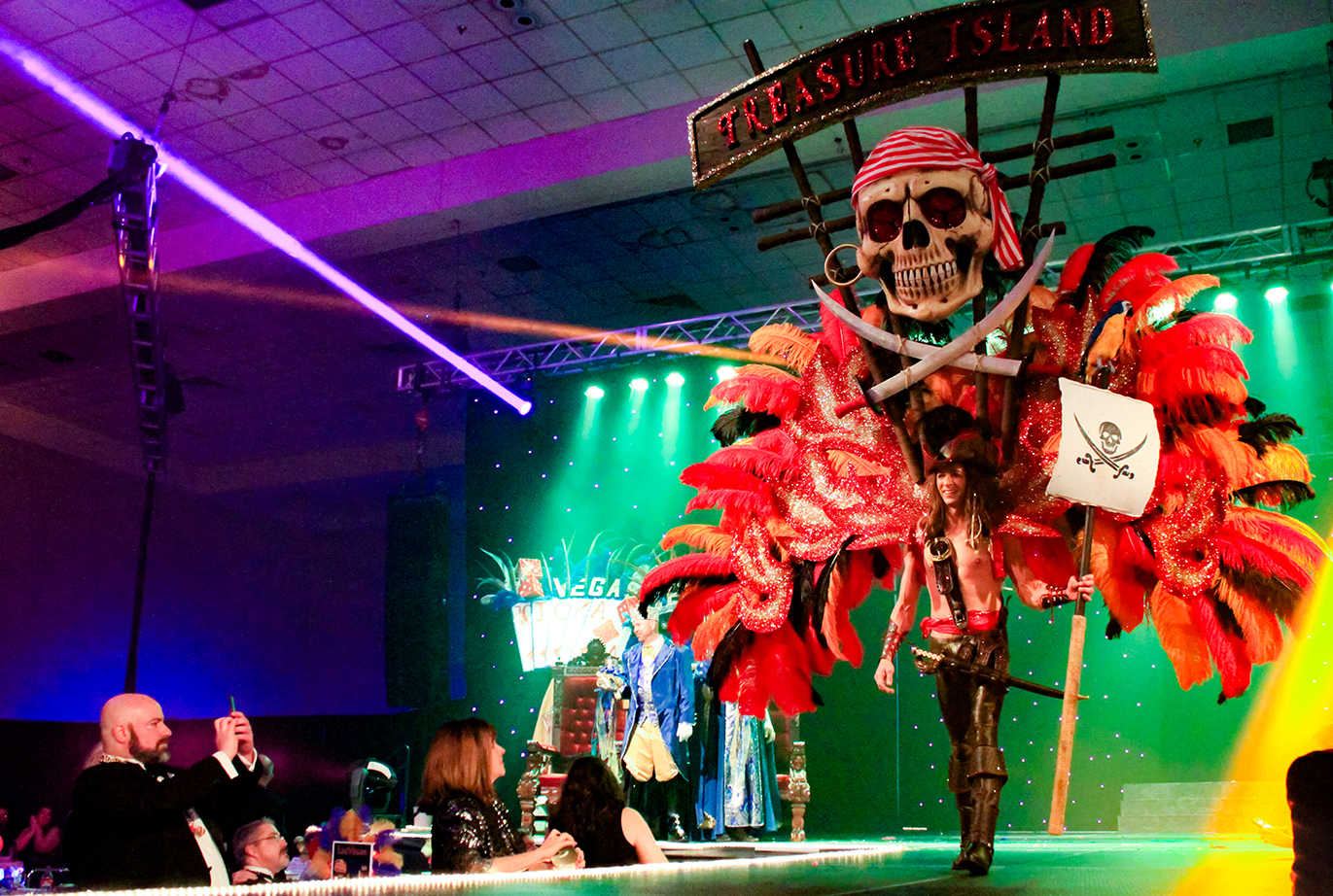 Treasure Island pirate: An essential part of any Las Vegas vacation is the Treasure Island pirate show. With his 12-foot-wide, 19-foot-tall pirate ship backpiece, it's clear Chad Blanchard has plenty of admiration for those swashbuckling adventurers.
---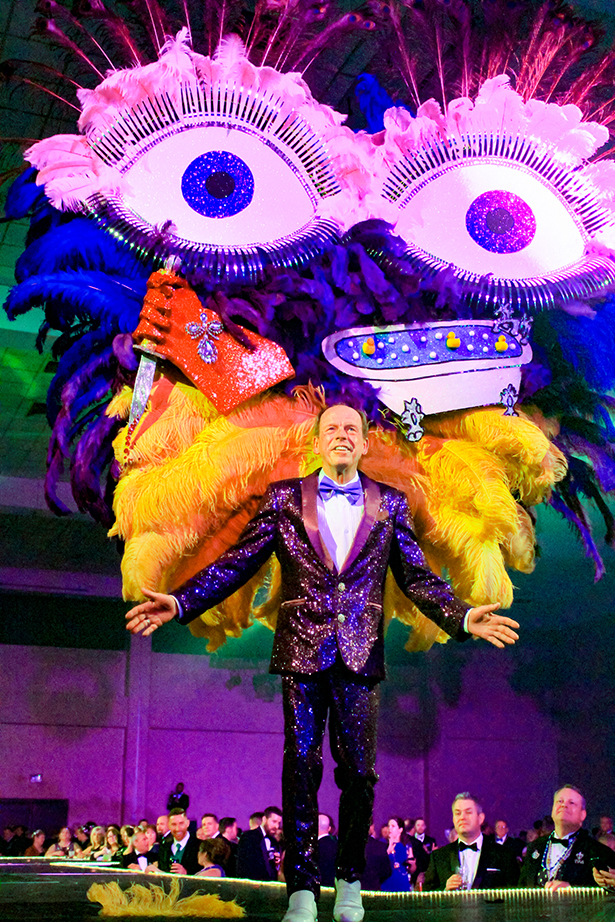 Bobby Darin and a special guest: Always out to impress, three-time former captain Nathan Wright brought an impressive display with his dedication to Bobby Darin's hits "I Only Have Eyes for You," "Mack the Knife" and "Splish Splash." Despite his small frame, Wright easily sauntered about the stage with his staggering backpiece, weighing nearly 60 pounds and holding about 2,000 feathers. Krewe of Apollo president Jonathan Rushing joined Wright on stage for the final song in nothing but a steel bathtub filled with rubber ducks to toss to an enthusiastic audience.
---
This article was originally published in the December 2017 issue of 225 Magazine.