Photos by Collin Richie
---
A host of programs all on one campus strive to remove obstacles, increase options for kids
The joy at Baton Rouge's Family and Youth Service Center is infectious.
Half a dozen teenage boys sit laughing in a lopsided circle in the grass next to a garden bursting with giant heads of lettuce and cabbage. Each boy is a residential student here at FYSC, and each one plays on his charter school's basketball team.
When asked for their names, they eagerly spell them out—Malik, Lawrence, Reginald, Ronald, Devonte, Aleandre—and double check the notes to make sure each letter is transcribed correctly.
When asked what they see in their futures, there's a raucous chorus of "NBA" or "NFL," until one of them reminds the rest, "Hey, you've got to go to college first!"
They've each got a college picked out already, and Reginald proudly adds that the center's charter school has the third highest Louisiana Educational Assessment Program scores in their district.
These boys are only a fraction of the 80 kids ages 11 to 15 currently enrolled in the THRIVE residential program at FYSC, a facility built on preventing youth crime by ending truancy. During the week, they attend school, live in dorms, do their own laundry, manage their own schedules and make their own dinners with vegetables from the student-maintained gardens sprinkled throughout the grounds. Parents are encouraged to visit any time, and students spend weekends at home with their families.
It's after-school hours now, so the kids are jumping rope down the sidewalks, playing touch football, working on homework or gathering in common rooms to watch movies. One student sticks her head out of her second-floor dorm window to talk to a friend down on the lawn, while residential life director Maya Bennett stands below listening and troubleshooting the everyday dilemmas of middle school kids.
"Yeah, we'll need to put some ointment on that," Bennett says to a girl whose earring is bothering her. She directs the girl to a staff member's office while accepting a hug from another female student bouncing past. "This is our wildest time of day."
Amongst dozens of teens and preteens, Bennett easily holds her own, and their respect and affection for her and the rest of the staff is evident.
Bennett describes her job as "the nighttime principal," and from 2 p.m. to 10 p.m. she's responsible for all of the kids. From Government Street, which runs past the campus, few would guess just how much responsibility that entails, but FYSC is sprawling.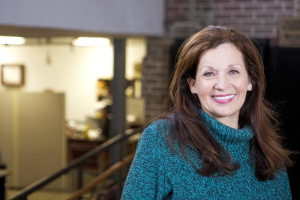 Beyond THRIVE's facilities, there are several buildings housing Betty's Hope grief counseling offices, D.A.R.E. programs, substance abuse and recovery counseling, BRPD's Missing Persons Division, the Baton Rouge Area Violence Elimination project (B.R.A.V.E.), Children's Crime Victims Services, food industry training center Triumph Kitchen, and a host of additional resources for kids and families.
According to FYSC director Roxson Welch, the center's goal isn't to treat a truant teen as an isolated problem. Whether the youth is referred by the parish school system or found on the streets by truancy officers, FYSC works with the family on the bigger picture of what's happening at home.
"Kids who are truant, it's the very first sign that there's trouble. Our objective is to get in there and find out why," Welch says. "Just moving that [phrase], from 'problem child' to 'child with a problem,' changes your entire way of looking at this kid. And it also changes the entire way of addressing what those problems are."
The idea for a center to address truancy came about in 2009, when Mayor Kip Holden and D.A. Hillar Moore raised concerns about sky-high rates of youth crime. Welch, a lawyer and longtime teacher, was working in Holden's office as educational outreach coordinator at the time and stepped up to lead the project. In the fall 2014 semester alone, FYSC has assisted 3,000 families.
Welch remembers an early case in which Child Welfare and Attendance referred a middle schooler who had missed 117 days of school to FYSC. When Welch brought in partners for a "team conference," it took four different agencies to find a solution.
"[Truancy Assessment and Service Center director] Jenny Ponder recognized the student's name, and she said, 'Did you know there are three more kids?' And we didn't yet … So Jenny pulls the records of the other kids, and none of them are going to school either. And Greg Fairbanks of BRPD said, 'I recognize the name of that mother.' So he checks out the name, and he comes back and says, 'There's all kinds of legal issues in that home,'" Welch says.
This kind of attention helps Welch get to the heart of a student's struggle, and in this case, saved three young children from losing their chance at education. Welch's team got all three enrolled, and within a few months, each one had caught up to their classmates.
"These are three little girls that didn't have a history in school at all, but given the opportunity, they excelled. They wanted to be there. Most kids do. If it's withheld, they want it. So this is the story for the community: Imagine what we as a community would have lost if we had never known these children existed," Welch says.
Though Welch is the main woman keeping the gears in motion, she's quick to share the credit with the center's many partners. The key to engaging a student, she says, is finding what makes them tick—a hobby, a skill, an interest. With sports programs for athletic training, a Home Builders Institute facility for carpentry and mechanical engineering, and culinary lessons from Triumph Kitchen on campus, community organizations are fanning the spark in these students. FYSC is also providing these services in one location for families and students that often have limited transportation options.
"We can't find anybody in the entire country that has done what we've done here at this place. This is what's unusual: We've got all of these agencies that are working together, but they're all different. Other places collocate—the one-stop shop—but they don't have the communication [between agencies]," Welch says. "Here, everybody is interested in the betterment of the kids, and that breaks the communication barriers."
If you ask the eighth graders on the basketball team, they'll tell you the programs at FYSC have made a difference in their lives.
"There's a lot of learning," Donald says, while Devonte and Aleandre nod in agreement.
"I learned how to control my attitude," Malik says. Lawrence adds, "You can learn how to express yourself."
---
ONLINE
Get more infomration about Family and Youth Service Center at fysc-ebr.org.