Sponsored by Mercedes-Benz of Baton Rouge
Being a gentleman is rooted in a man's values, morality and honor. A gentleman always holds himself to a higher standard of conduct than those around him. He isn't ostentatious or overwhelming.  Being a gentleman is the way to become a powerful man in life, to gain the respect and admiration from people around you.
A gentleman's automobile should reflect his own superior standards. It must have a classic design. It should be elegant. The gentleman's car is not a Ferrari or a Lamborghini.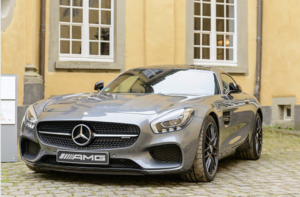 Like him, his car should turn heads without being flashy. It isn't about showing off. It is about being worldly with impeccable taste. There are many vehicles that a refined gentleman can acquire that offer these qualities, but the standard for more than 50 years has been the Mercedes AMG.
We got the lowdown from Hess Crockett, general sales manager at Mercedes-Benz of Baton Rouge, on why the AMG is the preferred gentleman's race car. "It's hard to define what makes AMG so special. It's a feeling," Hess says.
"When you slip into the driver's seat, you feel the car, you absorb it."

In 1967, two automotive engineers with a passion for motorsports began fine-tuning engines for Mercedes-Benz race cars in an old mill. Today, AMG creates some of the most sought-after vehicles in the world. As Hess says, "You are instinctively drawn to them. These high-performance machines are sculpted by craftsmen, engineers and designers who live to test the limits."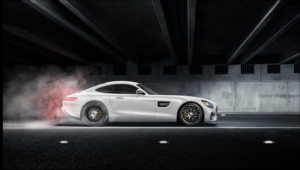 He notes that AMG even has an acoustic exhaust team, focused specifically on the way the engine sounds. Other luxury brands actually wire artificial engine sounds through the speakers to give drivers the illusion of power. AMG gives you the real thing.
It sounds like a finely tuned race car engine because it is one.
AMG has established itself as a force to be reckoned with on racetracks around the world. Visit Hess and his team at Mercedes-Benz of Baton Rouge to slip behind the wheel of an AMG and distinguish yourself.