---
Getting a taste of locally distilled vodka is a rare treat in Baton Rouge. But with the opening of Cane Land Distilling Co.'s tasting room, it just got a lot easier.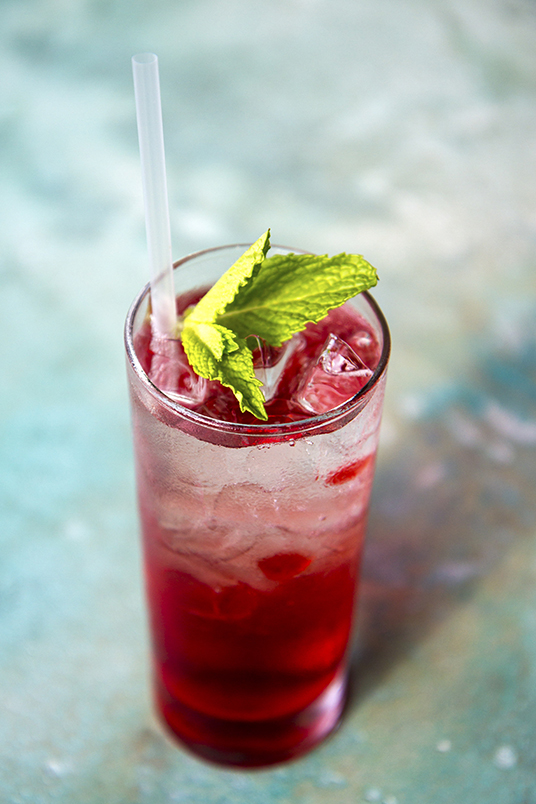 The cane-to-glass-style distillery draws on ingredients from local farms and a lot of attention to detail to create its signature rums, vodka and whisky, and the team has spent almost as much time developing the cocktail menu. Mixologist Chip Dennison is using shrubs—syrups from scratch that are mixed with liquor to make a cocktail—as one way to show off Cane Land's spirits.
"We cut and prep the fruit and spices and combine it with the vinegar and sugar and let it sit," says Dennison, who is also Cane Land's director of front of house operations. "It [makes] a tart but balanced flavor and can be made sweet, savory or any number of combinations with different fruit, vegetables, herbs or spices."
Case in point: Cane Land's raspberry ginger mint shrub. Fresh raspberries are macerated with mint, sugar and vinegar to make the sweet and zingy syrup foundation of the drink, then mixed with the distillery's own Shindig Vodka and club soda. It's a refreshing, gently buzzy—but not overly boozy—cocktail for summer, with the crispness of Cane Land's vodka carrying through a balanced mix of herby, sugary and tart flavors.
Watch for more shrub varieties to pop up on Cane Land's cocktail menu as seasons change and the brand-new tasting room tests more experiments behind the bar. Until then, let one of these guys get you through a hot day, either at the bar or out in the adjoining courtyard.
Cane Land is at 760 St. Philip St. canelanddistilling.com
---
This article was originally published in the July 2017 issue of 225 Magazine.