Images courtesy Richie Adams/River Road Creative
Editor's note: This story was first published in the January 2011 issue of 225. Russell died later that year, but filmmaker Richie Adams continued working on his documentary about Russell's career. The Manship Theatre, in collaboration with Raising Cane's, hosted an invitation-only preview of the finished documentary, Dog Man, Wednesday, May 13. Adams tells 225 that the first public screening will likely happen in the fall once Dog Man has made the film festival circuit. Find out more about the film here.
---
How Dick Russell stared down cancer and his 50-year legacy
Not far down the winding path of Greenwell Springs Road lay nearly a dozen shaded acres surrounding 10 kennels and a vegetable garden. Past the sniffing black Border collies, a cozy, creaky-planked porch and inside the warm Acadian-style cottage at the front of the property, glass mason jars packed with peaches, tomatoes and corn relish line the kitchen table. "I'll be eating good tomato sauce all winter," says Dick Russell. "I raise everything organically, which is just the way I think it should be raised."
A native of South Carolina's low country, he's the kind of man who takes pride in self-sufficiency and self-respect. A man with man's hands. A man of the 1950s. Russell makes his own goat cheese, too. He swears it's not that hard.
The Istrouma High School graduate has an ex-wife decades gone and four grown sons—two scattered to Montana and Florida, two nearby in Zachary, but none who shares his continuous crush on canines. "Maybe it's all the hard work I put them through as kids cleaning the pens," Russell says. "Everybody messes up."
Lately, friends have pitched in to help Russell with chores. In the heat of July, one of Russell's clients climbed aboard his riding mower without asking and groomed the scraggly lawn that hosts Russell's Large Field Socialization Class every Saturday. Others like to deliver homemade cookies. Such is the benefit of having a 50-year reputation as the best dog trainer in Louisiana.
Cancer puts demands on one's time and body, but the Dick Russell fan club is huge. Membership spreads from one generation of dog lovers to the next, with Russell now as beloved as each owner's prized pet, as cherished as each dog he has called on for companionship.
"See that Model T there," he says, showing off a framed sepia-tinged photo. "That car was brand-new when this photo was taken, and those are my dad's two German shepherds. There's dogs in every old family photo I've got."
Indoors, Russell looks good for 73. Bald, but good. Stepping outside, though, the midday sun shines down sharp like arrows highlighting the darkened, pinched skin beneath his steeled eyes. Six years of radiation, chemotherapy and clinical trials can age a face, but they cannot touch resolve like this.
A young woman at one of Russell's favorite local restaurants recently complimented his new hairless look. He loves that story. It gives the cad still in him a real kick. The dog trainer in him is not going away with age or illness, either.
"Come by," he calls out into the pasture. Way too softly, too casually, it seems. But no, here comes a low rumble. A small drove of sheep turns about face, gambols past and veers to a stop at full attention—a regiment facing its drill sergeant.
Dick Russell can train anything with a pulse.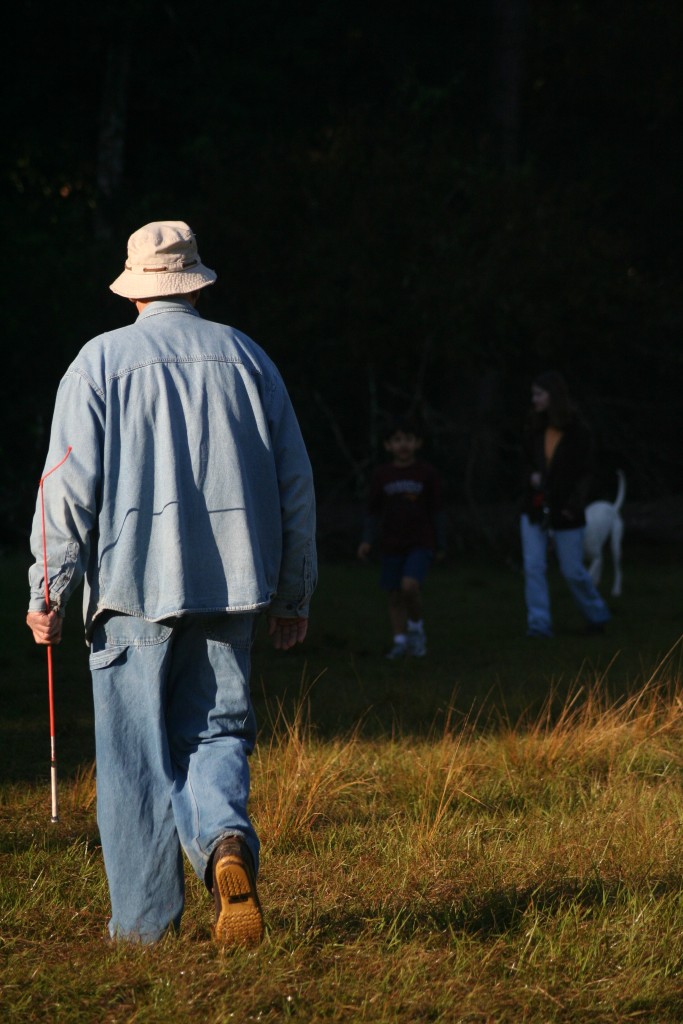 The November night blows dark and windy on the cold concrete lot outside Staring Plaza Veterinary Center. Some 20 dog owners and their young pooches surround Russell in an oval of Labradors and retrievers and other assorted breeds. There's a Weimaraner and a beagle. There's a bulldog in a red sweater.
"Petting isn't just this," Russell tells the group, speaking above the volume of traffic and motioning casually with his hand. "Petting starts in your heart before it moves out to your fingers."
No one is here because they saw an ad in the paper or a cheesy commercial on local television. Russell decided long ago to build his business by word of mouth. Instead of developing a marketing campaign, he focused on innovation. In the 1980s, he launched a puppy behavior hotline that not only offered new pet owners quick advice and training tips, it endeared Russell to local vets who gave their callers his hotline number so they wouldn't spend valuable time answering non-medical questions themselves. That hotline didn't bring in a dime, but Russell's six-week training classes did. They filled quickly with dog owners he had impressed over the phone.
Fifty years into his career, Russell is in full command at the center of the oval. With a brown fedora and a long khaki hunting jacket, he pulls treats from a small canvas pouch for demonstrations, though the purpose of tonight's exercise seems to be about weaning dogs and their owners off treats.
At a summit in Austin eight years ago, Russell's six-week method wowed a group of dog trainers from across the country. Now many employ Russell's obedience tactics from Maryland to Georgia. In a recent dog trainer's blog, one fellow trainer referred to him as "the incredible Dick Russell." Though several trainers were mentioned, none received such a superlative.
The barking is intermittent and picks up with the passing of cars down Staring Lane. One patchwork pound dog maintains a low, deep growl, like a Harley revving in a garage. Orbiting the action is a cameraman. River Road Creative founder Richie Adams and his team have been documenting Russell's obedience classes for months.
A few years ago Russell helped Adams locate certain breeds for his feature film Inventing Adam. "If you're going to call anyone in Baton Rouge about dogs, you're going to call Dick Russell," Adams says. A year later, Adams and his wife Leigh brought their new Lab mix Charlie to Russell's obedience class. In the middle of Charlie's first session, Adams decided to make a documentary about the indomitable trainer. "It was his conviction, his confidence in his ability and his respect for the dogs that really made me think about making a film, and I'm not normally a documentary-style guy," Adams says. Later, Adams found out about the cancer.
And that's one reason Michael Davis and Larry Benoit are here tonight. Cancer. Age would have forced the same onto Russell, eventually, but this is different. For the first time in a long time, Russell's self-sufficiency is being put to the test. "I don't know my expiration tag," he told 225 in October. "There's never been anything I had to do that I couldn't get done, but with my age and my cancer, I knew I had to find someone to carry this on."
Davis, a math teacher at Baton Rouge Magnet High School, and Benoit, a Houma-born fence salesman, are Russell's apprentices. At least one of them attends each obedience session, helping out and studying his every move. Benoit says he was blown away by Russell's work with his "troubled" pit bull. For Davis, he expected progress to take much longer.
"We'd only had our dog for three days, and after one night she was a completely new dog," Davis says. "Dick changed my life."
When Russell first approached him, Davis was humbled beyond belief.
"To be invited to be part of someone's life's work is an awesome responsibility," Davis says. "I can't imagine it was an easy decision for him to make."
After Russell finishes his petting-as-a-reward speech, the owners disperse and try it for themselves. A chorus of "Stay!" pops off in rounds all over the parking lot. Davis and Benoit make a lap as Russell's extra sets of eyes. "We make sure they're doing it right," Benoit says.
After the owners and dogs reform their oval, Russell calls a rambunctious black Lab to the center. The dog jumps up and barks wildly. Her paws land on Russell's chest as if her energy is growing grander than her body and clawing at the insides for a way out. "Sit, girl," Russell says, his voice rising and falling with the tide of the Lab's rebellion. He repeatedly places his hand on her, then steps back and gives her the opportunity to sit on her own. Three minutes later and without treats, she does. A calm has come over her that looks miraculous. This is a different dog. "Good dog," Russell tells her as the crowd breaks into applause.
"I'm working with people instead of for someone—that's the difference," Russell tells 225 quietly as owners practice with their dogs. "My boss is the public, and it's a good boss to have. To be thought of well is the most wonderful feeling."
A few weeks later, Russell is unexpectedly given his "expiration tag," as he calls it. An ambulance was called during a Saturday session the week after Thanksgiving. Doctors gave him about two months to live. Soon after he was admitted to hospice care.
Two months. Sixty days to spend time with family and friends and to say goodbye to generations of dog owners who consider the words "Dick Russell" and "dog trainer" synonymous. That legacy will outlast his career. It will outrun his cancer. One day soon, peaches and tomatoes and corn relish won't be jarred and ready for sharing on his kitchen table; the sheep out back won't hear their sergeant's call; Russell's friends and relatives won't be surprised with servings of his freshly made goat cheese. But when that day comes, there will remain people young and old across this city and the country whose families were changed forever by the ingenuity and the fortitude of a man who dedicated his life to making theirs a little better.
When Russell's old pictures are packed away or brought to Zachary, Florida or Montana, there will be other families and other family photos still on display that show dogs sitting front and center, or running off to the side or playing somewhere in the background, but always an irreplaceable piece of their lives.
Maybe someday another grateful owner will mow Benoit's yard or bring Davis homemade cookies. Maybe that same owner will return home after a long day, and he'll greet his obedient dog, but he'll remember Dick Russell.