Developers and tenants for the new 1010 Nic retail center gathered inside the Monochrome space while it was under construction. Standing from left, Jeannie Frey Rhodes of Jeannie Frey Rhodes Photography, Dwayne Carruth of The Front Door, Trey Bankston of CONTEMPORAIN, Bankston/Adams Gallery, building co-owner and Monochrome co-owner Mitchell Naquin, John Adams of CONTEMPORAIN, Bankston/Adams Gallery, and Michael Gatz of Denicola's. Seated from left, Dewayne Mercer and Troy Mercer of Mercer Supply Company, Amy Strother of Denicola's and Noelie Harmon, building co-owner and Monochrome co-owner Carol LaCour and building co-owner Shannon Smith. Photos by Collin Richie
---
He can't help but notice. They're everywhere.
Almost-good haircuts, he calls them.
"You see so many guys with hair that's close but just not quite right," says veteran stylist Troy Mercer. "Or else they're running around looking like Macklemore."
Mercer's dig at the rapper's much-mimicked fade-and-swoop and his eye for the perfect buzz run not from a personal place of ego, but from a renewed pride in what he sees as the nearly lost skills of the traditional, all-American barber.
Born outside Slaughter, Louisiana, where he was surrounded by little more than gravel and grass, Mercer has seen the cultural and social benefits of the classic barbershop from both in the chair and behind it. He held that value close even as he hung up his clippers for years to serve as a pastor in a series of small-town churches.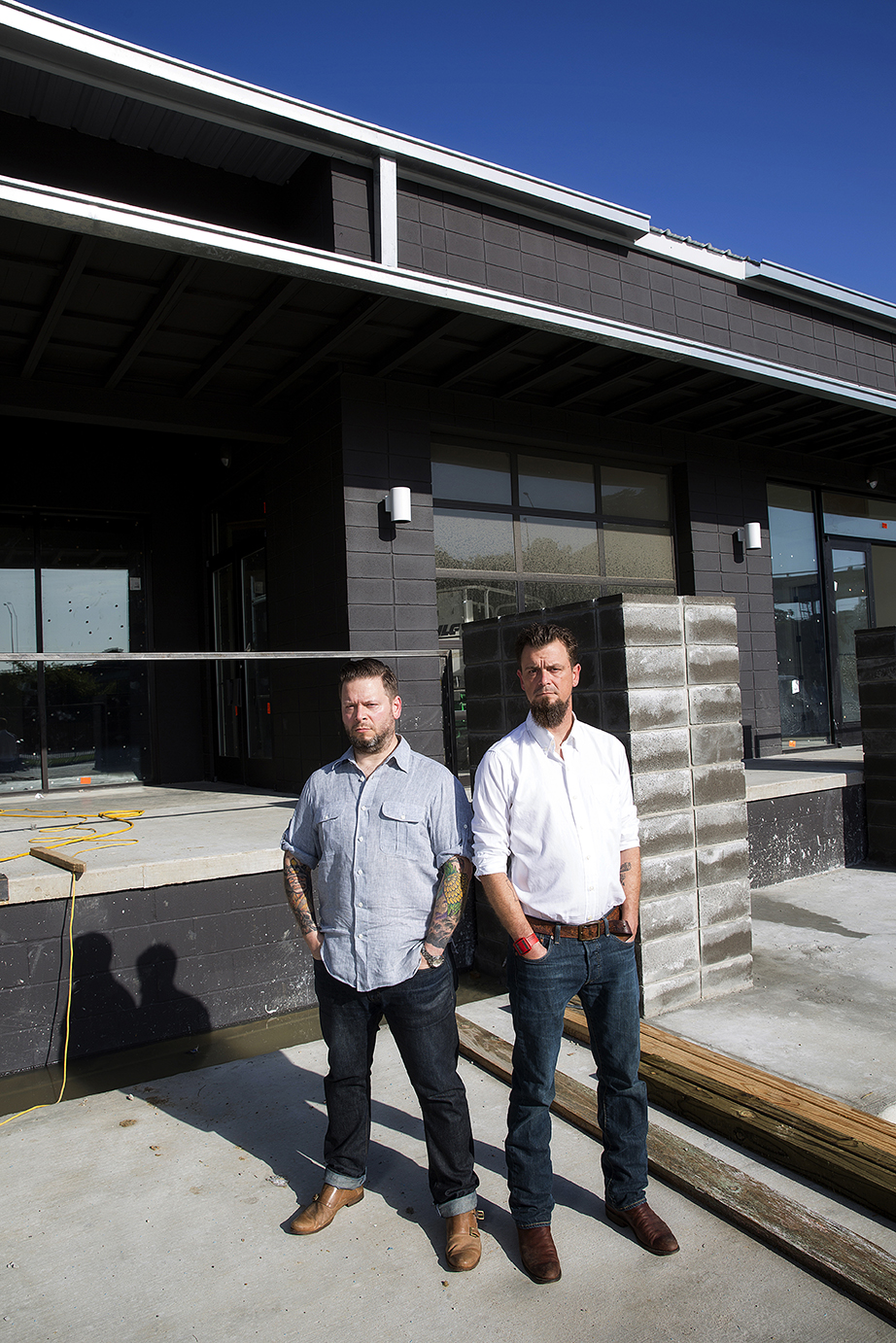 It's been a few years since he moved his family to the Capital City, where he leads Haven, a small, progressive downtown church and gallery space. Now, the relaxed but steely stylist is bringing the barbershop back to Baton Rouge via a unique new retail center that's helping revitalize the area south of downtown.
1010 Nic, an 18,000-square-foot development in a former St. Vincent de Paul warehouse on Nicholson Drive between LSU and downtown, will include Mercer Supply Company, a full-scale salon, barbershop and mercantile offering handcrafted and U.S.-made goods.
In addition, the space will be the new home for contemporary furniture store Monochrome, Denicola's Furniture & Upholstery, the eco-friendly gift shop Noelie Harmon, architectural and interior design firm The Front Door, Jeannie Frey Rhodes Photography and new contemporary art gallery CONTEMPORAIN, Bankston/Adams Gallery.
"All the people we pulled together are very creative and give it this kind of young, energetic feel," says Carol LaCour, one of the building's owners and co-owner of Monochrome.
1010 Nic sits next to the future site of The Water Campus, the 27.6-acre riverfront research park, which broke ground this spring and is a major project of the Baton Rouge Area Foundation (BRAF). Just down the road, the upcoming River District development is expected to bring more residential housing, retail and maybe even a grocery store to the corridor. That flurry of activity also has the city-parish considering a streetcar line from LSU to downtown along Nicholson.
While much of this is years away, the 1010 Nic crew isn't worried about the risks of being the first retail center in years along a somewhat desolate corridor. Just a few blocks away, Tin Roof Brewing Company started hosting food truck events to bring people out to the warehouse-heavy neighborhood, and recently added a tap room to attract the bar crowd.
"I know we were taking a chance going into the area as sort of the first ones," LaCour says. "But I really think people are going to come, because it's a new shopping experience for Baton Rouge and a cool place to go, a fun place to go."
One tenant who is no stranger to taking risks in the Red Stick is Amy Strother. Eight years ago, she began selling eco-fashion and responsibly made goods with her shop Noelie Harmon. It's now being reborn at 1010 Nic, side-by-side with an expanded Denicola's, the iconic, decades-old furniture business she purchased a few years ago.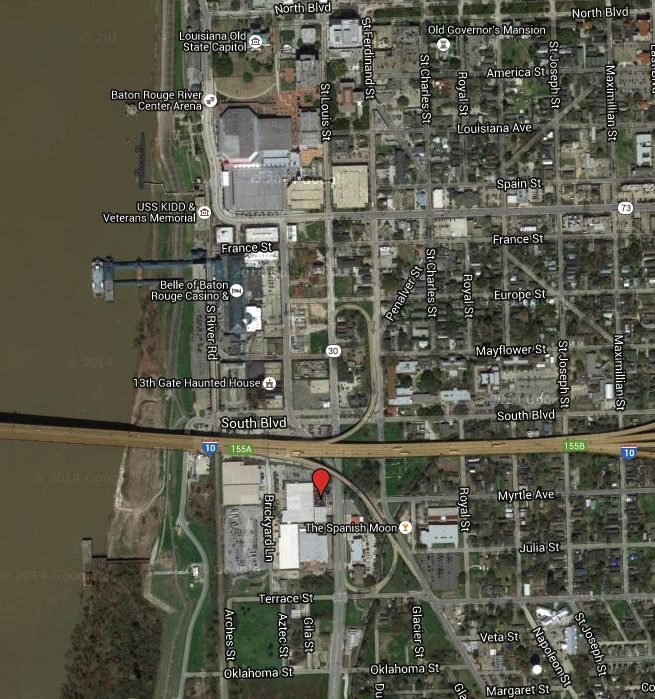 "There's a certain rhythm to this town, and timing is what business is all about," Strother says. "But there's definitely a momentum in Baton Rouge right now."
Strother's section of 1010 Nic will also include an organic apothecary, locally made jewelry and a unique canvas for creativity. Artist Joseph Konert developed expansive installations for the space that Strother envisions will play host to art walks and other collaborative events with her likeminded neighbors.
"The most exciting part is being able to have a truly blank slate," Strother says. "And the business owners at 1010 Nic are—for lack of a better term—well, we're all kind of the same jam."
Mitchell Naquin, a 1010 Nic owner and Monochrome co-owner, says the development will help raise the profile for the work that these businesses do.
"A lot of our businesses were all spread out in all these little strip shopping centers hidden to the side, and if you weren't from here and didn't talk to a lot of people from Baton Rouge, you weren't going to find us," he says. "It brings a lot more exposure for all of us."
BRAF President and CEO John Davies says the Water Campus' new neighbors bring a promising cultural development to the area.
"It's a great adaptive reuse of an old building," Davies says. "These are great people with authentic and interesting businesses."
LaCour says the process to acquire and renovate the warehouse took about two years. Local investors Shannon and Andrew Smith joined Lacour and Naquin in spearheading the project. Shannon Smith says their aim was to help develop a "design district" along Nicholson and make 1010 Nic part of that one-stop shop.
Throughout the renovation, the building has retained its industrial vibe.
"We worked hard not to change that feel," says Dwayne Carruth, The Front Door's lead architect, who handled the redesign for the entire development. He says he wants the city to look better, and to make it easier for locals to achieve that all in one place.
While Carruth's polished work and showroom lean toward contemporary tastes, Mercer Supply Company's vibe is pure Southern Americana: handmade, reused, relaxed.
The space includes glass garage doors, concrete floors, a salvaged, sun-soaked barn door and seats from the Varsity Theatre's days as a movie house.
Mercer, who serves as lead barber, stylist and manager for the business owned by his brother Dewayne, is particularly thrilled about his reception area because it doubles as a bar. This pastor will be pouring whiskey.
But Mercer would not be poised to help enliven a neglected stretch of the city if he hadn't been inspired by his wife Maria, herself a longtime stylist, who encouraged him to pick up where he left off nearly 20 years ago.
"That's when I discovered how much I truly loved it, how honorable a profession [being a barber is]," Mercer says. "1010 Nic is great, because I'm able to be a part of something that's brand new and to set the standard."
1010 Nic is located at 1010 Nicholson Drive.
—Additional reporting by Benjamin Leger
---
ONLINE:
Find out more about the vendors at 1010 Nic.
Monochrome
Jeannie Frey Rhodes Photography
The Front Door
Denicola's
Noelie Harmon
Mercer Supply Company
CONTEMPORAIN, Bankston/Adams Gallery