Make room on your bookshelves. The 2018 Friends of the LSU Libraries Book Bazaar begins today and will run through Saturday, March 3.
Shoppers can sift through an extensive collection of books from a number of genres, including art, cooking, textbooks, children's, gardening, young adult, poetry and fantasy; vinyl LPs and 45s from every genre and generation; and a variety of rare books and collector's editions.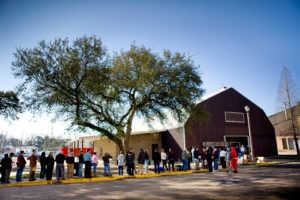 You may be lucky enough to come across the original Martian invasion radio broadcast hoax Orson Welles gave in 1938, a rare first edition of J. R. R. Tolkien's The Return of the King or a first edition of A Farewell to Arms by Ernest Hemingway.
Prices start at just $1, so you're sure to score some great deals. All proceeds will be donated to the LSU Libraries.
The Friends of the LSU Libraries annual Book Bazaar runs today through Saturday, March 1-3. The Bazaar is open 9 a.m.-7 p.m. today and Friday, and 9 a.m.-5 p.m. Saturday.
The Bazaar is in the 4-H Mini Barn behind Parker Colosseum off Highland Road on LSU's campus.